News
WWE Battleground 2014 Results
We have results, spoilers, and analysis for WWE Battleground 2014.
John Cena defied the odds and retained his WWE World Heavyweight Championship Sunday night at WWE's Battleground event, defeating Kane, Randy Orton and Roman Reigns in a Fatal Four Way match. And that was it. Cena celebrated, the show went off the air, and all is well in the WWE Universe. No cash-in from Seth Rollins, no Brock Lesnar. Just Cena with the clean win, marching now to Summerslam in four weeks, against Lesnar, presumably, if you believe recent leaked advertisements.
Cena's victory wasn't unexpected but no interference from Rollins, Lesnar or the Authority was a big surprise. The live crowd was hot and cold during the match, almost as if they were waiting for something to happen through interference. They did a good job teasing, and eventually going with a little Reigns-Cena one-on-one that the crowd unfortunately didn't eat up as much as WWE probably wanted them to. They were just waiting for something from the outside that never came.
The match itself was also clunky and clumsy at times, which is inherent with so many guys in one ring.
Kane and Orton seemed to be working together for the first part of the match, with Kane standing guard while Orton beat up Reigns. But logically, if Kane were only there to help Orton win, why not just lay down and let Orton pin him? Kane eventually went into business for himself, breaking up an Orton pin attempt later in the match. But for the first 10-15 minutes, he was Orton's bodyguard, essentially.
Saved the best for first
The Usos retained their WWE Tag-Team Championships with two pinfall victories over the Wyatt Family in a best-of-3 falls match. This match, which opened the show, also was the match of the night.
Normally, a match this early on the card featuring as many near-falls and false-finishes as this did would make it a target for criticism. How does anyone follow it? But given the current state of the division, and this match helped seriously elevate the value of those titles, it's OK. This felt more like a Wrestlemania main event than it did an opening match for a July pay-per-view. Finishers were kicked out of and the Usos needed to execute a double splash off the top rope to finally pickup the victory.
There were some holes in the logic, though, but that's more to do with the match stipulations than anything else. The Usos picked up their first pinfall win with a rollup out of the corner. Problem is, we never see that in WWE. When's the last time someone was pinned with a quick and little rollup? Those are always two counts. Always. The best-of-3 format is fine, but I'm not sure it served a purpose here or was even needed in the first place. These teams could have easily put on the same 30-minute knock-down, drag-out without muddying things up with the best-of-3 stipulation.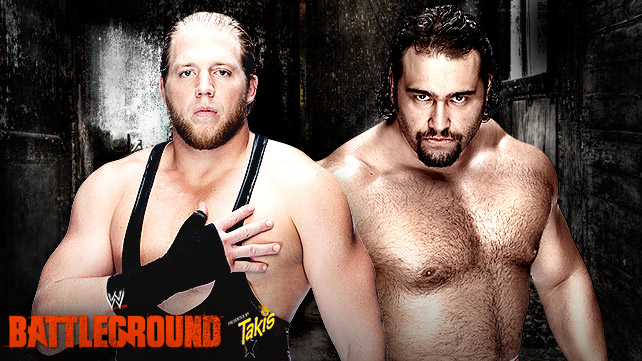 They went there
Lana and Rusev cut a promo before Rusev defeated Jack Swagger in their singles match, cutting down the United States for believing Russia had something to do with the "current tragedy," clearly meaning the downed Malaysia Airlines flight from Thursday. They also talked about how America is always trying to force feed our "so-called democracy" down the throats of the rest of the world, as Lana said.
They walked a fine line, but good for WWE for showing some guts.
Yes, it's a current event, but this is also entertainment. We made movies about September 11 and the capture of Osama Bin Laden. What's more sensitive than that? Terrorists run wild on 24 every week and no one is offended. I don't see this as any different.
They used a real-life event as a way to put some major heat on a hot act. Lana and Rusev, as characters, were Russian before the events of Thursday. Pro wrestling has done that for years, but WWE seemed to shy away from it recently, erring on the side of political correctness in their corporate structure.
What would have made this distasteful is if Rusev and Lana didn't exist, meaning they weren't currently on the air, and WWE introduced them tonight in the same manner. But that's not the case. These two have been on television for months.
WWE showed some guts, good for them.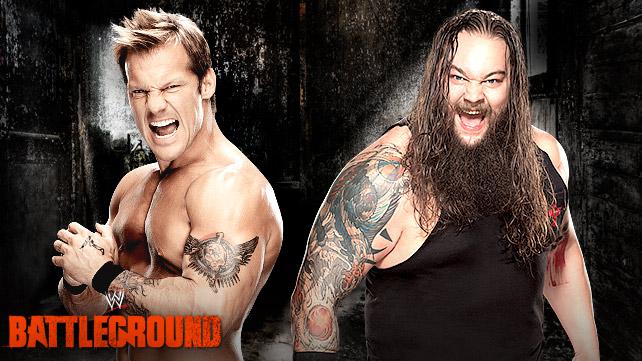 Quick Strikes
– Chris Jericho picked up a clean win over Bray Wyatt, and the Wyatt Family did nothing to regain their heat. Translation: expect them to do something big on Raw tonight in order to get back on track. The faction suffered two clean losses at Battleground.
– Pulling the Rollins-Ambrose match and making it an angle was a strange move, and will only fuel speculation that Rollins was actually injured on Raw last week, despite reports that he was selling an injury after going over the top rope to the floor but wasn't in fact injured. Ambrose attacked Rollins backstage, Triple H threw him out of the building, and Ambrose attacked again in the parking lot before Rollins escaped. Rollins also, officially, picked up a forfeit win after going to the ring and demanding for the bell to ring.
– In somewhat of a shocker, the Miz won the Intercontinental Championship, eliminating Dolph Ziggler last in a battle royal for the title. Miz has been buried over and over since returning to the company three weeks ago, which looking back, is often a sign from WWE that they plan on doing something with the character soon. Their philosophy is that a wrestler winning a title can erase any burying they've done over how many many weeks leading up to that title win. It's why they often bury the Money in the Bank winner before he eventually cashes in and wins the championship.
– WWE was deliberate in its pushing of the WWE Network. They continually referred to the $9.99 price tag, subtly calling the people who spent $59.99 for an HD pay-per-view feed a bunch of bumbling idiots. But still, they yet again failed to remind folks that they could still watch the network on their television through various devices. I wonder how many uneducated folks think the network is nothing more than an internet stream, instead of an HD feed that you can watch on your TV through the PS4, XBox, Apple TV and other devices.
– The commentary, especially for the first hour, was as weird as it's ever been. JBL was all over Michael Cole, with Cole at one point quipping during the Divas match, "Why am I here John? You could do this all yourself." Cole then didn't speak for several awkward seconds, with Jerry Lawler doing his best to fill-in on play-by-play. JBL was in rare form, coming off as a bit of a bully on Cole, tearing down some things that Cole said, but sounded like he was fed from producers.
– Another odd sequence in the commentary came after Ambrose attacked Rollins in the back. The commentary made me, and I'm sure others, sympathize with the heel, instead of the babyface. JBL made the point that the Ambrose's attack wasn't fair. Cole said something like, "who cares? They were about to have a match anyway, who cares where it starts? In the back or in the ring?" To which JBL replied that it was a match, and the rules are the match is supposed to start in the ring under WWE sanction. JBL made sense. JBL was right. I know it's not their intent, but it came across as if Rollins were the babyface, and Ambrose was the heel. It was just odd, as the way it was presented made me as a viewer sympathize with the heel.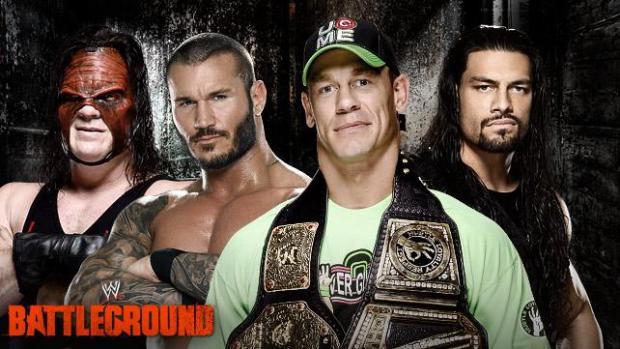 The Finish
Not a terrible show, but not off-the-charts great either. It came across as more of a stacked Raw than it did a pay-per-view. But still, the matches were solid from top to bottom, with some good surprises. The decision to pull Ambrose-Rollins was strange, but it least there was some build to that feud heading into what we can only assume is a Summerslam match.
Match Results
Singles Match (pre-show): Adam Rose def. Fandango
Singles Match (pre-show): Cameron def. Naomi
WWE Tag-Team Championship (2 of 3 falls): The Usos [c] def. The Wyatt Family 2-1
WWE Divas Championship: AJ Lee [c] def. Paige
Singles Match: Rusev def. Jack Swagger
Singles Match: Seth Rollins def. Dean Ambrose via forfeit
Singles Match: Chris Jericho def. Bray Wyatt
WWE Intercontinental Championship: The Miz won a Battle Royal