News
WWE Battleground 2014 Predictions
We break down who the winners and losers of this year's WWE Battleground 2014 might be.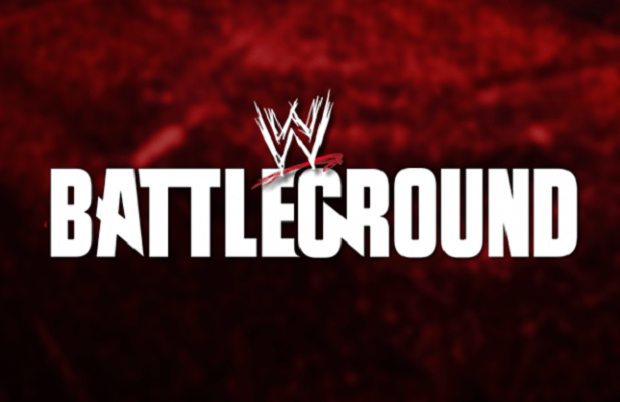 WWE Battleground 2014 isn't exactly the most prestigious of stages when it comes to WWE PPVs, especially just a few short weeks before the much more spectacular SummerSlam. Nevertheless, this year has a fine card, with plenty of potential for great storytelling and in-ring action. So what's a wrestling fan to do?
You come to Den of Geek, that's what you do. Our team of internet submission specialists, including Marc Buxton, Gavin Jasper, Jesse Mateja, Mike McMahon, and Vinny Murphy are here to cut their own promos on who may have big plans for SummerSlam, and who is getting counted out. Read on!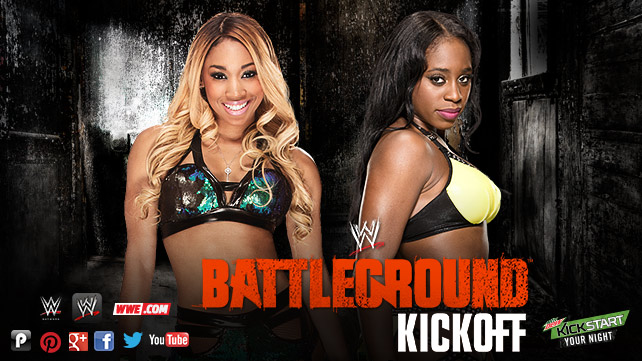 Cameron vs. Naomi
Marc Buxton: These two are primed for a break up. Naomi is clearly the better worker of the two so look for the more ring sound Funkadactyl to get the win. Cameron will turn on her and do dastardly things insuring that we will be treated to this one again.
Gavin Jasper: I feel that "Somebody Call My Momma" is a cursed song. Six people in WWE have used it and it never really worked out for any of them. Now it's forced Cameron and Naomi to turn on each other. This is a really questionable match to have featured on the pre-show because it's incredibly basic. WWE hasn't given me any reason to care about either of them and all I know is that one is a face and the other is a heel. Since heel turns grant wrestlers immediate power, I guess Cameron has this.
Mike McMahon: If Naomi doesn't go over, clean, it's a crime.
Jesse Mateja: I think Naomi is a good worker and can have a good future. Cameron on the other hand bores me and hasn't impressed me once in or out of the ring. Naomi can recover from a loss, especially on a pre-show that a lot of people aren't even going to see. But Cameron could use a win over her former partner to help put her over as a heel. Another one that can go either way. I'm going to say Cameron wins this by cheating.
Vinny Murphy: Well, it appears that The Funkadactyls have finally exploded. Though they certainly could have booked a better technical match than this, here is a good example of what should be a Pre-Show contest. Let those who aren't interested swing over to the archive and catch up on their episodes of Total Divas and remember when The Funkadactyls were the best of buddies. Enjoy the antics of Vinny as he is unable to keep up with Hugh Morris. Trinity has less to prove in the ring and needs less crowd response, so I'm going to give this one to Cameron.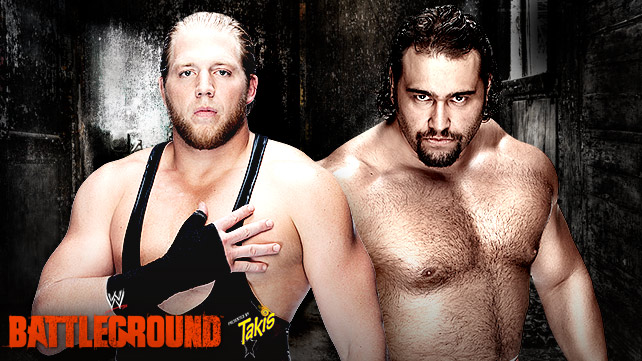 Jack Swagger vs. Rusev
Vinny: A lot of people are down on this match, but I think its going to be a blast. Its like pointing two steamrollers at each other and seeing what happens. Rusev has been dominant in his last few, big outings, but the point has been made. Swagger, on the other hand, is just getting into his new role as the new, more traditionally patriotic face that I think we all saw coming. I mean, give a guy a thing for people to repeat and eventually enough of the crowd will be behind him to justify a turn. While Coulter and Swagger were not the people we wanted representing America for their previous run, I think that is about to change even further.
Jesse: Rusev is a monster. The crowd loves when an American defeats a foreign invader, but I don't know if Swagger can cut it here. If anyone is going to upset the unstoppable Rusev, I can't see them going with Swagger as the guy. Using Rusex to push Swagger as a face and get him over is okay, but you can't have him beat Rusev right now. Rusev crush Swagger.
Mike: Rusev is well on his way to a fall feud with Cena, in my mind. It doesn't make any sense for him to lose here to Swagger, but Swagger is a newly-minted babyface, and having him lose here isn't a smart move, either. Have to give this one to Rusev.
Gavin: They're starting to do a good job with Rusev by mixing it up and making his opponents look more and more like a threat to him. At Money in the Bank, Big E almost broke out of the Accolade and Roman Reigns has been able to stand up against him. Jack Swagger certainly has the crowd behind him, but it's only in response to him fighting Rusev. Swagger is still just an accessory to Zeb Colter. You can say the same about Rusev and Lana, but Rusev at least stands out more and has a future. Swagger will let people believe, at least for a little while, but Rusev is going to be knocked down a peg by someone higher up the…oh, hell, it's going to be Cena. He's going to be fed to Cena.
Marc: Who would have thunk that Jack Swagger and Zeb Colter would make such amazing heroes? Well, they are which is a testament to their professionalism but also a testament to Rusev's ability as a monster heel. The fans want to see someone Russian beast down a peg and they have embraced Swagger in that role. They'll have to wait awhile longer as Rusev will get the victory after his toughest match to date.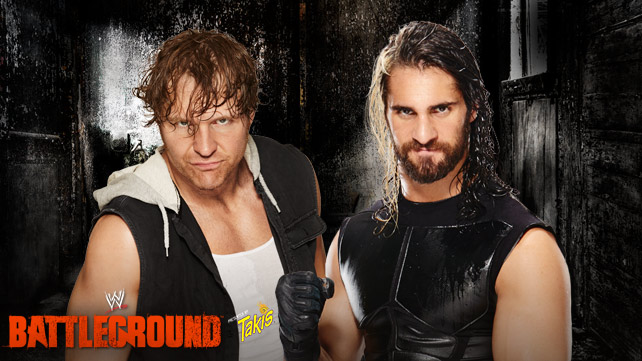 Dean Ambrose vs. Seth Rollins
Gavin: Seth Rollins is the Money in the Bank holder. That's like having a sign on his back that says, "Go over me." It's classic (and unfortunate) WWE booking. The guy who has the case will lose a bunch of times until cashing in the belt because in WWE's eyes, they can take it. Meanwhile, Dean Ambrose is getting over huge and has potential to be a bigger deal than they ever expected. Then again…this feud is still fresh. Rollins is going to cheat his way to victory and this feud will continue for at least another month.
Mike: This match is tough to call. In the past, WWE has used the Money in the Bank contract holder as a job guy for months before finally cashing in the contract to win the title. They varied from that last year with Randy Orton, and they don't seem to be going back to that well with Rollins. Winner: Seth Rollins.
Vinny: Aside from the fact that this should be match of the night, there isn't much to be said here. Unless they intend on giving Ambrose the case through a match at SummerSlam, he shouldn't win. Not that Rollins is going to win clean or something. Expect some sort of treachery on Rollins part, only deepening the feud with the WWE's modern loose cannon. Winner – Seth Rollins.
Marc: Dean Ambrose, the Lunatic Fringe, seems to be in that hard luck baby face Dusty Rhodes place, the beloved competitor who always falls short because of some nefarious heel tactics. Look for Ambrose to be the most over guy on the card but take the ol' Money in the Bank briefcase to the head for the Rollins win. I wouldn't be shocked if Rollins tries to cash in later only to be thwarted by Ambrose, but in this one, Rollins will have his hand raised.
Jesse: After the beat down Ambrose took on this week's RAW, he deserves the win to keep him looking strong and credible. Rollins losing wouldn't take anything away from him because he is still putting on great matches, plus he's a heel under The Authority's thumb and has the MiTB briefcase. Ambrose got this.
Usos vs. The Wyatt Family
Jesse: The Tag Team division is severely lacking right now. 3MB is sadly gone, and Los Matadors are on break due to injury. The Usos have a good fan base, but have gone through everyone else. The Wyatt Family could use the belts to help prove their dominance. This can go either way, but I think it's time for Rowan & Harper to get a little title push.
Mike: If this is the blowoff match, then it seems more likely that the Wyatt Family wins the titles and moves on to a feud, maybe with Goldust and Stardust. If they intend to keep this feud going another month – which I'm okay with – the Usos retain. For the Usos to retain and then move on to another team doesn't much much sense; there just isn't another heel team ready.
Gavin: It feels too late for Harper and Rowan to win the belts, at least in this feud. They're still important as extensions of Bray Wyatt, but as part of the tag division, they're no longer of interest. We're very much due for the Ascension to ascend to the main roster to give us a fresh match against the Usos. The Wyatts will have to wait another time. There simply isn't room for them at the top right now. Usos have this.
Marc: Once again, I think a theme of the PPV will to make the Wyatt Family look strong. Look for the profoundly skilled Luke Harper and the goat masked wearing madman Erick Rowan to win the first and third falls to end the Usos reign.
Vinny: For months, The Usos have dominated the Tag scene, which is notable since the WWE actually has a Tag scene again. For this match though, it works against them. With Bray Wyatt fully launched, his minions need something to prove their dominance apart from their spiritual leader. Not unlike The Shield, a decent tag run can improve the reputation of an already respected faction. This along with the rise of the face Stardust/Goldust gimmick, leads me to believe that the monster heels walking out with the Tag Team Titles may be the best decision for the division in the long run. They may even take it clean.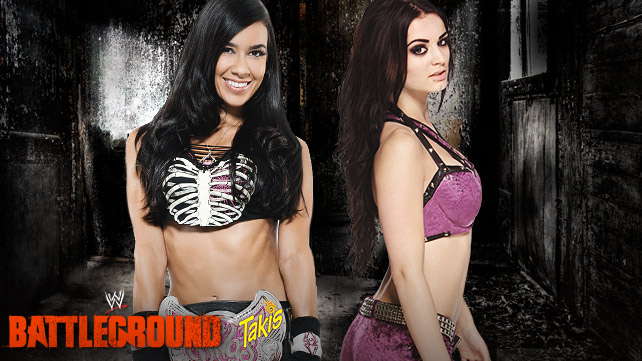 AJ Lee vs. Paige
Jesse: It's about time for Paige to go back to her great anti-Diva persona that she used in NXT before she was brought up. AJ is over as a face or heel, so having Paige turn heel on AJ here would not only give Paige more character, since she has stunk as a face since coming to RAW, but it will help get her over working a program with AJ. This feud can go on a little longer, but unfortunately WWE has no patience with build-ups anymore. Either way, AJ wins.
Marc: This one is hard to pick, but I think with AJ back and more over than ever, the woman you should never call crazy will retain her title. This could very well be the best divas title defense we've seen in a very long time, but it will be AJ Lee by submission as the saga of the frenemies continues.
Gavin: I would love to have AJ and Paige trade the title back and forth every single time they wrestle, but I know that's not happening. No, Paige is in the midst of a bad attempt at a slow burn heel turn. She can't commit to it until losing to AJ in a fair fight. That will be Battleground. AJ is going to win, probably through a roll-up after a competitive match and Paige is going to lose her mind.
Mike: They just changed the title three weeks ago, and they won't go back so soon.
Vinny: Are you excited? I'm excited. Finally, the top women in the WWE are treating us to a real match for the title. I would expect the longest women's match in recent history. The division has improved leaps and bounds in the last few years but still has something to prove. The portion of the crowd that is involved will likely be split, neither wrestler has been quite heel or face recently and this should serve to give us their directions for the next few months. It also appears that some of the female talent from NXT will be making their presence known in coming weeks, so there will be more viable Divas on the roster. I believe Paige needs sometime to develop her persona and will not have the belt for awhile, possibly a long while. She is likely the future of the division, but her being THE Diva might take some more work. But your winner and still champion will be AJ Lee.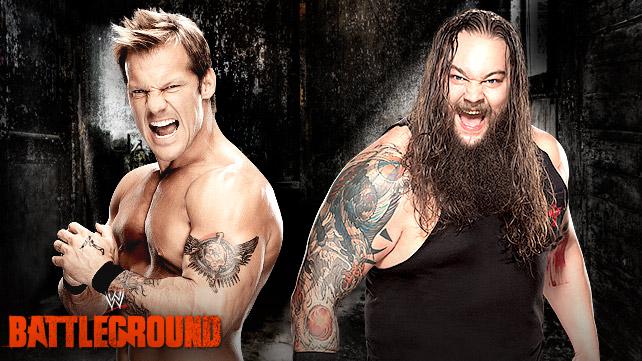 Chris Jericho vs. Bray Wyatt
Mike: Jericho is back through at least SummerSlam and this isn't a one-month thing with Wyatt. Expect Wyatt to go over, maybe even clean but likely with some help, in order to setup a rematch at SummerSlam.
Gavin: Complete no-brainer. Chris Jericho exists for the sake of jobbing, especially to those who deserve it. Even Fandango before Fandangoing became a thing and WWE ran it into the ground. Bray Wyatt is coming off a terrible feud with John Cena and needs to rack up some more wins. My mind simply can't comprehend the idea of Jericho winning this one at all unless it's through disqualification. Bray Wyatt wins and now I'm trying to envision how he can reverse the Walls of Jericho into the spider crawl.
Vinny: For the first time in a long time, Wyatt got demoted to "guy who is a main event heel, but isn't in the main event" status. Not that this was a mistake, there simply aren't enough super hot faces to go around so Wyatt ends up facing a legend. It is also a testament to both men that to create a feasible situation of uncertainty, they need someone at their respective level. While this isn't where we want to see Wyatt, Jericho is sure to give him a great match. I expect the first long match of the night here, with Jericho adding to the potential new legend of Bray Wyatt, but it's Wyatt who goes over.
Jesse: With Chris Jericho's return, he's even admitted that he hasn't seen anything like Bray Wyatt. What should happen is Jericho should lose this match and say he underestimated Wyatt. It'll make Wyatt look great like a greater threat, and then Jericho could want a rematch to continue the feud. Even if Wyatt refuses another match, then you have Jericho start attacking the Wyatt Family out of nowhere until Bray demands another match. I'm playing booker here, but the smart money would be on Jericho to lose.
Marc: It's always great to see Chris Jericho return, especially when he will be taking on such a profoundly awesome character like Bray Wyatt. Jericho reportedly loves the Wyatt character so look for two motivated athletes out to have the match of the night. The WWE seems to have gone out of their way lately to neuter Bray a bit in recent weeks with head scratching loses, but this may be the patriarch of the Family's return to glory. Look for Wyatt to get the win.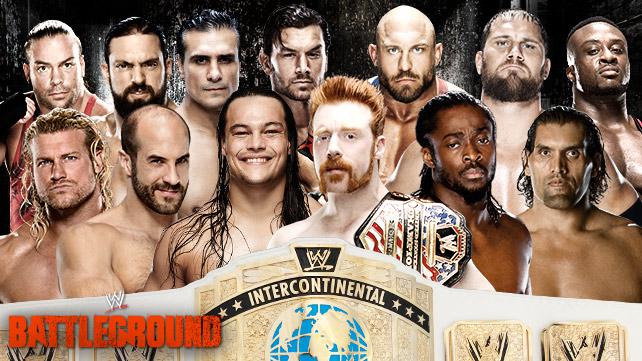 Intercontinental Battle Royal
Mike: The odds of picking correctly are severely diminished when you're choosing between 20 participants. So first, let's eliminate the obvious. Curtis Axel, Diego, Fandango, Heath Slater, R-Truth, Ryback, Sin Cara, Great Khali, Titus O'Neil, Zack Ryder, and Xavier Woods, you might as well all just stay in the back, because there's no shot. I'm not picking on them, I'm just basing that on how they've been portrayed on TV, if they've been on TV at all. I like a lot of those guys. That gets us down to nine potential winners. The most likely are Cesaro, who already won a battle royal at Wrestlemania, or Sheamus, as I could see them unifying the Intercontinental and U.S. Championships. My dark-horse pick is Bo Dallas.
Marc: Ah, the IC title, a belt that a wrestler wins in grand fashion and then racks up losses on TV for the next six months. Who will have the honor? I believe it will be Cesaro, as the E knows that they can always stick him on any PPV and have a 4-5 star match. Plus, with Heyman turning his attention to Brock Lesnar for the next few months, Cesaro will need something to do. Cesaro will throw out Kofi Kingston to win the IC title.
Jesse: Since the Miz returned, they've been shoving him back down our throats, so he's obviously a big contender here. Bo Dallas could surprise everyone with the title win, which would go great with his character. Cesaro could finally get a deserved singles title. Or they could just play it safe and put it on someone who doesn't deserve it just to get the fans to pop (coughRVDcough). Tough one. I want it to be Dallas but unfortunately I have to say Miz.
Gavin: Cesaro's too obvious, especially after WrestleMania's battle royal win. In fact, this match is filled to the brim with people who simply shouldn't win at all. The only guys who have a real chance are MAYBE Dolph Ziggler, Bo Dallas, and the Miz. Miz just came back and they want to make him a big deal again. Just not a big enough deal that he'll be immediately thrust in the main event, but having him suddenly becoming Intercontinental Champion might distract people from being Jericho's bitch upon returning. That said, my second choice would definitely be Bo Dallas, only because Wade Barrett is said to be there to award the belt to the winner. Bo has used Barrett's injury for his own heat before and the two have a history of just not liking each other. Still…Miz feels right on this one.
Vinny: There is a lot of talent in this match, but let's take a look at the most relevant points. Sheamus wants to unify the IC Belt with his US Title. This may be too big of a match to do here, so I doubt he'll walk out with his second belt. He'll likely be eliminated by current rival, Alberto Del Rio. Dolph Ziggler looks like the obvious choice, but his current nemesis, Fandango is also involved and will probably dash his hopes of surviving. Fandango won't likely win himself though. Between, Big E, RVD and Kofi Kingston, there should be some plot development, but I don't see a win in their futures either. Out of the more viable choices, this leaves us with Cesaro, Miz, Del Rio and Bo Dallas. All reasonable heels to run against Sheamus in a unification match. In this case I have to go with my gut: Bo Dallas.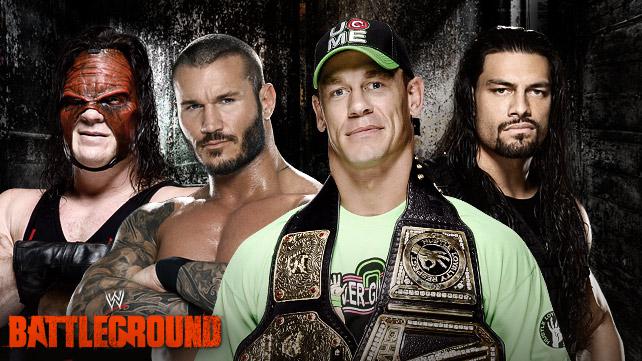 John Cena vs. Kane vs. Roman Reigns vs. Randy Orton
Vinny: I don't have a lot to write about here, so I'm just going to vent first. Non-Elimination Fatal Four Way matches are silly. They take away all the added drama of having four possible winners and the potential for a beautifully paced match. The simple fact that they are going for one pin-fall makes me believe that this won't be all that interesting. I hope they prove me wrong. But here is my version of the booking for your entertainment. Reigns and Cena all but destroy Kane and Orton, they are about to turn to start their match with each other but behind the referees back, Brock interferes and sets up Cena's pin. Cena wins but is angry that he didn't get a fair match.
Mike: As simple as any prediction could be, John Cena somehow escapes the odds and retains his WWE Championship. Spoiler alert: a leaked advertisement confirming the Cena/Brock Lesnar main event for SummerSlam surfaced earlier this week. This is a 100 percent lock. Take it to the bank, or to Vegas. Cena wins.
Gavin: Roman Reigns isn't ready, especially in terms of storyline. Kane and Orton are starting to reach Bebop and Rocksteady level of ineffective flunkies. Cena is the only one who deserves to be champ at this point and I can't see him dropping it. When the Authority is talking about all sorts of different contingencies in getting the belt off Cena, I think it's safe to say that he's got this one taken care of. Cena retains, loses to Brock at SummerSlam, and Reigns becomes a star by taking Brock out. Cena's time is now before his time is up.
Marc: Seeing as how there's no real story purpose to put the strap on Kane or Orton and if and when Reigns wins, it will be at a major event like WrestleMania, I have to go with John Cena. I predict Reigns will be eliminated thanks to some Triple H chicanery and Cena to shockingly overcome the odds and defeat both Kane and Orton. Also, look for many old time WWE fans to projectile vomit on their devices, tablets, phones, or laptops as Cole once again calls Cena "The Greatest WWE Champion of all Time," during the victory celebration.
Jesse: The problem with this is that they just (again) gave Cena the title, and now they're hyping him as the Greatest Champion of All Time. And now that he's a 15-time champ, you can't keep throwing it on him so easily. Also, it's not Reigns' time yet, either Orton or Kane would be a bore right now, and since we pretty much know it's Cena vs. Lesnar at SummerSlam, I'll say what the internet loves to say: CENAWINSLOL.
Like us on Facebook and follow us on Twitter for all news updates related to the world of geek. And Google+, if that's your thing!