News
WWE and the Death of the Romance Angle
There hasn't been a "love" angle in wrestling that has worked since Macho Man married Miss Elizabeth, yet they keep trying.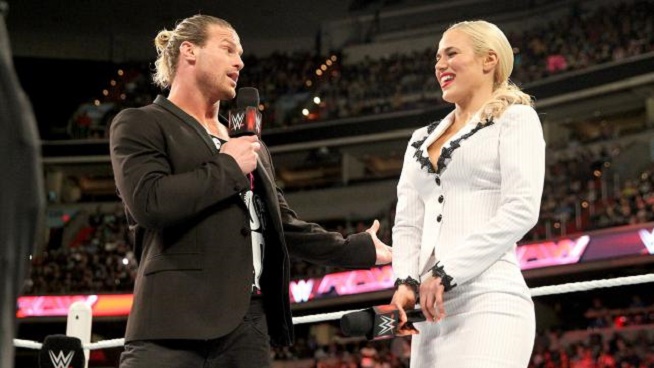 There's not many things I'd truly categorize as "cringeworthy." Even bad movies that are slapped with the label often have a charming, somewhat redeeming factor about them. Love angles in pro wrestling, especially bad ones that consist of talent with no real chemistry, seems to fit the bill, however.
As a heel tandem, Rusev and Lana were really great. They're also a real-life couple and had started to generate some steam. So naturally, WWE's creative team, or someone with more power, decided that splitting them up was the best idea for business. Because naturally, why keep together something that has been working, with two people who seem to have a genuine chemistry both on and off camera?
Silly, right?
Instead, lets put Lana, who has despised America since she debuted on WWE television, with Dolph Ziggler. Wait…there's no chemistry there at all? It's literally visible on screen how little chemistry there is? There are times they both look uncomfortable and awkward? So it must be working!
That must be WWE's mindset, because … well, because I can't think of any other reason why they've been kept together. It's almost as if someone is behind the curtain forcing them to perform together at gunpoint.
It's nobody's fault. Sometimes performers just don't click. Ziggler has some opponents I'm sure he'd say he just didn't have good matches with, for whatever reason. There's something not there. On the flip side, there's probably some guys he has tremendous matches with no matter what, and he can't really explain why. It's just chemistry. Clearly, there's none here. 
So what's better than one bad love storyline? Two! Rusev and Summer Rae are now apparently together. Again, why not?
It all seems very forced. Was the Rusev-Lana schtick getting old? I didn't think so. He lost to John Cena at WrestleMania and that seemed to be it for their storyline as a heel tandem, when they were still one of the hottest in the company.
Last night on Raw, the promo segment between the four ended with Lana and Summer having a real awkward brawl, and then Ziggler awkwardly consoling Lana, who looked awkward in accepting the consoling after the fight was over.
I felt like a director, just wanting to yell "cut!" at my television. It's not working.
In truth, few "love" storylines have, but one did once, way back in the early-90s, and the charm has been something WWE has been chasing ever since. Perhaps the next-best was Triple-H and Stephanie McMahon, back in the early-2000s when they were taking over the WWE. That worked too. But they clearly had chemistry. They're married now, after all.
WWE is trying to force a square peg into a round hole, and it's clearly evident. They need to drop it, because they do irreparable damage to either character
Match Results
1. Big Show def. Mark Henry: I like the re-emergence of Big Show as a focal point, especially if he's a heel. I have no idea what WWE is doing with Mark Henry at this point. His "retirement" angle with Cena a few years ago was really great, but injuries have once again seemed to derail him. Big Show won this match in just over a minute. Henry has become a really large enhancement talent.
2. Ryback def. The Miz via count out: Strange match. If they're going to book Miz is a chicken, who literally runs away, I'm not sure why they should invest in him going into the triple threat against Ryback and Big Show. If he's going to run from two monsters, he'll stay at his hotel and not even show up to fight two, right? The chicken heel stuff works better if there's a bodyguard, who's a giant and can do the heel's business for him.
3. Paige def. Alicia Fox: The Bella Twins were with Fox, and I guess they're heels tonight. They go back and forth more than a toddler on a see-saw. This match was really good and they actually got some good time — almost 10 minutes — to showcase their stuff. The announcing was also really good here, especially Michael Cole who was putting over Paige's emotion.
4. Cesaro def. John Cena via DQ in a U.S. Title Match: This match and entire segment was excellent. Kevin Owens pretended to accept the challenge, but backed out just before the bell rang, and the crowd ate it up. He introduced Cesaro, who had Cena locked in to a sharpshooter. Cena looked ready to tap, and Owens hit the ring to attack Cesaro and force the DQ.
This match put over Cesaro as a legitimate threat, who was about to beat Cena, it put over Owens as a selfish heel who wants the title for himself. And who could you argue this match hurt the most? Cena. But it doesn't affect him, because he's bulletproof. He'll always have his haters (because you do you rest of the internet) but Cena has continually helped elevate guys since winning the U.S. Title, and it's been some of his best work.
5. The Prime Time Players & The Lucha Dragons def. New Day & Bo Dallas: Time filler. … Also, Kofi Kingston has a big match with Brock Lesnar this weekend on a big show in Japan. He's not going to talk? Cut a promo? Win a match? Brock is going to squash him like no one has ever been squashed before on Saturday.
6. Sheamus def. Neville: Really good match with some good storytelling, even with Neville's high-flying acrobatics that can sometimes cloud the story being told in the ring. It would have been nice to see Neville cut a promo, instead of Cole just mentioning he wanted this match during introductions.
7. King Barrett def. Jack Swagger: Former World Heavyweight Champion, Jack Swagger.
8. Seth Rollins & Kane def. Roman Reigns & Dean Ambrose: Solid main event with a nice job getting the heat back on the heels. Bray Wyatt actually cost Reigns and Ambrose the match, attacking Reigns at ringside. So Wyatt got some heat, Rollins got some heat, and Kane was there as the auxiliary Authority member. But overall, nicely done getting heat on the guys you needed to get heat on heading into some pay-per-view matches. If I were WWE, I'd let Wyatt keep getting heat on Reigns until the pay-per-view, really build it up. That seems to be working.
The Finish
This wasn't a bad show, it was just a slow show. I really liked the Cena-Cesaro match and the main event, and the Sheamus-Neville match was also very good, but that's only about 30 minutes of a 180-minute broadcast. Terminator was a big theme, and not so much the NXT special. Money is where the hype is, I guess.