News
WWE 2K15: New Screenshot And Game Details
Get a look at the next-gen graphics and hear some story details for WWE 2K15!
Say what you will about the WWE's televised product, that the storylines have gone stale or that certain new talent is being held back by the old generation of superstars, but the company always goes great lengths to produce fun, replayable gaming experiences. Don't like the outcome of the main event on this week's Raw? Well boot up your Xbox and restage the match for yourself! With easy fight mechanics and plenty of features, Yuke and the WWE usually make quality games together, always raising the bar.
This year is no different. With the next-gen consoles finally here, WWE 2K15 will be the first to embrace the new technology. An early image of the Xbox One/PS4 2K15 version of John Cena has leaked and it's pretty incredible. Cena's face is amazingly life-like and no detail is spared, right down to the veins that protrude from his arms. The game may not look as pristine on the older consoles, but Visual Concept's have teamed with the games makers, putting in 50 days of work with the WWE's superstars to motion-cap them and all of their glorious moves, bringing five times the amount of animation that 2K14 focused for all current consoles.
The sounds of the game have been beefed up too, which means yes, the commentary has been given a boost. Repetitiveness is always a problem for the commentary in sports games, but the WWE's commentary team recorded four times as many lines this time around, which will hopefully prevent any redundancy.
As for the main single player story, it will be broken down into two sections. First, there is the 2K Showcase part of the game. Last year, this feature served as a history lesson, taking you through 30 years of Wrestlemania. This time around, 2K Showcase will be split into two episodes, both centering on storied rivalries from the WWE's past.
No word as to who those rivalries could involve, but it sounds like the WWE is keen on keeping the history of their program alive and well. The other story mode is MyCareer, available only on the next-gen consoles. Copping the same style as the MyCareer mode from NBA 2K14, you'll encounter cutscenes and backstage drama with authentically motion-capped WWE stars with your own created superstar. More details on this game mode are forthcoming.
UPDATED: A limited run of 25,000 "Hulkamania Edition" versions of WWE 2K15 will also be released. Check out the extras.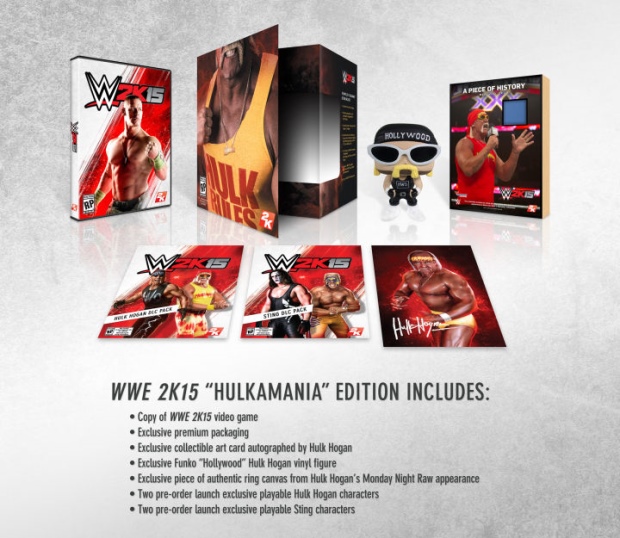 WWE 2K15 is shaping up to the best wrestling game yet! We'll have more info and screenshots of the game as they're released!
Like us on Facebook and follow us on Twitter for all news updates related to the world of geek. And Google+, if that's your thing!