News
Wrestling Crowds Need To Cool It
"What?!" chant ruins a really good closing promo by Charlotte on Monday's Raw ...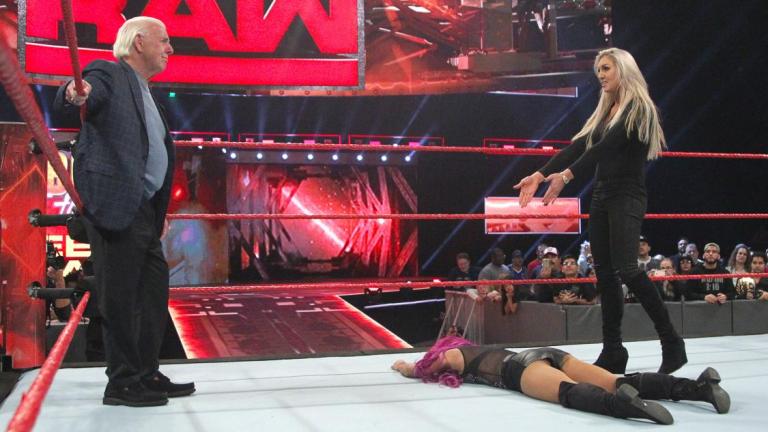 There's no more annoying trend in pro wrestling than the "what!" chant, and crowds going into business for themselves.
Closing out last night's Raw, Charlotte was delivering a heartfelt promo that was meant to tease a reunion with her father, Ric Flair. Charlotte invited Ric into the ring, and then slapped him for raising Sasha Banks' hand last week after she beat Charlotte for the Women's Title.
It was a great segment and a great promo, but the crowd's need to make it about them took me, and probably a lot of other people, out of the moment.
I subscribe to the idea that if you paid your money for your ticket, you can cheer for whoever you want. You want to boo Roman Reigns? Go ahead. It's your right.
And to some extent, this falls under the same category. But it doesn't mean it doesn't annoy me.
This is a trend that is happening more and more across pro wrestling, not just in WWE. Not everything is awesome, yet crowds all over the world will chant "This is awesome!" at least two, maybe three times per night. Why? Because that's part of the experience, I guess.
The WrestleMania weekend crowds get so much praise, other cities want it to be about them, too. That's the feeling I get, anyway.
I didn't tune in last night to watch a bunch of folks from Austin, Texas scream "WHAT?!" after every one of Charlotte's sentences. It's not funny, either. It's not original. That was started 15 years ago by Steve Austin, and people still believe, in 2016, that the chant is funny? That's what you find entertaining?
1. Seth Rollins beat The Big Show via count-out
What was that? Honestly, they keep Big Show off of television for so long, I think in part to repair him a little bit after he's turned more than a pancake on a griddle. And in his return to the program, he takes an intentional count-out loss. That really seems to deflate any steam he had coming back.
2. Jack Gallagher beat Ariya Daivari
I'm all for introducing new and different-looking characters, but Gallagher just doesn't do much for me. At least not yet. Gallagher's headbutt is impressive and kind of scary looking at the same time. He's unique looking, but I'm not a fan of that look. From the casual fan standpoint, I don't see that type of character catching on. Even my wife, a very casual fan, walked by the television and asked, "Who is that pasty guy? Did they take him out of the crowd?"
3. Kevin Owens beat Sami Zayn in a non-title match
This was a good showcase win for Owens, although it is a little concerning that WWE is so quick to go back to this match, knowing that these guys have enough chemistry that it will be good no matter what. It was still a clean win for Owens on television, which he hasn't had a lot of lately.
4. Rich Swann beat TJ Perkins in a non-title match
Short match that was just there. Nothing really of note and the consequences of the match didn't seem all that important to the crowd, or the announcers.
5. Bayley beat Alicia Fox
Another match that felt inconsequential. Bayley is great and she's really over with the younger audience. She could be the women's division version of John Cena in that regard, although it's not a direct, apples-to-apples comparison.
6. Mark Henry beat Titus O'Neil
This match lasted 22 seconds.
Rusev beat up Enzo in a hotel
The story here was that Enzo was going to a hotel in order to have "relations" with Lana. They didn't come right out and say it, but that's what was suggested.
Lana brought Enzo into the room, teased him for a bit and then told him he was a fool and Rusev came around the corner to beat him up and leave him in the hallway of the hotel, unconscious.
In the real world, that's called assault. When another guest returns to his room and finds an unconscious Enzo Amore, naked, the police probably get called. Considering there was a camera crew in Lana's room, for some unexplained reason, the police would have plenty of evidence to arrest and charge Rusev.
As a viewer, I'll gladly suspend my disbelief, but don't insult me.
7. Roman Reigns beat Chris Jericho to retain the U.S. Title
Match of the night. Reigns continues to have really good matches, especially when he's in there against really good opponents. He's not to the point where he can carry a feud, or even a match, all on his own but I do feel like he's heading in that direction. Working with guys like Jericho is going to help that along.
Still, Reigns character isn't going to get over as much as it can until he has a run as a heel. The damage with Reigns has been done from a booking standpoint. He needs a 2-3 years as a heel and then when he goes back to babyface, the crowd will be more accepting and more on his side.
8. Sheamus & Cesaro fought The Club to a no-contest.
This match was to determine a No. 1 contender for the New Day. The match ended in a brawl with New Day after the match was thrown out. It now looks like we'll have a triple threat for the titles.