News
WrestleMania 32 and The Bigger Problems WWE Faces
With few exceptions, WWE seemed to go in all the wrong directions with WrestleMania 32.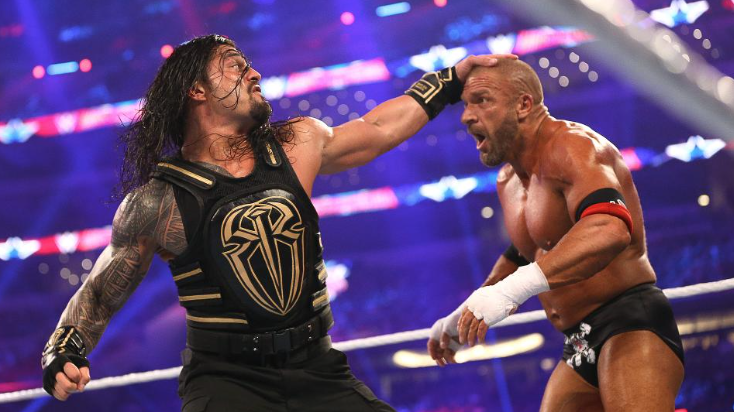 Well, they did it. 
WWE went through with Roman Reigns winning the WWE World Title last night at WrestleMania 32, despite the insanely negative reactions Reigns has been receiving at live events. WWE knew it was going to be bad, clearly playing with some of the audio channels after Reigns beat Triple H. The crowd was suddenly drowned out by what many in the building described as "deafening" music. 
As Reigns climbed the turnbuckle to celebrate, the sound mix was reminiscent of a post-edited Smackdown.
WWE was ready for that. The company also basically hid Reigns over the last several weeks. He had nose surgery — weird timing to have that done right before your big main event — and his presence on TV was limited, at best, in recent weeks. He wasn't in the ring and WWE was definitely protecting him from the crowd reaction.
At the Hall of Fame on Saturday, I don't believe Reigns was shown once to the live crowd. If he was, it wasn't more than that. WWE knew the crowd reaction would be heavily negative, and they avoided playing to that.
But it begs the question … why go through with it? Roman Reigns winning the World Title isn't the problem. Roman Reigns being pushed as the next big babyface in the company is. 
Reigns winning the World Title is fine. But do him a favor and push him as a heel. Reigns naturally has a smugness to him. His interviews are nauseating at times. Last year, around WrestleMania time, he conducted an interview where he talked about his old ring entrance, coming through the people, and what a thrill it was for the audience to actually touch him! How lucky the little people are!
Whether it's true or not, Reigns gives off a sense of an inflated self-worth. He would be the perfect cocky, arrogant, full-of-himself heel. 
What's funny is that the storyline is playing into some real-life scenarios. Reigns is vilified by a large segment of the audience because it's perceived that WWE has hand-picked him to be their guy. The most obvious choice — if they're going to keep the Authority around – is to play that out on television. Make Reigns the Authority's guy. That's what is actually happening, anyway.
Clearly I have no access to WWE's books, but I don't see a lot of Roman Reigns t-shirts in the crowd either. I don't think he's a hot merchandise seller. 
While a segment of the audience rejects John Cena, at least he's a babyface. The kids love him, he sells more merch than anyone in the company and he doesn't come across as a smug jerk in interviews.
There's no reason to keep him babyface. WWE — i.e. Vince McMahon — is going against the grain just because. It's stubbornness. It's the 70-year-old head of the company pushing "his guy" whether the audience likes it or not. And at the end of the day, why shouldn't he? WWE crammed a reported 101,000 people into AT&T Stadium last night. While the actual number is probably smaller than that, WWE crammed that stadium without advertising Steve Austin or Shawn Michaels, and despite most smart fans knowing the main event would end with not-so-pleasing results.
On top of that, the show was way too long. The pre-show began at 5 p.m. and the last match ended past 11:30 p.m. As if WWE didn't learn from the three-hour Raw being way too long, they decided to run a WrestleMania that was MORE THAN TWICE AS LONG!
That's not to say the show was entirely disappointing. The segment where Steve Austin, Shawn Michaels, and Mick Foley took out the League of Nations was very well done. It gave Michaels and Austin a spot on the show without either having to jeopardize their retirements by actually entering a match. Michaels still looks like he could walk to the ring and put on a five-star main event.
Rock teaming with a returning John Cena to take out the Wyatt Family was good as well. It was technically a match — the bell rang — but it was more just a promo segment that ended with some physicality. 
While there were better candidates to get swept aside than the Wyatt Family – why not keep them hot? — this was a chance to at least get them on the show. Otherwise, they wouldn't have been seen at all. That's not good. So this gets the Wyatt Family on the show and while they did get run off fairly easily, it was by Rock and a returning Cena.
Cena, meanwhile, looked to be in great shape. He definitely has slimmed down during his time off. Cena mentioned in interviews that he was medically cleared to return to the ring, and call me crazy, but I'm looking forward to it.
Cena has been away for basically the past six months, if you take away his two-week return back in December before his surgery. He lost to Alberto Del Rio at Hell in a Cell this past October and has been gone for the most part since.
You can't miss something unless it goes away.
WWE was lacking star power throughout WrestleMania season. Look no further than Shane McMahon in one of the co-main events. 
Speaking of which, that Hell in a Cell match was absolute garbage. It set things back, honestly.
Let's take it from a pure storyline standpoint. The entire two-month program was rendered meaningless. Unless Shane comes out tonight on Raw and spills the beans on whatever that "secret" he had hanging over Vince's head, this was a waste of time. If Shane just goes away and is never heard from again, it was a waste of television time leading up to the match, and it was a waste of a spot on WrestleMania that could have gone to one of the actual wrestlers.
This show felt like a WWE fantasy camp. Shane wrestling Undertaker, Shaq in the Andre Battle Royal. 
But back to that Hell in a Cell match. 
Not only does the story do a complete 360 — we're back where we started — but the match itself was centered around one STUPID stunt. That's right, STUPID.
We know the risks involved with being a pro wrestler. Shane jumping off the top of the cell, just because, was stupid. Doing it in front of his young children, who were sitting at ringside, should be considered child abuse.
I'm sure Vince didn't condone the move, but you would think he would have at least heard of Beyond the Mat, that 1999 documentary where Mick Foley's kids were bawling their eyes out at ringside watching their dad take unprotected chair shots from The Rock.
Stupid, stupid, stupid, stupid.
I'm glad it doesn't look like Shane got hurt, but if he did, it would have been his own fault. That was a stupid stunt. It was garbage. They might call it a necessary risk, but it was only necessary because the rest of the storyline was puke.
And like puke, this show left a bad taste in my mouth. The good was far outweighed by the poor decisions of the McMahon family. Michael Hayes seemed to hint at that during his Hall of Fame speech on Saturday, praising the writers for their hard work and dedication.
Everyone tells you that nothing happens in WWE without it flowing through Vince McMahon.
And that's the problem.
Match Results
Kalisto beat Ryback to retain the U.S. Title
Team Total Divas beat Team B.A.D.
The Usos beat The Dudley Boyz
Zack Ryder beat Kevin Owens, Dolph Ziggler, Sami Zayn, Sin Cara, Stardust and The Miz in a ladder match to win the Intercontinental Title
Chris Jericho beat A.J. Styles
The League of Nations beat New Day
Brock Lesnar beat Dean Ambrose
Charlotte beat Becky Lynch and Sasha Banks to retain the Women's Title
The Undertaker beat Shane McMahon in a Hell in a Cell match
Baron Corbin won the Andre the Giant Battle Royal
The Rock beat Erick Rowan
Roman Reigns beat Triple H to win the WWE World Title