News
Would Vince McMahon Actually Put Reigns Over Rollins And Ambrose?
Dean Ambrose hinted at winning and cashing-in the MITB briefcase on Sunday night. Would WWE actually go that direction, though?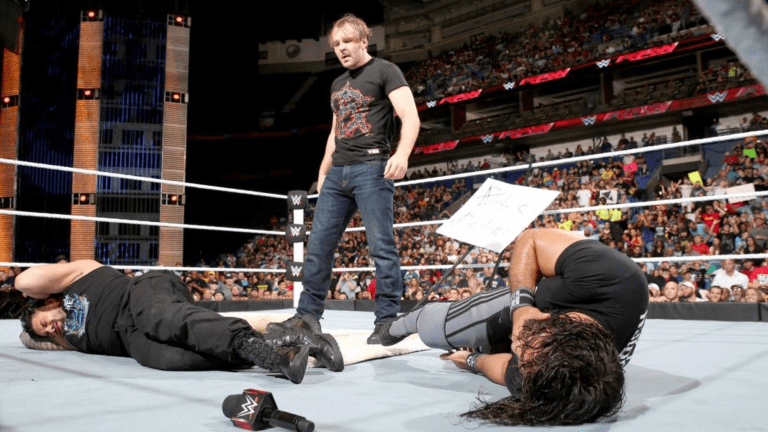 Monday Night Raw presented an interesting situation heading into Sunday's Money in the Bank pay-per-view on the WWE Network.
Dean Ambrose hosted an Ambrose Asylum segment, welcoming back his former Shield teammates Roman Reigns and Seth Rollins.
The verbal jabbing ended with Ambrose threatening to win the Money in the Bank match on Sunday night, only to cash it in later the same evening against whoever wins the WWE Title match between the champion, Roman Reigns, and the returning Seth Rollins, who said over and over last night that he never actually lost the title before getting injured last fall.
It brings up an interesting scenario. WWE typically doesn't like to have babyfaces promise things like that without coming through. It doesn't look well on the good guys to predict things and constantly be wrong.
The fear here has to be that they go that route, only to put Reigns over both of his former Shield mates.
Is Vince McMahon stubborn and thick-headed enough to actually put Reigns over Rollins and Ambrose in one night? Perhaps. He has shown the ability to do so in the past, at least.
At some point we — the people who believe the WWE needs to do something other than what they're doing — need to come to the realization that we're not going to get what we want. This isn't about WWE giving the fans what they want, it's about Vince McMahon and Kevin Dunn telling themselves that they're smarter than everyone else. It's sad and unfortunate, but it's killing the quality of the product.
And as CM Punk said during his famous "pipe bomb" promo, it doesn't matter. Even with the dwindling ratings, the company will continue to surge onward thanks in part to plenty of WWE Network subscriptions and an existing television contract. It won't hurt WWE's wallet until a few years in the future, when that TV deal is up for renewal again.
Monday's rating dipped to a near record-low 2.03. The worst Raw rating perhaps ever, depending on which sources you read, was a 1.9 in March of 1997. That show resulted Vince Russo rising to power because McMahon has his back up against the wall with WCW breathing down his neck.
No one is breathing down WWE's neck this time around, so don't expect much change.
Expect more of the same stubborn creative and more nauseating production. That's not an exaggeration on the nauseating part, either. It infuriates me that Kevin Dunn instructs the production team to shake the camera during WWE broadcasts. We get it, there is impact. Stop shaking the damn camera!
Can you imagine if the NFL instructed Fox and CBS to shake the camera on every hit? What a joke.
Unfortunately, the joke's on us …
1. The Club & The Vaudevillains beat New Day, Enzo & Big Cass
Decent opening match. The back-and-forth between the teams prior to the match was a little cringe-inducing, though, especially when Enzo and Cass talked about doing inappropriate things with Xavier Woods' trombone.
2. Paige beat Charlotte in a non-title match
WWE is already teasing a possible breakup between Charlotte and Dana Brooke. … I mean, they have been together for all of 30 seconds, so it seems like the right time to be teasing a breakup. Also, the announce team completely missed the finish in a sequence so bad, it was funny.
3. Sheamus beat Zack Ryder
Apollo Crews ran off Sheamus, who was going to beat down Ryder after the match. Remember when Ryder had a big win at WrestleMania two months ago? Yeah, neither does WWE.
4. Sami Zayn beat Cesaro
This was a very good match with a very cool finish, where Zayn appeared to go for a sunset flip but instead powerbombed Cesaro.
John Cena and AJ Styles signed their contract for Money in the Bank
This was a really good segment. Cena convinced Styles to sign a contract that prevented The Club from coming to ringside during the match.
Cena said this was a match people waited 15 years to see … which is exaggerating a little bit, but this is still a dream match for most fans.
This probably leads to Finn Balor debuting at Money in the Bank. That's my guess. With The Club banned from ringside, the stage is set for The Club to get a new member, at least.
5. Kevin Owens & Alberto Del Rio beat The Lucha Dragons
Owens and Del Rio were fighting for their spots in the MITB match, which I liked. It gave the match a sense of purpose instead of just throwing out a random tag-team match on television, the way the WWE usually does it. This was well done.
6. Dean Ambrose beat Chris Jericho
Despite being a rematch from SmackDown last week, this was a very good way to end the show. Kevin Owens was on commentary during the match and he was really good. The show ended with a brawl between all of the MITB participants.
Overall, this was a solid show that really hyped the top-three matches for Money in the Bank well. Most of it was predictable, but that's not the end of the world.