News
William Shatner First Christmas Single Features Henry Rollins
It's a Black Flag Christmas as Captain Kirk trades in his starship for a sleigh.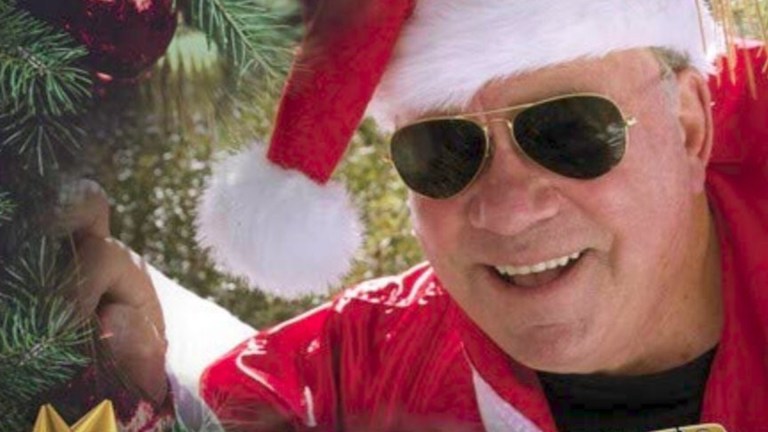 Christmas is coming and, like the Grinch in the Dr. Seuss Classic, William Shatner is a transformed man. The former Denny Crain is putting out his first-ever Christmas album, called Shatner Claus – The Christmas Album on Oct. 26. And he's assembled enough of a varied lineup of guests they could star in the "Journey to Babel" episode of the original Star Trek. Jethro Tull flautist and singer Ian Anderson, protopunk Iggy Pop, folk songstress Judy Collins, prog pianist Rick Wakeman, utopian pop master Todd Rundgren, country star Brad Paisley mix up the styles for the actor who once sold Priceline.
The man who shouted "Mr. Tambourine Man" with the same gusto he screamed "Khan," put out the track list of the album on Thursday, and followed it up with a chestnut he roasted with mellow-voiced Black Flag crooner Henry Rollins along with "too much eggnog."
"Apparently one of the songs from Shatner Claus is available," Shatner tweeted on Friday, Sept. 21. "Have a little listen."
"Jingle Bells" starts out traditionally. Shatner is a little breathless as he rushes his timing while taking a breath before turning it over to a surprisingly restrained Rollins. But soon the sleigh is gliding bobsled. Shatner and Rollins first paired up on Shatner's album Has Been in 2004.
Further reading: William Shatner on Gene Roddenberry's Role in Star Trek: The Original Series
Shatner Claus is Shatner's 10th studio album in a career that saw him cover everyone from the Beatles to the Cramps, and included an instant classic when the Captain of the USS Enterprise covered Elton John's "Rocket Man." Shatner also put out the 2011 David Bowie cover album Seeking Major Tom. Coming out on Cleopatra Records, it will feature 13 holiday songs and 12 musical collaborations, including Winter Wonderland," "Feliz Navidad," and a new original song, "One for You, One for Me." 
The styles slosh through jazz, blues, rockabilly, bossa nova and rock, In his duets, Iggy Pop turns up the volume on "Silent Night," and ZZ Top's Billy Gibbons glows on "Rudolph the Red-Nosed Reindeer." Shatner also pairs with King Crimson woodwind player Mel Collins, former Lynyrd Skynyrd drummer Artimus Pyle and the Cars guitarist Elliot Easton.
Further reading: William Shatner Christmas Album Coming
Shatner Claus is Shatner's second release of 2018. He dropped Why Not Me?, a country collaboration with Alabama's Jeff Cook, in August.
Here is the track listing:
1. Jingle Bells Feat. Henry Rollins

2. Blue Christmas Feat. Brad Paisley

3. Little Drummer Boy Feat. Joe Louis Walker

4. Winter Wonderland Feat. Todd Rundgren & Artimus Pyle

5. Twas the Night Before Christmas Feat. Mel Collins

6. Run Rudolph Run Feat. Elliot Easton

7. O Come, O Come Emmanuel Feat. Rick Wakeman

8. Silver Bells Feat. Ian Anderson

9. One for You, One for Me

10. Rudolph the Red-Nosed Reindeer Feat. Billy Gibbons

11. Silent Night Feat. Iggy Pop

12. White Christmas Feat. Judy Collins

13. Feliz Navidad Feat. Dani Bender
Shatner Claus – The Christmas Album will be available on CD and vinyl on Oct. 26. You can pre-order Shatner Claus on Amazon now.
Culture Editor Tony Sokol cut his teeth on the wire services and also wrote and produced New York City's Vampyr Theatre and the rock opera AssassiNation: We Killed JFK. Read more of his work here or find him on Twitter @tsokol.