News
Will WWE Finally Give Fans a Roman Reigns Heel Turn?
WWE continues to tease Reigns turning, but will this be the time they finally deliver? History says no ...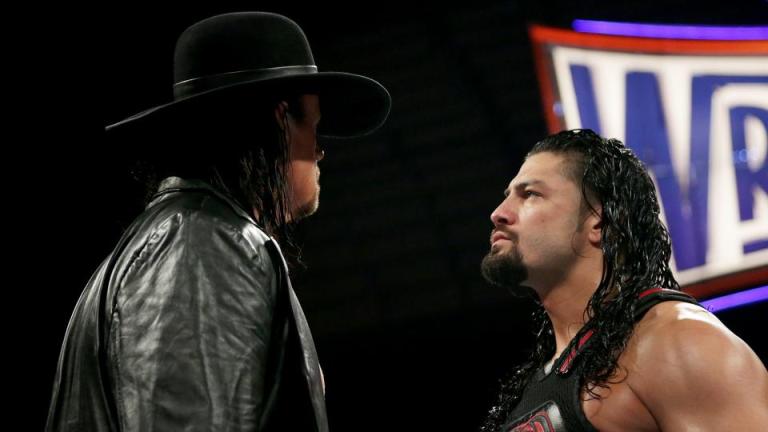 WWE fans shouldn't get their hopes up, because WWE has been walking this fine line for more than a year now, but it certainly feels like a Roman Reigns heel turn is once again in the works.
Here's some evidence:
In the closing segment of last night's episode of Raw, Undertaker came to the ring and went face-to-face with Braun Strowman. After a few seconds, Strowman backed off and left the ring to some boos from the crowd.
But, I didn't view this as a heel scurrying away from Undertaker. This almost felt like a babyface Strowman showing the Undertaker respect, and giving him the ring. The reason I say that is Strowman nodded "yes" before leaving the ring. It felt like a sign of respect. Also, earlier in the segment Strowman played to the crowd and said that Chicago doesn't like Reigns, and neither does he.
From there, Roman Reigns' music hit and he entered the arena to a chorus of boos. Reigns seemed aggravated, telling Undertaker that Strowman didn't call him out, he called out Reigns. Reigns then said "with all due respect, this is my yard now."
But that's the thing, it wasn't said with any respect. Maybe it was meant to be said with respect, but Reigns has such a natural arrogance and smugness to him, this came off like a total heel thing to say. Reigns' natural attitude has a tidal wave of arrogance to it. He gives off this appearance that he thinks he's better than everyone. That was very apparent in this segment. 
Undertaker and Reigns went face-to-face for a few seconds, and Undertaker choke slammed Reigns to the mat and the crowd exploded in cheers as the show went off the air.
If this isn't an indication that Reigns works better as a heel, I don't know what is. As soon as Vince McMahon realizes this, business will be a lot better for Reigns. I know he's getting some merch money as babyface, but long-term, WWE is doing harm to his career by insisting on keeping him a babyface.
1 — Kevin Owens beat Sami Zayn
Kevin Owens needed a big convincing win after losing so quickly and looking so vulnerable on Sunday night at Fastlane, despite WWE protecting Owens with the Jericho interference on Sunday. Zayn was a great candidate for this match. He has a natural chemistry and rivalry with Owens and also takes a beating with such sympathy. 
That being said, I'm slightly concerned that they're doing this too much with Sami. He was used to get Braun Strowman over and now here, he's used to keep Kevin Owens over. At some point, Sami is going to need some big payoff or else the audience will start to look at him as just a lovable loser, and not the ultimate underdog. David vs. Goliath is great, but you need to remember that David won. 
2 — Neville beat Rich Swann to retain the Cruiserweight Title
This was great! Seriously, the match was really good and I'm glad WWE finally gave the Cruiserweights some time to tell their story in a big match on Raw. This match, with commercials, lasted almost 15 minutes. 
After the match, Austin Aries interviewed Neville in the ring and there was some serious tension. Neville ran down Aries as "just an announcer" and Aries responded by "making a statement," punching Neville in the face and hitting a running forearm. 
You could argue that WWE has under-utilized an extremely talented Aries since his arrival on the main roster. If this is setting up a Neville-Aries match at WrestleMania, we're all in for a huge treat.
3 — Luke Gallows & Karl Anderson fought Enzo & Big Cass to a no-contest
This was a decent tag match with an angle backstage to set it up. There was a scary moment in the match where Enzo appeared to have too much momentum on a suicide dive, and Gallows made the save to catch him and could have prevented Enzo from serious injury.
It's tough to tell where they're going, but it feels like they're prepping for a triple threat match at WrestleMania for the tag team titles on Raw.
4 — Akira Tozawa beat Ariya Daivari
I can't get too greedy, I guess! After giving Neville and Swann almost 15 minutes earlier in the show, Tozawa and Daivari get only about two minutes here. But that's OK. I don't think either guy will have anything to do at WrestleMania, but this did tease something between Tozawa and Brian Kendrick for 205 Live this week.
5 — Kofi Kingston & Big E beat The Shining Stars
Very quick match, as you would expect. Good win for New Day and I'm genuinely interested in what they're going to do as hosts of WrestleMania. I'm growing tired of the New Day act, but they're a huge hit with the kids. It's beneficial, in my opinion, watching my kids watch the show, and seeing how they interact with their friends when talking about WWE. It's a good gauge on what's working with an audience that I'm clearly not a part of. My kid was laughing hysterically when New Day was bringing the ice cream cart to ringside, and this morning, he was yelling, "Who?! Who?! Who?!" with his friends in the schoolyard. I might be tired of it, but the kids don't appear to be.
6 — Sasha Banks beat Bayley to earn a spot in the Raw Women's Title match at WrestleMania
This segment was not good, and it was not the fault of Bayley, Sasha or Charlotte.
Let's start with Bayley's promo before the match. She cut a promo that dragged on a little bit. Sasha Banks entered next and the whole segment seemed to be moving too slowly. 
Stephanie McMahon came out to set up the Bayley-Sasha match, and when Steph appeared before the Chicago crowd, they drowned her out with a "CM Punk!" chant. WWE has to know this is coming. It's better to keep Stephanie away from the live crowd. They could have accomplished this same thing with a backstage segment and they wouldn't have had to put Stephanie in front of the crowd.
Then you get to the match and the crowd didn't know who to root for. You have two babyfaces in there, with a lot at stake, and I don't think the crowd wanted to see either of them lose. It resulted in a match without a lot of reaction.
7 — Samoa Joe beat Chris Jericho via count-out
This was an interesting choice. Jericho and Joe is a match we haven't seen, and I think this could be viewed as a "dream match" by some fans, and it felt thrown on Raw with no buildup. They did the quick count-out which you can argue keeps the match fresh for another time. But Joe-Jericho should be something that's advertised for a few weeks if it's going to be on Raw, or it should be held for a pay-per-view.