Features
Why you should watch Portlandia
A satirical take on hipster subculture in Portland, Oregon, US sketch show Portlandia is well worth a bit of your time…
Comedy and place often come tightly wound: The League of Gentlemen grew its twisted cabaret in Royston Vasey's fetid soil, Fawlty Towers was rooted in the faded glamour of Torquay, and the Yorkshire Dales left their muddy footprints all over Last of the Summer Wine. No other comedy though seems quite as rooted in a specific place and population as the Independent Film Channel's Portlandia.
Created by and starring Saturday Night Live's Fred Armisen and former Sleater Kinney guitarist and singer Carrie Brownstein, sketch show Portlandia draws on the liberal whims and trends of Portland, Oregon. The Armisen/Brownstein partnership began with online sketch series ThunderAnt, a blueprint for the show, which takes aim at Portland's hipster citizenry.
For those unfamiliar with the city (and grunge fans aside, that's probably the majority of us outside the states), for the past couple of decades Portland, OR. has made a name for itself as a liberal, hipster hang-out, a place populated by low-ambition, organic co-op kids who ride bikes, make crafts, wear ironically outsized glasses, start bands, and enrol in clown school. According to the show, Portland is the place young people go to retire.
All comedies are staged in a parallel universe version of the place they're set, whether that's Friends' version of New York, or Frasier's Seattle, but Portlandia particularly takes place in a satirical mirror twin of its namesake. Like Family Guy's Quahog, the fictive city has its own oddball mayor (played by David Lynch-regular Kyle McLaughlin), and a population of piously hip, pretentious characters who come in for an affectionate mocking.
Its writers' pedigrees include credits on South Park, The Daily Show, Saturday Night Live, and The Colbert Report, which gives it as good a grounding in modern US satire as you could wish for. The arrival of Arrested Development staff writer Karey Dornetto for season two was a great fit with the show's eccentricity, but it's Brownstein and Armisen's po-faced performances and absurd observations that make Portlandia so enjoyable.
Most episodes have an ongoing narrative thread dotted with standalone sketches, and are populated by a cast of one-off and recurring characters (the mayor, Peter and Nance – a couple so precious about being eco-conscious  it's painful, feminist bookshop owners Toni and Candace, and many more…).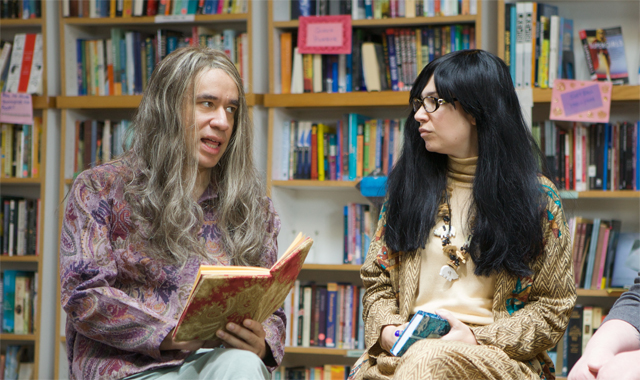 The show's best-known sketches (the ones that show up near the top of a Portlandia YouTube search) are 'Dream of the 90s' a song that neatly sets out the show's stall, Peter and Nance's 'Is it Local?' food-mile obsession skit, and faux ads 'Put a Bird On It' and 'We Can Pickle That'. Personal favourites also include a company that sources bad art for coffee shop walls, the über-competitive 'Did You Read?' pair, and an obsessive Battlestar Galactica marathon that destroys a couple's life. 
Portlandia can be seen as picking up the mantle of Canadian sketch show The Kids in the Hall for its bizarre snapshot of a specific time, place, and slice of the populace. This specificity does mean Portlandia episodes have a shelf-life, and if you've tried watching old episodes of Saturday Night Live, you'll see what I mean. Topical gags about now-defunct campaign running mates or reality stars who've faded into obscurity lose their potency with each passing hour, so knowing jibes at the hipster trend for home-pickling aren't exactly future-proof. Comedy doesn't have to last forever though, and Portlandia's use-by date at least gives us a good excuse to inhale the existing episodes on Netflix at speed.
By its second season, Portlandia had a bigger budget and a sharper sense of what's funny. It was able to take more risks in terms of style, including unpredictable treats such as a Wes Anderson-style Fantastic Mr Fox stop-motion animated segment, more songs (Brownstein and Armisen both being musicians, there are songs and fictional bands aplenty), and a brilliantly weird tale of a durian fruit from an organic home delivery box transforming a bungalow into a space-ship.
One thing that's remained more or less constant over the two seasons is the calibre of guest stars, who are chosen from a different demographic than your average celebrity faces. Eddie Vedder, Johnny Marr, Joanna Newsom, The Decemberists, and more are just a few of the musicians who've popped up in various roles (Aimee Mann works as Fred and Carrie's cleaner to make ends meet thanks to illegal downloading). Actors Jeff Goldblum, Tim Robbins, Steve Buscemi, Kristen Wiig, Jason Sudeikis and Edward James Olmos have all appeared, as have filmmakers Gus Van Sant, Penny Marshall, and Miranda July. If there was such a thing as a bingo calling card for indie lefty TV cameos from the entertainment world, then Portlandia fans would soon call house.
Being so tailored to a specific community and time though, is the show funny if you've never been to Portland? Yup, especially if you can recognise its satirical take in a Portland of your own – parts of Brighton perhaps, for UK viewers, or maybe Shoreditch. Anywhere the population contains more DJs than schoolteachers, where putting a bird on something counts as art, where restaurant menus come not only with the name of the local organic chicken you're about to tuck into but also its taste in music, then that's your version of Portlandia.
Just as Curb Your Enthusiasm is a chronicle of the absurdities, hypocrisies and petty frustrations of modern living, so is Portlandia, but with oh-so-precious subculture at its centre rather than an apoplectic millionaire. It pokes gentle fun at the humourless piety of 21st century do-gooders and exposes quite how dumb we twenty-thirtysomethings can be.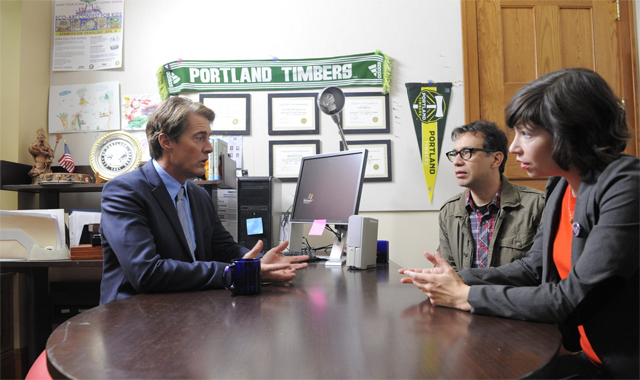 Importantly, it's not mean-spirited, and avoids that Little Britain sense of laughing at, rather than with the groups it mocks. It's a well-observed comedy of recognition, injecting some comic humility into the most cringeworthy trends in modern liberal living. Yes it's niche, but if you number amongst the niche it reflects, you'll find plenty to enjoy.
How have Portlanders themselves taken to the show? All told, pretty well. The real city's incumbent mayor, Sam Adams, even pops up as assistant to Kyle McLachlan's reggae roots bass-playing municipal official in a number of episodes, and named an official Portlandia day in 2011, with prerequisite decorative bird on the declaration, naturally.
Portlandia seasons one and two are available to watch on the UK version of Netflix. Its third season is to air in January 2013 on IFC. 
Follow our Twitter feed for faster news and bad jokes right here. And be our Facebook chum here.