News
Why you should watch Breaking Bad
As season four of Breaking Bad prepares for its US airing, Paul looks at a drama that is sorely undervalued in the UK, and explains why you should watch it...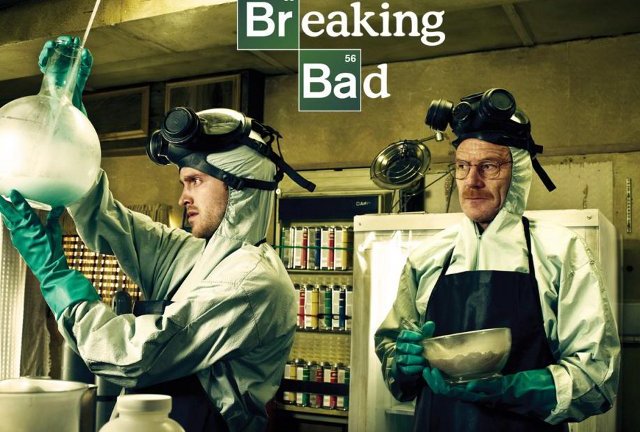 The transatlantic war on TV seems pretty much sewn up now. Whereas once the issue over who produces the best drama was once a contentious one, the unprecedented acclaim heaped on the the likes of Mad Men, The Sopranos, Deadwood, Boardwalk Empire and particularly The Wire by a UK press traditionally pre-disposed to look down its noses at our oversexed and over there cousins means that we have to accept that, for now at least, we're a distant second in the tele-visual league tables.
What this could potentially mean for UK TV is hard to say. One unfortunate consequence might be that our schedules become flooded with mediocre American imports that are mistakenly tarred with the same HBO/AMC 'quality' brush just by dint of them being American. Perhaps.
What does seem strange, however, is that almost certainly the best American TV series currently airing, and potentially one of the best American drama series of all time, has so far struggled to find distribution and an audience in the UK.
That show is Breaking Bad, the AMC crime show presided over by X-Files fan favourite Vince Gilligan. The news that the series will be returning to American screens on July 17th will come as a relief to many of us, who have spent the past 14 months in hibernation and/or drugging ourselves into a stupor in a desperate attempt to facilitate the excruciatingly long downtime in between seasons.
For the uninitiated, Breaking Bad is the story of Walter White, portrayed by the magnificent Bryan Cranston, best known to UK viewers  as Hal, Malcolm's hyperactive dad from Malcolm In The Middle. At the beginning of the series, Walt is a dissatisfied and repressed milquetoast; once a brilliantly gifted scientist with a promising career, he now finds himself bored and slumming it as a high school chemistry teacher.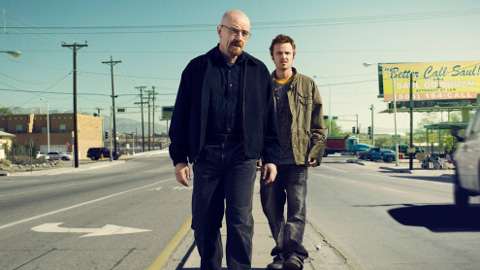 Walt discovers early in the first episode that he has terminal lung cancer, and looks likely to die within a matter of months or years, leaving his pregnant wife and disabled son without a father and saddled with an insurmountable debt.
Walt and his family live in Albuquerque, New Mexico, an area ravaged by the effects of crystal meth – during conversations with his brother-in-law Hank, an up and coming drug enforcement agent, Walter realizes he can use his chemistry skills to produce an incredibly pure and therefore valuable strain of meth.
Realising a chance to provide a nest egg for his family, he forms an uneasy alliance with his one link to the street – Jesse, a petty criminal and ex-student of his – and awkwardly enters the meth trade: a decision which has terrible, terrible consequences both for Walt and everyone he comes into contact with.
The premise of Breaking Bad might be off-putting – the foregrounding of terminal cancer for a start makes it sound just too bleak and depressing for some. But in reality, while the show doesn't skimp around or belittle the horror of cancer, it cannot be overestimated how enormously entertaining the show is to watch; an unlikely feat that it manages to achieve in a number of ways.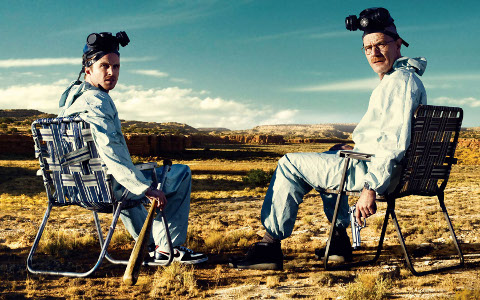 Firstly, the performances are uniformly astounding, with Bryan Cranston a lock to win every Best Actor nomination going from now until the show finally ends. Aaron Paul as Jesse isn't far behind him, and Dean Norris has also been a revelation as Hank, with his character developing from a one-dimensional tough-guy cop into one of the most layered and complex characters on television.
There's also a pronounced, Coen-esque streak of black humour that runs throughout  – even when things are at their darkest (and believe me, things get dark), there is nearly always at least one genuinely funny moment in every episode, often belonging to Mr Show and Larry Sanders alumni Bob Odenkirk as Walt's sleazemonger lawyer.
Perhaps the greatest strength of Breaking Bad, however, is its ability to regularly and consistently produce set-pieces that possess a level of breathtaking suspense that rivals Hitchcock in its capacity to induce pure, white-knuckle tension in the viewer. While arguments over which is the best of the recent crop of American dramas will go on for many years, I can honestly say that in terms of pure visceral excitement, Breaking Bad wins hands down against any show you care to put up against it.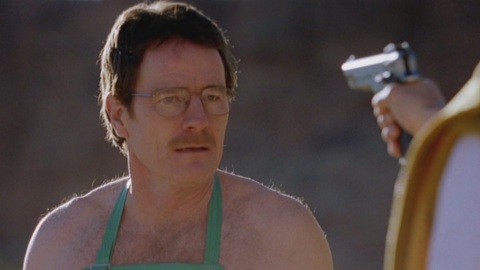 Fans will have their favourite scenes – I have no intention of spoiling any of them for you if you haven't seen them – but a characteristic they all share is what I've seen described as an 'apocalyptic realism'. Breaking Bad is wonderfully inventive in its mayhem – violence is never simple in the world of the show, and it's the level of detail attributed to these often gruesome and always thrilling scenes that stays with you. Everyday household objects start to take on a different appearance after you've watched a few episodes. You'll certainly never look at a bike lock the same way again. Or a cash machine, for that matter.
These scenes, coupled with a brilliantly talented and genre-savvy writing staff, mean that Breaking Bad is incredibly unpredictable. The writers have spoken of actively attempting to write themselves into a corner, then trying to write their way out of it – an unusual writing method that has lead to a wonderfully surprising and surprisingly coherent storyline.
Unfortunately, if you live in the UK and want to watch Breaking Bad, you will either have to seek them out online or buy the DVDs, and unfortunately only the first two series are currently available in region 2.  In terms of broadcast, Channel 5 bought the rights and showed the second series post 11pm in the weeks leading up to Christmas – a shocking burial of a show that brings to mind the BBC's infamous mistreatment of Seinfeld and Larry Sanders in the 90s.
The paucity of mainstream coverage and interest in Breaking Bad obviously hasn't been helped by its lack of availability in the UK, but I can see why, perhaps, it doesn't have the same appeal to broadsheet columnists of some of its fellow cable dramas. It's not trying to depict the post-millennial malaise of the American male, like The Sopranos, or the catastrophic and endemic failure of the people by institutions like The Wire.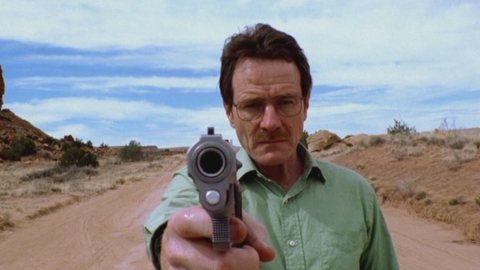 Despite Breaking Bad's uncompromising depiction of a community ravaged by drugs, there's very little in the way of the socio-political commentary that typically gets the hearts of culture correspondents racing.
Breaking Bad is a character study first and foremost. It's unconcerned with allegory or pursuing a message. It wants nothing more than to envelop you in the world of its characters, but it does so with such forensic detail and ferocious intensity that it's central, well-worn theme – the development of a sociopath – feels entirely unique.
Breaking Bad may go off the rails yet. There's still time for the show to lose its way, especially with the risky, make-it-up-as-we-go writing style it employs. But the show has been getting exponentially better ever since its fantastic pilot episode three years ago. There's no real reason to think that the fourth season won't be the best yet.
So if you live in the UK, do everything you can to see Breaking Bad at your earliest convenience. Write to Five, FX, or even Sky Atlantic – a show this good shouldn't be ignored by the UK any longer.
Den of Geek will be reviewing Series 4 of Breaking Bad from Tuesday.
Follow Paul Martinovic on Twitter, or for more babble check out his blog.