Features
Why you should be watching Sanjay and Craig
Matt tells us why new Nickelodeon comedy Sanjay and Craig, just starting in the UK, is worth your time...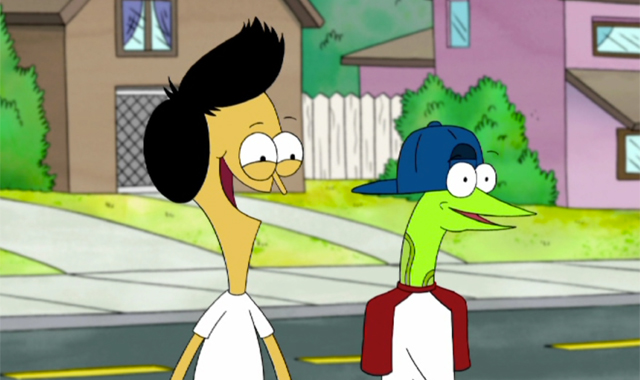 Sanjay and Craig is the latest cartoon from Nickelodeon. If I'm being honest, I'm not really in the market for a new cartoon. I've been digging into the excellent Adventure Time and I have the ongoing Teenage Mutant Ninja Turtles, too. Then there's South Park. On top of this, I have non-animated TV shows to keep up with. Then there's films to watch, comics to read and games to play. Plus a job, a family life and other trivialities like that. But certainly, my cartoons dance card is looking pretty full. On finding out the cast and influences of Sanjay and Craig, though, I decided I should at least take a look. And now I have a problem, because it's actually pretty great and I have no idea where I'm going to fit it in. I suppose I could just cut out exercise.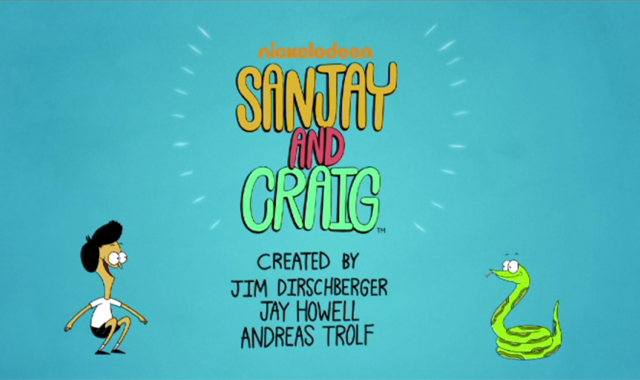 Sanjay and Craig has the feel of an early-to-mid 1990's Nickelodeon cartoon. I'd mention Rocko's Modern Life and Ren and Stimpy as the two influences I felt the strongest, although from an animation point of view I think there's some Doug in there, too. It has that cool, anarchic feel those shows had. It's funny, subversive and silly. It's also got a great theme song; catchy and conveys the tone of the show. 
The shows creators cite The Adventures of Pete and Pete, another Nickelodeon show from the same period, as an influence. There's a reason to watch as it is, as Pete and Pete was brilliant. We're coming to a time when the people who grew up watching these shows, many of which were particularly good even without the hue of nostalgia, are starting to make their own. 
The episodes of Sanjay and Craig are eleven minutes long, coupled together to make one episode so we never really know what number episode anyone is talking about. I got to see the first two episodes (US readers may find themselves tutting at this point, as the show has been on there since May, while we're just getting it in November), or one set of episodes, or one episode. One episodes?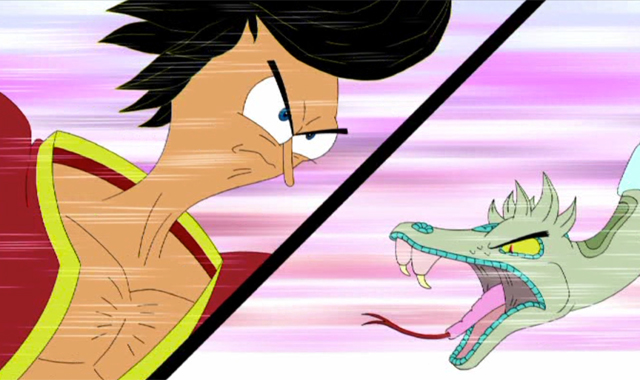 Anyway, the first short is called Brett Venom MD and finds Sanjay and his talking pet snake Craig attempting to sneak into a hospital to watch a 'butt transplant' as it sounds like it'd be pretty funny. Chaos ensues. The second short is Laughquake and finds the pair attempting to learn how to laugh better.  Chaos Ensues again. 
The voice cast for Sanjay and Craig is bananas. Sanjay is played by Maulik Pancholy, who you'll probably know as Jonathan, Jack's assistant, from 30 Rock. Chris Hardwick, who you might know from a million different things, such as his Nerdist podcast, hosting Talking Bad, starring in House of 1000 Corpses or as a stand-up comedian, is Craig. The show also features Freaks & Geeks and Scooby Doo star Linda Cardellini, The Big Bang Theory's Kunal Nayyar and Arrested Development's Tony Hale. Although he wasn't in the episode(s?) I've seen, Matt Jones, who we all know as Badger from Breaking Bad, will feature in future episodes, too. Like I said, it's bananas.
I think it's going to be worth keeping an eye on this show. The first two episodes are really funny. What's great is that they feature several different types of gags. We get visual parody, weird jokes that spin away from the plot, hyper-detailed close-ups on disgusting things (just like Ren & Stimpy used to do so well!), tremendously funny dialogue and the best 'fart and response' joke I've seen in a good while. 
The eleven minute runtime works a treat, too. It feels like you can get away with being a little more experimental and weird if you've got another story tacked on afterwards. Here, it also meant that the thing can chug along at a quick pace, with jokes coming the entire time, and it never has to worry about stretching the story out.
While it's far too early to tell whether this show can keep itself going, it's definitely off to a strong start. Honestly, it was only when I sat down to write this that I realised how tricky it would be to recommend a show based on just the first episode. Especially if you're going spoiler-free, there's not too much to say. For the sake of taking ten minutes to check it out and give it a try, though, I'd say it's definitely worth adding to your TV schedule for it. Just cut out exercise; you don't really need it. Sanjay and Craig is definitely more fun than exercise.
Follow our Twitter feed for faster news and bad jokes right here. And be our Facebook chum here.