News
Why you should be watching Castle
It stars the mighty Nathan Fillion. It's full of Firefly references. And it's brilliant. As Castle prepares for its third season, here's why you should be watching it...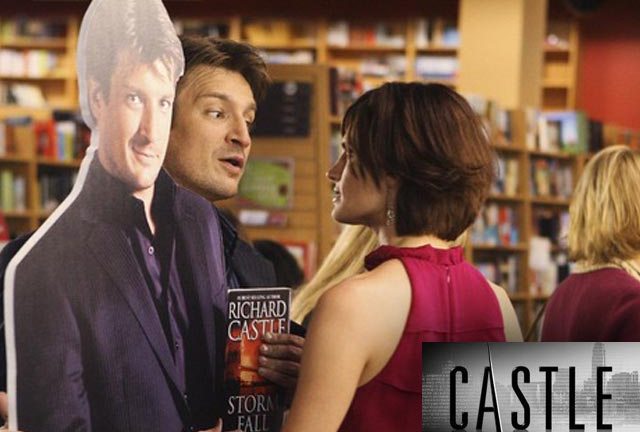 Take the sincerity of Firefly, add the morbid fascination of CSI, and throw in a dash of literary humor reminiscent of Murder, She Wrote, and you have the recipe for great television. Castle, the ABC Monday night surprise hit, is exactly what book nerds and crime show fans alike have been waiting for.
Richard Castle, flawlessly portrayed by the charming Nathan Fillion (Firefly, Two Guys, A Girl And A Pizza Place), is a 26-time bestselling author of murder mysteries. He is a ruggedly handsome, womanizing, mischievous kid-at-heart, with a gift for knowing exactly what people want to hear (or read), and is a joy to watch on screen.
He's thrown into the world of crime-solving suddenly and unwillingly, but discovers inspiration in the sassy lead detective and pulls some strings with the mayor to follow them around and use his knowledge of criminal psychology to help solve cases.
Stana Katic (The Spirit, Quantum Of Solace) is Kate Beckett, a sexy, no-nonsense homicide detective for the NYPD with a good eye for detail and a tough attitude. She is put on the cases with strange or eerie circumstances and is the best at catching the creepy killers. Katic is beautiful and strong in the role, and the contrast and chemistry between her and Fillion is stunning and often hilarious.
The two are forced together when Beckett's precinct is called to solve a mysterious murder (which soon escalates into three murders) with details that seem all too familiar. The murder scenes are straight out of two of Castle's novels, and so season one begins.
Very quickly, Fillion and Katic show their superior acting chops and phenomenal chemistry. The writers give them witty banter and they can play off of each other so well, you would think that they had been working together for years.
Week after week, the team solves murders and catches killers in strange and sometimes disturbing circumstances, but that's not all that this show is about. Castle has a young daughter that he's trying to raise, Beckett has a traumatic past, and drama ensues. What is so unique about this show is that it can be mysterious and thrilling, but it still has a lot of heart behind it. It's not all about the case, and the entire show has an arc, as well as a week by week mini arc. It's creative and clever and well-written, and so easy to fall in love with.
Joining Fillion and Katic is an excellent cast of supporting characters. Beckett's team consists of Javier Esposito and Kevin Ryan, two detectives who are great at their jobs and are always a huge help to Beckett, whether it's noticing details that the others missed, interviewing witnesses and fact checking, or just doing the paperwork. Jon Huertas and Seamus Dever (Esposito and Ryan) are obviously friends in real life, and that friendship translates on screen, making their characters believable and loveable, complete with catch phrases and nicknames.
Tamala Jones plays Lainey Parish, the local medical examiner, who takes on Beckett's dead bodies and is critical in finding out the facts that can turn a case in any direction. She is a sweet but tough and honest friend to Beckett, and her comedic timing is spot on. Law And Order and NYPD Blue alum Ruben Santiago-Hudson has a role as Captain Roy Montgomery of the 12th precinct. Mentor and boss to Beckett and friend to Castle, he has an awesome role with some humor, some hilarity, some professionalism, and all attitude.
Castle's little family consists of Martha Rodgers, played by the legendary Susan Sullivan (Falcon Crest, Dharma And Greg), his eccentric and dramatic actress mother who lives with him, and his 15-year-old daughter, Alexis (Molly C. Quinn). Quinn is a revelation. She lights up the screen whenever she's present and her character is an adorably sweet balance to her father's recklessness. The casting is excellent and the three of them really do look like a family.
So, Castle has a strong plot, hilarious and in-depth characters, and an all star cast. What more could you ask for? How about awesome guest stars? Actors Alyssa Milano, Tom Bergeron, Dana Delany, Monet Mazur, and Debi Mazar guest star. Milano, especially, plays an amazing character, one that this author would love to see more of and real-life mystery authors Stephen J. Cannell, James Patterson, and Michael Connelly make appearances as themselves, often giving Castle helpful murder-solving advice.
If there aren't enough reasons to watch Castle already, try this one, fellow geeks: the Firefly references run rampant! Fillion dresses in his old Malcolm Reynolds costume and if you listen carefully, you'll hear lines like "I was aiming for his head!" Interested yet?
Castle is on ABC on Monday nights at 10:00 pm in the US and series 1 is currently airing in the UK on the Alibi channel, with the second series premiering Wednesday, September 22nd at 9:00pm. I highly recommend watching it. You will not be disappointed.
We hope to have reviews of the third season of the show when it returns on September 20th in the States.
See also: