News
Why TNA Impact Wrestling Moving to Wednesdays is a Good Thing
TNA aired one of its last Friday Impact Wrestling episodes on Destination America, after the company announced it was moving to Wednesdays.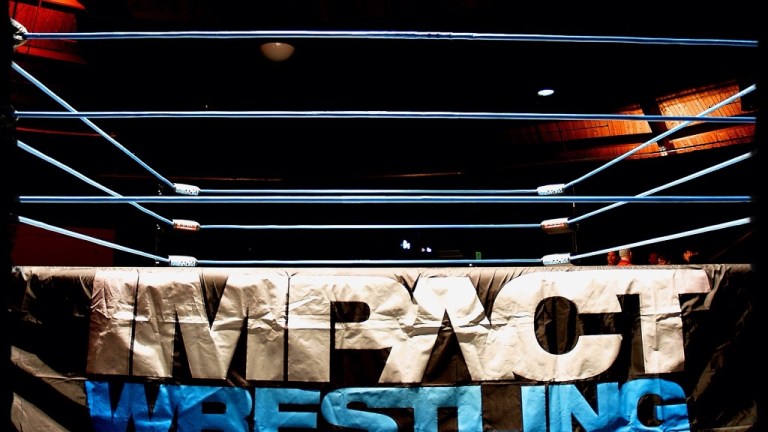 Impact Wrestling will make a permanent move to Wednesday nights at 9 p.m. beginning Wednesday, June 3rd. The mid-week knockout premiere will kick off with "stellar matches showcasing some of TNA's top talent," according to a TNA press release. It was recorded last weekend in Orlando, as TNA taped several weeks of television.
TNA getting Destination America to agree to moving the program is by far the best thing that could happen to it right now. Friday night is generally a funeral for television programs. It's one of the worst-rated nights of the week, and with the summer months coming and more people either taking vacations or being out on a Friday night, that number is likely to dip more than it's likely to grow.
I've written in the past that TNA's viewership numbers should be nothing to be concerned about. Given Destination America's clearance, and the roughly 500,000 viewers TNA is averaging if you include the west coast, I think they've retained a good portion of their audience. You also have to consider the time slot changing when they made the move. If Destination America is putting pressure on TNA for its low viewership compared to Spike, that's not fair to TNA. It's not apples-to-apples.
TNA president Dixie Carter held a talent meeting at last weekend's Impact Wrestling tapings, where she told talent "not to believe what they read on the internet" when it comes to TNA's ratings on Destination America.
First, Carter is incorrect in some of her alleged claims, and correct in others. In regards to West Coast viewers, from what I've seen on several other sites, what's reported is the live broadcast as well as the replay, which accounts for West Coast live viewing. So claiming that there are West Coast numbers that aren't included, is not true.
Now, Carter does have a point that we generally aren't privy to DVR numbers. They do account for more viewers, but in all fairness, WWE has DVR numbers that we don't report on either, because the data isn't available.
Destination America has about 60% of the households Spike TV does. When you consider TNA's potential audience was cut by almost 40 percent, and Destination America moved the program to a traditionally horrible time slot, averaging about 500,000 viewers, which is about half of what they were in Spike, is quite good.
But moving off Friday night and into a more friendly television night — Wednesday is actually a perfect fit — can only help the program.
Looking into the fall and winter, not much competition would be there on Wednesday nights. First, there is no WWE programming on cable television, and if they start at 9 p.m. they won't run head-to-head with NXT on WWE Network. The NFL doesn't run games on Wednesdays either, and TNA faced some competition from Sept. – Dec. when the NFL started airing Thursday games.
Quick Strikes
1. TNA will air Slammiversary 2014 next Friday instead of a first-run broadcast of Impact Wrestling. This explains why most cable providers are showing TNA running a three-hour show on May 22.
This makes more sense for TNA. Running a three-hour special the Friday of Memorial Day weekend didn't seem very smart. Not airing new content at all seems a lot smarter.
2. Impact on Friday was a Hardcore-themed show. I like the way TNA is developing its babyfaces and heels through these last two weeks. The Wolves, Kurt Angle, and Drew Galloway all have good storyline arcs at the moment, and they all are highlighting their individual strengths.
3. Eric Young brutally attacked U.S. Army veteran Chris Melendez following a 10-man hardcore tag match. The commentary really lifted this segment as well. I've been critical of Young as a heel, not for any fault of his own but because he was booked as a goofy character for so long, I found it hard to believe. But the last several weeks, with last night really being the exclamation point, he's been one of, if not THE best heel in all of TNA.
Match Results
1. The Dollhouse def. Brooke & Rebel
2. Mr. Anderson def. Tyrus
3. Abyss and Magnus fought to a no contest
4. Tag Title Series: The Wolves def. The Dirty Heels (Wolves lead best-of-5 1-0)
5. Robbie E def. Jessie Godderz
6. Robbie E def. Jessie Godderz (yes, again)
7. Robbie E def. Jessie Godderz (yup, a third time)
8. Team Young def. Team Angle in a 10-man hardcore tag match
The Finish
Another really good show from TNA. One area of constructive criticism, I'd say, is that they should focus more on their strength, which is the in-ring product. Looking back at last week's live show, and even tonight, there was a bit too much talking considering I think TNA's best quality is the wrestlers' work in the ring.
The show still opened with a promo segment. I'd like to see TNA break that mold and kick off the show with a hot match. It would also help differentiate its product from WWE.
But overall, TNA has a good episodic feel to it right now. I don't think the upcoming PPV next month is going to change that, either. They have a formula somewhat figured out — there's always some kinks in the chain — but it's working for them.