Features
Why Sky One's Sinbad deserves a second series
Bold casting, character development, comedy and action. David argues that Sky 1's Sinbad should have been allowed a chance to grow…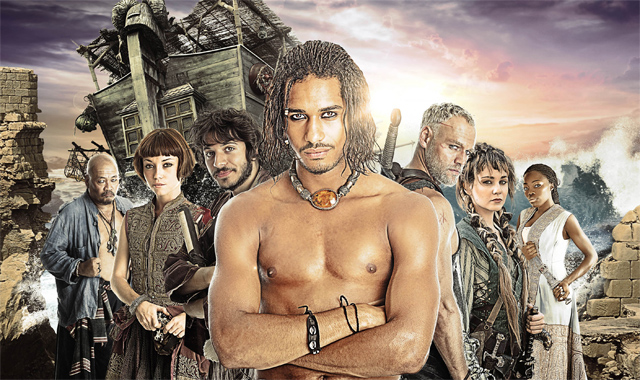 This feature contains Sinbad spoilers.
With their 2012 take on Sinbad, Sky1 took the legendary sailor and gave the family-action adventure genre a thoroughly modern spin. Beyond contemporary notions that heroes come in all shapes and sizes, the casting of Elliot Knight as Sinbad was a rare instance of them being actualized. While the classic stories have always been ripe for adapting with people of African and Mediterranean descent, past iterations have rarely (if ever) seen anybody like that take the lead. Boldly excellent casting didn't stop with Sinbad; it extended itself to all the members of the show's ensemble cast. While the show had plenty of action to keep Sinbad and his friends busy, there was also a care given to character- and world-building that's chief among the reasons the show deserved more than its twelve-episode run. 
Thrills, heartbreak and hope
First, some context: we're introduced to Sinbad and his brother Jamil (Devon Anderson) living in the port city of Basra and squeezing every moment they can out of life on the fringes – Sinbad, recklessly so. His fight with a young man who, unbeknownst to him, is the son of the powerful Lord Akbari (Naveen Andrews) ends in the guy's accidental death. Unaware of just how much trouble he and his brother are in, Sinbad finds time to swindle African noblewoman Nala, played by Estella Daniels, and her father (acting great/the Potter world's least posh wizard George Harris). But soon they're apprehended by Akbari's guards, and vengeance-obsessed Akbari kills Jamil. Sinbad escapes, but his grandmother blames him for Jamil's death. He's cursed with an amulet that strangles him if he should ever spend more than one cycle of day on land.  
With this, the series started with a fantastic if familiar premise – that the only way Sinbad will ever be rid of the curse is if he becomes not just a man, but a bigger man at that. 
Sinbad heads to the port and sneaks on The Providence – helped by Elliot Cowan's Norseman Gunnar. Aboard the ship, Sinbad encounters another stowaway, Rina (Marama Corlett). When the ship's doctor, Anwar (Dimitri Leonidas), discovers the wounded Sinbad and tries to help him, he is brought conditionally into the ship's fold. Last but not least among the Providence's manifest are Nala, her father and the ship's Cook (a scene-stealing Junix Inocian). After the Providence is attacked at night by some of The Mill's finest work – a monster composed of water (a literal sea monster, if you will) – and makes it through a storm, Sinbad and the aforementioned crew are the only survivors. Even with Akbari aided by the sorceress Taryn (Orla Brady) in his search for him, the horizon is bigger than any Sinbad has known before.   
All great characters (and shows) stumble
Everyone on the Providence spends a period of time hiding who they are from each other. Initially, this and the fact that none of them have any place they're eager to belong to in the world are the only things they have in common. But together they help each other overcome water thieves, greedy merchants and a personification of Death –  the latter taking place in the first Nala-centric episode. For me, Nala and her arc in the series represent both the show's unique strengths and the way it could stumble a little with them. In episode four (The Old Man and the Sea), she's tempted to fulfil an agreement her people made in which Death (played by Timothy Spall) spared them in exchange for her hand in marriage. Nala, however, comes to realize that the spectre of her father that Death offers as a pending resurrection is hollow. It's the first episode that the beautiful and smart noblewoman really lets her guard down.
It seems so simple to appreciate Nala on the show's terms, but typical casting might have had her played by someone who looks more like Rena's Marama Corlett. When a siren is feeding off of Sinbad's good memories in episode six, his defining memory of Nala is one of her vitality being unaffected by the scorching Basra heat – which makes it all the more pity that when Sinbad breaks free of the amulet's curse, Nala's character decides to leave the ship and held rebuild a broken Basra. The goodbye kiss they share takes Sinbad by surprise, but it also seems like it was a kiss he'd been waiting for.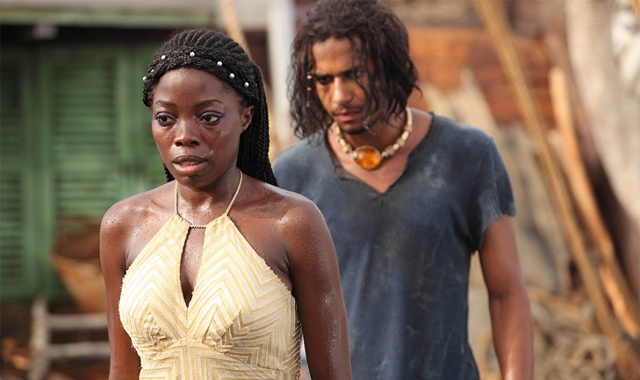 I don't know why Nala was written out of the show by its seventh episode, but the traits of replacement Tiger (played by Tuppence Middleton and making her first appearance in episode nine) speak to the possibility that the show's creators at least partly wanted a more action-oriented love interest for Sinbad. For all of her qualities (her bounty hunting skills and savvy do leave a favourable and strong first impression), Tiger as a character is also a bit more typical to the genre than her predecessor. Both Nala and Tiger could have been better served in the long run by storylines that saw their respective strengths tested and improved upon. In this regard, it seems like the show's creators had a more fully fleshed out sense of the rest of the Providence crew-members.
From Pilot onward, the character of Anwar emerges as someone who's far less hardened by the world than the others. That part of his nature has a vital influence on the crew. With every adventure they're on, the Cook character seems to see that crew less as functioning cogs for the lifestyle he's accustomed to – and more as people. As he tells Sinbad in episode seven, "One day you wake up, look around, and you find your home has come with you." 
Growth, or "You're better off without them. I mean, a failed rescue like that can only bring more shame to the family name."
From her willingness to fight Anwar to the death in the second episode (though they were being threatened, Anwar was unwilling) to slowly going out on a limb for her Providence crew-members, Rina's development as a character was some of the show's finest. Anwar's attempt to rescue her in episode seven (Homecoming) showed growth for his own character – he had to assert himself beyond the wishes of his controlling, misguided parents – but not so much that the humble doctor was all of a sudden a competent man of action. When Akbari's guards take Rina away in a carriage, Anwar chases them and attempts to jump on it. He ends up face-flat on the ground, only to find Rina has rescued herself. Her attempt at consoling Anwar about the loss of his family, as seen in bold above and as relayed in a fantastic deadpan by Marama Corlett, got the biggest laugh from me in the entire series. It also showed how much Rina had come along. 
Another mark in growth for the show's characters was the way they generally came to decry violence (as much as characters in an action-adventure show can, anyway). Gunnar rues his past as a Viking and, as much as he steers Sinbad away from his anger about the death of his brother, he's unsure that people marred by violence can overcome it. Sinbad, however, is a bit more optimistic.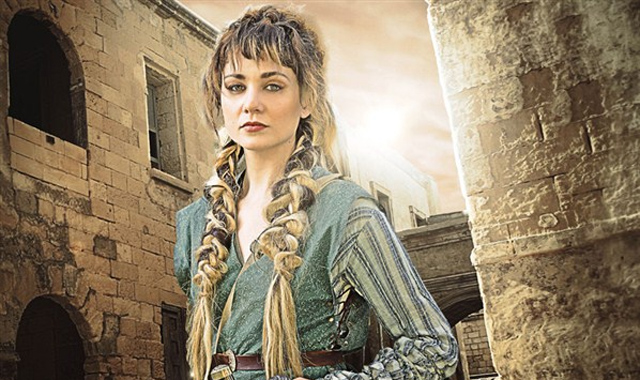 When Taryn captures his grandmother and forces him to return home in episode seven, Sinbad and Akbari finally face each other. Sinbad beats Akbari, and with the sorceress Taryn as his cheerleader, seems ready to strike him down. Instead, Sinbad apologizes for the death of Akbari's son and relents. His amulet drops away from his neck, and to Taryn's chagrin, Akbari ends up forgiving Sinbad. This complicates Taryn's plans, and she does away with Akbari moments later – but even she is later fleshed out a bit more to the point of being a bit more human than she seems. 
It's a rare show where the hero can grow enough to say that one of the villains "was a good man. He just lost his way." 
Left hanging
In the show's final episode, Taryn's manipulations have put Sinbad on a path to the land of the dead. She wants her daughter back, and he's eager to take the trip for a chance at reuniting with his brother. With the Providence crew and Taryn venturing with him, Sinbad learns that his being the key to their access to the land of dead is because he was stillborn – but saved from death by his father. Sinbad meets up with Jamil, but his brother ends up staying behind and sacrificing himself so that the rest of the crew, along with Taryn and her daughter, can escape. Since Jamil had expressed to him that he wanted him to live life fully, Sinbad can now come to terms a bit less painfully with the fact that he'll never see his brother again. 
Aboard the Providence and watching him with a clouded eye, Taryn's daughter is clearly not all that she seems. We'll likely never get to see Sinbad and his friends deal with that, but we do get a sense of how positively he's affected his crew-members. The little moments between them is one of the things I think fans of the show will miss most.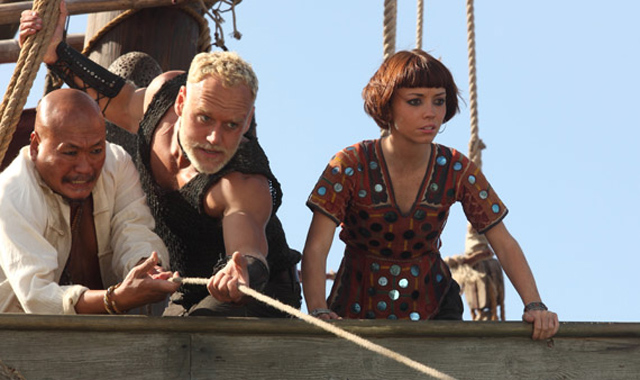 I'd be remiss if I didn't mention the top-notch score the show had as provided by Christian Henson – and the way it attracted acting talent like Sophie Okonedo, Janet Suzman and Dougray Scott. And also how beautiful it was for being filmed on location in Malta.
With a smaller potential audience than most American networks have, Sinbad's ratings on Sky1 were quite close to properties like Supernatural and Arrow. Both of those shows were uneven in their first seasons, but there was already a lot to enjoy and plenty to build on. The same can be said of the BBC series Merlin, and so it was with Sinbad – which accomplished more narrative-wise than Merlin did in its first few seasons. Even though Sinbad didn't get a second series, it was certainly a unique success in its own right. And, hopefully, it will lead to more diverse protagonists on TV.  
Follow our Twitter feed for faster news and bad jokes right here. And be our Facebook chum here.