Features
Why is UK geek TV missing out on the teen demographic?
Following the cancellation of Switch and The Fades, Caroline asks why UK fantasy television is failing to grab teen audiences...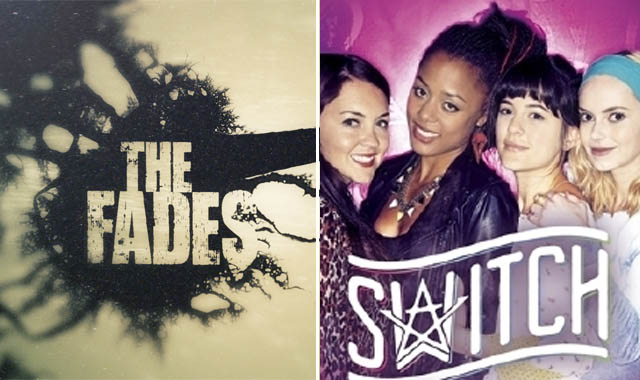 The Christmas finale of BBC1's flagship fantasy, Merlin, felt like the end of an era in more ways than one. The show itself was adored by its fans, and the shock of cancellation was still fresh when the long-running fantasy series breathed its final breath. But it also spelled the end of another homegrown geek series aimed at a young audience, leaving just Misfits to fly the flag in its absence. Two recent attempts to capture young adult audiences for fantasy shows, The Fades and Switch, have both been commissioned and cancelled in the last couple of years, posing the question: why can't UK genre television hold onto that elusive teen demographic?
People might have complained that Merlin became too influenced by the more 'adult' Game of Thrones in its final hours, but growing up is something that happens to most series of its kind. It still never really strayed from the mission it started with, which was – inspired by the success of Smallville in the US – to tell the story of King Arthur and Merlin in a way that would appeal to younger viewers alongside older, existing fantasy fans. Merlin was an undeniable victory for geek viewers, and helped to usher in a mainstream acceptance of sci-fi and fantasy that might now be inadvertently left behind.
Commissioning decisions in the UK, like everywhere, come down to ratings and budgets (original drama, it should be said, has a much heavier price tag than the likes of Snog, Marry, or Avoid?, and it was ultimately budget cuts that forced BBC3 to choose between The Fades and Being Human) but the fact that shows like The Fades are taken from us because of the desired demographic wasn't being reached is very interesting. The Fades, which of course went on to win a BAFTA after its cancellation was announced, should really have been a big hit with young audiences for if only the fact that it took great pains to combine Skins' sixth-form setting with the horror conventions that now seem oh-so-stylish given the triumph of American Horror Story in the US (not that horror trappings helped the fate of this year's now-cancelled 666 Park Avenue).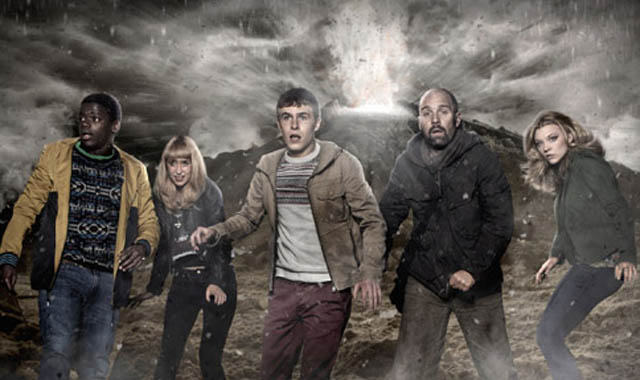 The Fades premiered on the same night as Channel 4's Fresh Meat, with the former capturing 732k (3.1%) of the viewing audience to the latter's 1.47m (8.4%). This is the highest number the short-lived series ever reached, and may well tell us something about young viewers' tastes. Fresh Meat, like Skins and The Inbetweeners, was advertised as salacious and, for lack of a better term, 'cool'. The Fades, despite being aired on BBC3, was advertised in a way that appealed to older viewers already pre-disposed to what it was selling. To be fair, this is pretty demonstrative of what the two shows really were, but it's also a crying shame.
There's obviously more to attracting and keeping a teenage audience than using a protagonist in their age-group, but is it the case that the majority of 16-25s in the UK are turned off by fantasy and sci-fi shows in a way we hadn't previously realised? The BBC talks about series like Merlin and Doctor Who as 'three generation TV', but the trio of audiences they're talking about are children, parents and grandparents. What about that limbo between CBBC and more adult programming on BBC1? Well I'd guess they'd tell us that that's what BBC3 is for.
BBC3 was the home of The Fades, and is a channel that was rebranded in the noughties to appeal to the very demographic that weren't being catered to by the main channels. A direct rival to similar channels E4 and ITV2, today's digital telly now looks like a battleground for 'yoof' audiences. Like the US equivalents, The CW, ABC Family and MTV, genre output is few and far between but, who's winning? If we're talking about successes, then Misfits secures it for E4, but it still pales in comparison to the crossover impact of Skins or The Inbetweeners.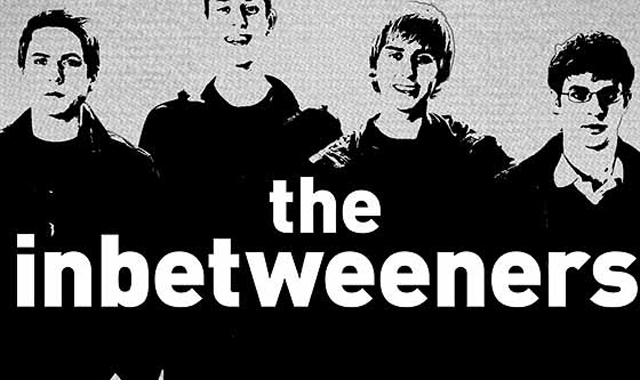 On the subject of ratings, some might be surprised to learn that it's a problem in America, too. The CW, despite their best efforts in branding and choosing interesting ideas, often reports abysmal numbers for most of their shows. Their proudest achievement of recent years is probably The Vampire Diaries, which straddles the silly and serious line that The Fades also attempted to, but the numbers tuning in every week pale in comparison to other networks like ABC or CBS (don't even get me started on how many people are watching The Big Bang Theory). Series only exist at all because of advertisers' desperation to be seen by 18-34s, which obviously isn't a factor on BBC3.
But it is for ITV2, so why didn't Switch tempt a bigger audience? Featuring slightly older twenty-something girls in the lead roles, the show was still clearly aimed at younger viewers who had outgrown CBBC and were in search of something a bit older (yet still light and frothy) to watch. ITV2 is a channel mostly populated by series like Celebrity Juice and The Only Way is Essex, so we should first and foremost applaud their attempt at weaving some genre television into their schedules, but Switch was largely ignored  upon arrival. Some might argue this was simply down to its quality, but it's worth remembering that Charmed ran for eight seasons in the US.
But is there a silver lining to all of this? BBC3, ITV2 and especially E4 are increasingly being seen as pinnacles of innovation and creativity, with young audiences somewhat introducing the online viewing, webisode watching, multi-platform viewing habits most now use every day. Skins, despite not being sci-fi or fantasy, is responsible for so much in terms of online activity that supports today's television, and the same practices of offering online content that complements the main show have helped make shows like Misfits big hits. The magic formula hasn't yet been found, but I'd guess that when it is, it'll be found on these three channels. 
In general, isn't it the case that young people have less time and patience for watching television at the time of broadcast? It's all very well and good for outlets to target the cherished demographic, but are they actually interested in reciprocating? Back in the day, there were limited options for teenagers in terms of entertainment (books, cinemas, VHS/DVD, radio etc.), but now the choice of potential entertainment is pretty much endless. You're more likely to see an eighteen-year-old simulaneously tweeting on their iPhone, playing on XBox Live and downloading the latest US show via file-sharing than making an appointment to watch that well-reviewed fantasy show in the living room at 9pm.
For those uninitiated in illegal downloading, however, The Vampire Diaries, Gossip Girl and countless other youth-targeted series from the US are still watched on E4 and ITV2, so it's abundantly clear that this is where we should be looking to find similar shows being made on our own shores. The fact that this isn't happening with more frequency is a shame, but ratings reports suggest that it's partly the fault of unreceptive audiences. Many adult viewers would never consider tuning into the homes of TOWIE or Made in Chelsea, so is there an unfair prejudice that keeps viewers away? 
I'd guess this isn't the main problem, since plenty of Den of Geek readers are more than open to watching the odd CBBC show should they appeal to their tastes, as the likes of The Sarah Jane Adventures, Horrible Histories, and Wizards Vs Aliens prove. The Fades might have been a great example of how brilliant fantasy-teen TV can be done in the UK, but what's the use if nobody outside of the core group of cult viewers ends up watching? With the departure of Merlin and a distinct lack of exciting new UK genre shows on the horizon, it might be time to add fourth audience to 'three generation TV'.
Follow our Twitter feed for faster news and bad jokes right here. And be our Facebook chum here.