News
Whiskey Cavalier Canceled
Despite recent hopes of a cancellation reprieve, Whisky Cavalier has been definitively axed by ABC.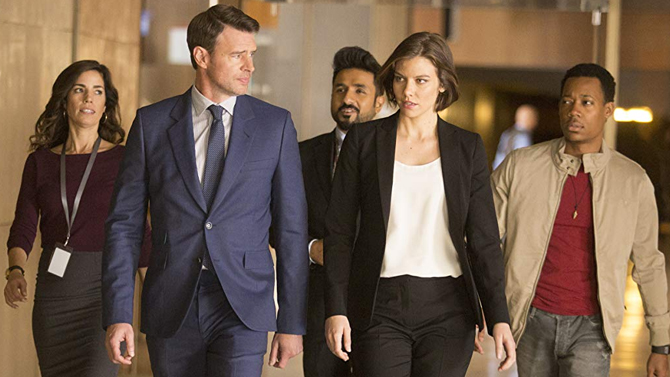 Well that hope was short-lived. After some reports that Whiskey Cavalier Season 2 might just happen on ABC after all, ABC went and reiterated that the show is canceled after all.
While ABC canceled the series earlier this month, an earlier report from TV Line said that talks were underway between ABC and the show's production company, Warner Bros. Television, to reevaluate plans for a second season of Whiskey Cavalier. In an update, said talks were confirmed by the network, which said it was "taking another quick look at the feasibility of renewing the show, and conversations are ongoing. We expect a fast decision, probably by the end of this week."
Apparently, those talks didn't go so well as Deadline has now re-confirmed that Whiskey Cavalier was kaput.
The network's official cancellation of the light-hearted, sexy spy-centric thriller series after a 13-episode inaugural season is an unfortunately underwhelming end to a once-auspicious TV endeavor that had been touted well in advance, having successfully poached The Walking Dead's Lauren Cohan from her long main cast tenure on the ratings-sliding, but still-formidable, AMC serial cable titan. However, the early hype also set high standards, and the series – lavishly-produced with characters globe-trotting around the word – was never a ratings juggernaut, with Nielsen citing a season average (with last night season/series finale,) of 3.347 million viewers; not particularly impressive for a series produced on its scale.
ABC Entertainment president Karey Burke explained of the Whiskey Cavalier cancellation at the Disney upfront press conference on May 14 (via Deadline).
"It was a tough decision, it was the last decision we made. We thought we gave it very strong launch in spring. But we lost audience. We felt the biggest opportunity was to try something new. We looked for other time slots but did not see a real opportunity to grow."
The post-cancellation fallout of Whiskey Cavalier yielded plenty of emotional responses from the cast and crew, notably from co-star Scott Foley, who, joined by teary-eyed recurring player Marika Dominczyk, posted an emotional video response to the network's nixing of the show.
The May 22 season/series finale ended on a rather shocking cliffhanger moment for a certain main cast character, a teasing tweet (seen below) was made, seemingly rallying the fans. It's a moment that feels a lot like the recent situation with NBC's ratings-challenged, chronologically-crossing adventure series, Timeless, which, after being initially cancelled by the network after its first season, would be miraculously revived – purportedly fueled by fan momentum – earning a second season, and was even allowed to wrap things up properly in a subsequent TV movie conclusion. Sadly that will not be the case…at least not on ABC.
One could argue that Whiskey Cavalier did manage to hold steady, since its February 24 series debut banked 4.7 million viewers, and, despite dropping as low as 2.4 million (on the May 8 episode), the season/series finale managed to draw 3.8 million viewers, representing a small premiere-to-finale viewership hemorrhage, and possible audience growth. Unfortunately, the numbers apparently didn't add up.
Joseph Baxter is a contributor for Den of Geek and Syfy Wire. You can find his work here. Follow him on Twitter @josbaxter.