Features
Which of these 80s TV shows is next for the reboot treatment?
Following the news that Manimal is being rebooted, which other 80s single-series wonders might benefit from a modern-day makeover?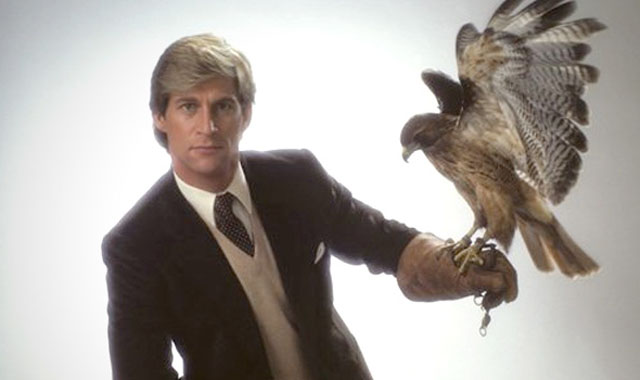 Just in case you hadn't heard, 1980s TV series Manimal, about a man who could change into an animal, is going to be made into a live action/CG hybrid film. Sony Pictures Animation has picked up the movie rights and the show's creator Glen A. Larson, one of the most prolific TV producers of the 80s, is attached as a producer on the feature. 
Manimal followed Dr. Jonathan Chase, a wealthy doctor with a mysterious past, who morphed into animals in order to help the police fight crime. The show – which starred Cambridgeshire-born Simon MacCorkindale and Melody Anderson – was slaughtered by critics and trounced when it aired in 1983, before being cancelled after just eight episodes. At the time, the NBC network was experimenting with high-concept ideas such as Knight Rider and The A-Team to see what might become popular. Unfortunately, that only came years later when Manimal developed something of a cult following, as is often the case. 
And like The A-Team and Knight Rider, it's become the latest retro TV series to undergo a modern-day makeover. So which other 80s TV series might benefit? 
Cover Up (1984-1985) 
The life of world-renowned photographer Dani Reynolds changes after her husband dies. She learns that in reality he was a government agent, and after she found out that he was murdered, she recruits former Vietnam Vet Mac Harper to help find her husband's killers. After which, she is offered her husband's job as an undercover operative.
Best remembered for: Handsome 26-year-old co-star Jon-Erik Hexum becoming bored with the extensive delays on shooting the pilot episode and jokingly putting a prop .44 magnum revolver to his temple and pulling the trigger. The gun fired, and the wadding from the blank cartridge shattered his skull, killing him. He was replaced by Antony Hamilton for the remainder of the season.
Number of seasons: 1
Automan (1983–1984) 
Hardworking and unappreciated Walter Nebicher is the police department's resident computer expert, although his immediate superior doesn't respect his contribution to the force. To fix that, he creates a special program that creates Automan, an artificially intelligent computer construct that looks real, sounds reals and, given enough power, can have an actual physical presence outside the computer that feels real. Together, Walter and Automan along with Cursor, a small floating droid that can create any object Automan needs, battle the criminal elements of the city. It's Tron, the TV series in other words.
Best remembered for: A car that could make 90-degree turns to take corners, which usually result in unwitting passengers performing a face plant against the side window every time.
Number of seasons: 1 
Tales Of The Gold Monkey (1982–1983) 
Series creator Donald P. Bellisario insists the idea for Tales Of The Gold Monkey was inspired by the 1939 movie Only Angels Have Wings, and he'd apparently been pitching it to the studios since the 70s. This underrated show was set in the South Pacific in 1938 and followed the weekly adventures of an ex-Flying Tigers pilot named Jake Cutter. Now the operator of an air cargo delivery service based on the fictional South Seas island Bora Gora, Cutter flies a red and white Grumman Goose called Cutter's Goose. Jake's best friend is his mechanic Corky, a good-hearted alcoholic whose memory is hazy as a result of the quantity of booze he consumes.
Best remembered for: A one-eyed Jack Russell terrier named Jack, who barks once for "no" and twice for "yes".
Number of seasons: 1
Bring 'Em Back Alive (1982-1983) 
Set in Singapore, Bring 'Em Back Alive was one of several shows, like Tales Of The Gold Monkey, to try to capture the success of Raiders Of The Lost Ark. It focused on Frank Buck (played by Bruce Boxleitner), a real-life big game trapper who was very famous in the 1930s and who wrote a book entitled Bring 'Em Back Alive. He appeared in several movies including a 1932 adaptation of the book and is remembered by serial fans as the star of Jungle Menace.
Best remembered for: Reuniting the awesome Bruce Boxleitner and the gorgeous Cindy Morgan, last seen together in Tron.
Number of seasons: 1
Matt Houston (1982–1985) 
This super-slick detective drama managed to last three series, but we loved it so much, we thought it was worth including. Lee Horsley starred as a wealthy mustachioed Texas oilman named Matlock "Matt" Houston who worked as a private investigator in Los Angeles in his abundant free time. The show also stars Pamela Hensley as his lawyer sidekick CJ, and George Wyner as his continuously frustrated business manager.
Best remembered for: CJ had access to an Apple III computer named "Baby" that contained a remarkable database on virtually all living and deceased persons, allowing her to provide all necessary information.
Number of seasons: 3
It's Your Move (1984-1985) 
More of a half-hour comedy than an hour-long drama, but the series that launched the career of Jason Bateman still only lasted one season. The show centred on Matthew Burton (Bateman), a particularly devious teenager living with his older sister and widowed mother in an apartment in Van Nuys, California. Burton's world changes forever in the pilot episode when Norman Lamb moves into the apartment across the hall. He strikes up a friendship with Burton's mum and the two were soon dating. Dismayed that his mother had chosen someone so far beneath her, Matt set upon sabotaging their relationship, but soon finds he has met his match – Norman reveals himself to be cut from the same cloth as Matthew, and foils plot after plot.
Best remembered for: The Dregs of Humanity two-part episode in which Burton creates a fictitious rock band that are suddenly catapulted into global stardom.
Number of seasons: 1 
The Highwayman (1987) 
Melody Anderson wasn't the only ex-Flash Gordon star to struggle with hit-and-miss TV in the 80s. This made-for-TV movie and subsequent series starred Sam J. Jones and followed the adventures of "The Highwayman", one of a mysterious group, presumably of US Marshals, conducting crime-fighting missions and solving bizarre mysteries. Each Highwayman in this group is equipped with a high-tech, multi-function truck. It was summed up by many reviewers as a cross between Mad Max and Knight Rider.
Best remembered for: Starring a host of as-yet unknowns in the world of cult sci-fi, including Claudia Christian (Babylon 5), Jane Badler (V) and Tim Russ (Star Trek: Voyager).
Number of seasons: 1 
Street Hawk (1985) 
The show is about a police officer and former amateur dirt-bike racer named Jesse Mach who is secretly chosen to test a top-secret project – an all-terrain attack motorcycle capable of speeds in excess of 300 miles per hour. Backing the motorcycle was a computerized command system that allowed its operator to provide the motorcycle's rider with real-time information from various sources, and even operate the motorcycle on "autopilot" during its high-speed runs, achieved through a process called "hyperthrust". Mach began to lead a double life, a police public relations officer by day, and crimefighter by night. Street Hawk (actually "The Street Hawk") was regarded as a lawless vigilante, and hence a fugitive from justice, by the police.
Best remembered for: The opening sequence, which promised at first glance to be offering a slightly darker series as the mysterious helmeted figure looks menacingly at the camera… then the family-friendly music kicks in.
Number of seasons: 1 
Blue Thunder (1984) 
Chronologically speaking, the Roy Scheider movie came first, then the short-lived TV series starring James Farentino and Dana Carvey (better known as Garth from Wayne's World) which competed directly against the much more successful Airwolf interpretation of the Super Helicopter story. This series more or less took off straight where the movie finished – though naturally they would've had to build another helicopter – and the flying unit was accompanied by a ground unit called Rolling Thunder, which was driven by NFL players-turned-actors Bubba Smith and Dick Butkus.
Best remembered for: Lots of re-used footage of planes being blown up.
Number of seasons: 1
Benji, Zax & the Alien Prince (1983) 
Prince Yubi has escaped to Earth with his droid Zax from the distant, red planet of Antars. When Yubi and Zax land on Earth they are befriended by a stray dog named Benji who remains their companion, but two Antarian bounty hunters are sent to Earth to find and to capture Yubi. Most of the plot involves said bounty hunters chasing Benji, Zax and Yubi in a black Chevy van, though their efforts almost always end in failure, usually due to some failure of one or both of them combined with Benji's quick thinking and loyal assistance.
Best remembered for: Zax bearing more than a passing resemblance to Wall-E.
Number of seasons: 1 
So, we'll have just have to wait and see what the Manimal reboot brings, following in the footsteps of other series that have undergone the same big-screen treatment, including Miami Vice, The Dukes of Hazzard, Starsky and Hutch, The A-Team…and on the smaller screen Hawaii Five-O, Dallas, Knight Rider, Battlestar Galactica (although that was awesome)…and so on.