News
Where's Waldo Goes Full Power Rangers (Exclusive)
Waldo is ready to take on kaiju with a little help from a longtime Power Rangers writer!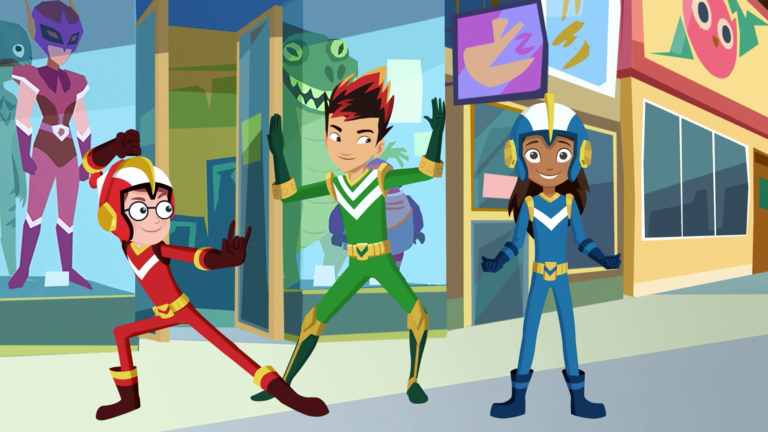 We need to recruit a Waldo with attitude! The new animated series, DreamWorks Where's Waldo?, is about to pay tribute to the long running Tokusatsu genre in their newest episode 'Big in Japan.' Written by longtime Power Rangers writer John Tellegen (who worked on everything from Ninja Storm all the way through RPM), the episode contains numerous sendups to the famous franchise. We've got an exclusive clip that features Waldo and Wenda pulling off some very Power Rangers like moves.
read more: Power Rangers: A Guide To The Multiverse
The real hero of that clip is the old woman dressed as Go Hero Green! Maybe she's got some hidden power or at least the spirit of a teenager with attitude. It's delightful to see John Tellegen pay tribute to the franchise that gave him his start in the TV industry. He wrote several classic episodes of Power Rangers, including 'Shane's Karma', 'Ocean Alert', and many episodes of the well loved RPM. Still hoping for Nikki Valentina to show up again!
DreamWorks Where's Waldo?is also a delightful new series that takes the classic elements of the Where's Waldo? franchise (you can even see it in this clip!) and adds some fantastic adventuring elements. 
This episode of DreamWorks Where's Waldo? will air on Saturday at 10AM on Universal Kids. Below is the episode title and description.
Big in Japan
When Odlulu zaps Fritz with the Mega Mega Monster key, he grows to the monster size and tries to eat all the noodles in the city. Waldo and Wenda travel to a Kaiju festival in Tokyo and meet up with Koichi, fellow Wanderer and action comic Go Hero Go fan. Together, the Wanderers must team up to stop Mega Fritz!
The more Power Rangers tributes in animation? The better.
Shamus Kelley is a pop culture/television writer and official Power Rangers expert. Follow him on Twitter! He also co-hosts a Robotech podcast, which covers the original series and the new comics. Give it a listen! Read more articles by him here!