News
When Did WWE's Tribute to the Troops Stop Being a Tribute?
WWE's "most important show," as they call it, was nothing more than a stale PR stunt ...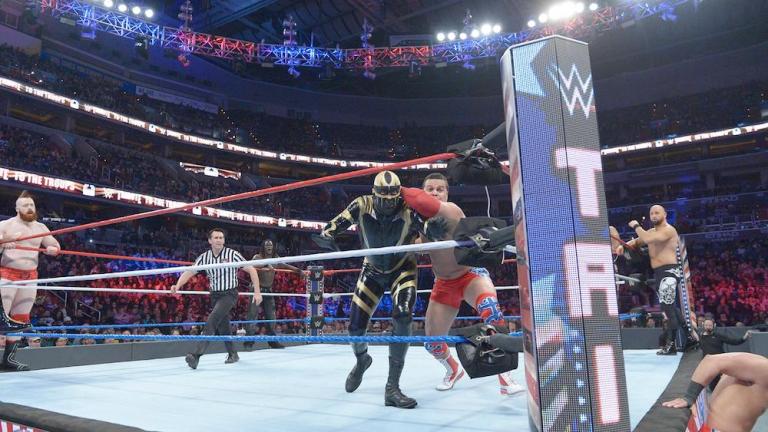 Remember when WWE's Tribute to the Troopswas actually, you know, a tribute to the troops?
The tradition, which started more than 10 years ago, began with WWE running a show on the ground in Middle East. After a while, that changed to WWE running shows at military bases here in the United States, but inviting members of the military and their familes to come to the show, free of charge.
Last night, WWE ran its 2016 Tribute to the Troopson USA Network, and instead of seeing an arena filled with military uniforms, viewers saw the same lame SmackDown Live crowd they saw on Tuesday. Want to know why? WWE taped the show on Tuesday night during the SmackDown Live tapings in Washington, D.C.
That's a shame.
The program was still used to honor the men and women who are and have served overseas, but it was missing that special something. It has been commercialized. WWE has abandoned the original purpose of the show and instead has used it as a giant PR stunt. They're not shy about touting how much they do for the miliary — which is great and awesome, by the way — but this show felt more like WWE honoring the troops for the PR and goodwill rather than for actually honoring the people they were pretending to honor.
Oh, and I'm sure it made some money. USA Network ran ads during the show, of course. It's even possible that the program is part of WWE's television contract with NBC Universal. 
Tribute to the Troopshas always existed on an island by itself. In recent years, when it has been its own special as opposed to an episode of Rawor SmackDown, it's rare that WWE has used the show to push storyline narrative. So tell me why they couldn't have taken another Wednesday, or even a day typically scheduled for a non-televised live event (Saturday or Sunday) and bring a crew to a military base somwhere in the U.S., setup a ring and some bleachers, and invite military to come in for free. Make it special.
Hold the show on a base. Hold the show in an hangar somewhere. Give it a unique feel and atmosphere. That's what was so special about these shows back in the early-2000s. Not only did WWE spend a week with the troops, they went out of their way to make sure they were the focus.
Last night's special felt more like a run-of-the-mill SmackDown.In fact, I'd argue it was even worse. Nothing about it felt special and nothing about it felt like it was honoring anyone. It felt like WWE standing up and telling us how great they are for honoring people, when in fact, this show gave the least back of any special they've run to date. 
Here's what else you missed on WWE TV this week:
RAW: 1. The New Day beat The Club & Sheamus/Cesaro to retain the Raw Tag Titles
There would be more to come after this, which is good, because for a momentous night where New Day was breaking a record for the longest title reign, this felt very blah.
RAW: 2. Braun Strowman beat Curtis Axel
Squash city, but at least we saw Curtis Axel on TV. It's been a while.
RAW: 3. Ariya Daivari and Lince Dorado fought to a no-contest
Very short match with Jack Gallagher sitting ringside for commentary. I'm not a fan of Gallagher's look, and his character hasn't clicked with me as much as it has with others, but his line that he was an extraordinary gentleman, only to then announce he was going to interfere, was really funny.
RAW: 4. Brian Kendrick beat T.J. Perkins
Longer match for the cruiserweights (more than eight minutes), but there was a commercial break in the middle.
RAW 5. Bayley beat Alicia Fox
Short match and Bayley gets what feels like her 10th win over Alicia Fox. Not everyone can be in the title picture, and Charlotte and Sasha Banks deserve to be the focal point right now, but I wonder if WWE would have better off waiting on Bayley until she could be more prominently featured in the division.
RAW: 6. Sami Zayn beat Jinder Mahal
There was an interesting promo here after the match, where Zayn found out he was traded for Eva Marie and then he promptly freaked out, claiming he was worth 100 Eva Maries (more like 1,000). Zayn begged for Strowman again and Foley went to a weird place, talking about how he basically wished he had someone to protect him from doing stupid things while he was in the ring. Interesting that WWE let that on television with a concussion lawsuit. They also framed a match that Zayn has to "survive 10 minutes with Strowman" which might be their way of getting out of the match without Zayn having to be beat.
RAW: 7. New Day beat Seth Rollins/Romans Reigns & Chris Jericho/Kevin Owens to retain the Raw Tag Titles
This was by far the match of the night — probably the match of the week for WWE — and a much better way for New Day to celebrate their record. Owens and Jericho seemed to officially break up at the end of the match, with Jericho blaming Owens and Owens pleading with Jericho to listen to him. It almost felt like a double-turn for Owens and Reigns, as Owens looked like a babyface, pleading with Jericho, and then Reigns hit a blindsided spear for the show to go off the air.
SD: 1. Carmella beat Natalya
Good match length for the women's division (almost 10 minutes). The storyline drama of "who attacked Nikki Bella" is growing old, though. No one seems to really care outside of the few people invovled in the storyline.
SD: 2. The Hype Bros. won a battle royal to become SD Tag Team Title No. 1 contenders
Oh man, the Hype Bros. vs. Wyatt and Orton? This is the match we're going with? I understand wanting to build American Alpha correctly and making sure the fans are ready for their shot at the belts and the chase, but it feels like the fans are there. Alpha is the most-over tag team on the show, and getting passed over for the Hype Bros., at this point, seems as silly as their gimmick.
SD: 3. Becky Lynch beat Alexa Bliss via count-out
They have a lot of confidence in Alexa Bliss when she takes a count-out loss in her first title defense. 
SD: 4. Dolph Ziggler beat The Miz, Dean Ambrose & Luke Harper to become No. 1 contender for the WWE World Title
John Cena returns to SmackDownin two weeks. Until then, there will be no new blood in the main event picture with WWE re-hasing Ziggler from over the summer. That being said, Ziggler is in a better place now than he was in August when it comes to the main-event picture.