News
Wheelman Trailer, Release Date and Cast for Frank Grillo Netflix Action Movie
Netflix's exclusive action flick Wheelman stars Frank Grillo, with producer Joe Carnahan.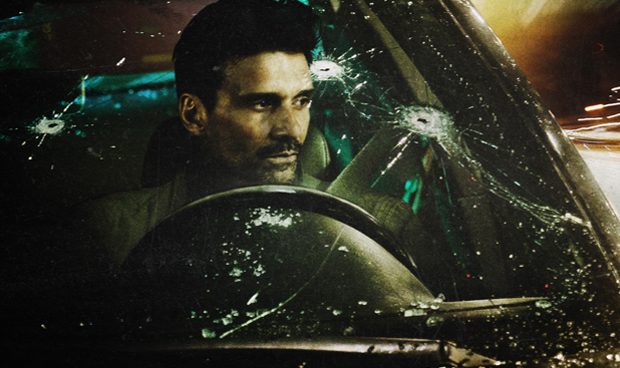 Wheelman, Netflix's exclusive, high-impact, action film, is one notable project – along with the schlocky-but-impressive alien invasion sequel Beyond Skyline  – that's helping veteran action film/television mainstay Frank Grillo emerge from the cast backgrounds and rogues galleries into heroic starring prominence.
Here, Grillo finds himself as a family man and former bank getaway driver who, betrayed by a mystery individual, is left with a car full of stolen cash that has put him and his family in danger, forcing him to drive fast on the run, with only the help of his 14-year-old daughter.
Wheelman Trailer
With its October 20 premiere inching close, Netflix has released the debut Wheelman trailer.
We meet Grillo's main character, who, for his safety (and everyone else's), simply goes by his seedy occupational title, Wheelman. He's clearly been in the getaway driver game for a long time and, in a typical story trope, is looking for one last score before he gets out. However, it wouldn't be much of a movie if that went according to plan and, indeed, said last score becomes dangerously elusive when the job goes awry and he discovers that his mysterious client planned to have him killed after it was supposed to have been done. Thus, we see a subsequent montage of high-speed, high-impact gunplay in the Wheelman's quest for revenge.
Wheelman Release Date
Wheelman will officially arrive at its Netflix destination on October 20, 2017.
Wheelman Cast
Frank Grillo stars as the titular Wheelman, dipping his toes into a high-speed, balls-to-the-walls Fast & Furious-type aesthetic. Grillo's stock seemed to skyrocket in 2014 with his appearance as villain Brock Rumlow/Crossbones in Captain America: The Winter Soldier, returning in full-suited splendor in 2016's Captain America: Civil War. Besides starring in the recently concluded Audience/DirecTV series Kingdom, he also appeared in films The Purge: Election Year, Gangster Squad, Zero Dark Thirty, and The Grey. Plus, in summer 2017, he became a box office threat in China as the co-star of the lucratively dominant action sequel Wolf Warriors II.
Garret Dillahunt (12 Years a Slave, Deadwood) will play Clayton.
Caitlin Carmichael (Z Nation, 300: Rise of an Empire) will play the Wheelman's 14-year-old daughter.
Actors such as Wendy Moniz, John Cenatiempo, William Xifaras, Seth Ayott and Slaine also appear.
Wheelman Crew
Jeremy Rush, a relative unknown, will direct Wheelman, working off a script that he wrote. However, the film's creative team does contain established gravitas with the presence of director Joe Carnahan (The Grey, Smokin' Aces, The A-Team), who is attached as a producer.
Wheelman Story
Per the official synopsis:
Frank Grillo (Kingdom, Captain America: Civil War) stars as the wheelman, a getaway driver thrust into a high stakes race-to-survive after a bank robbery goes terribly wrong.  With a car full of money and his family on the line, the clock is ticking to figure out who double-crossed him and the only person he can trust… his fourteen-year-old daughter.  All reasons to think fast and drive faster.
Wheelman will be joining an eclectic and exponentially expanding roster of Netflix-distributed originals. The streaming outlet shook an industry hornet's nest, notably in 2015, when director Cary Fukunaga's African war drama Beasts of No Nation, starring Idris Elba, was digitally distributed as a Netflix exclusive amidst claims from the major theater chains that it broke release windows. The controversy has done little to slow down Netflix's star-touting movie distribution momentum.
Read the full Den of Geek NYCC Special Edition Magazine right here!