News
What's The Deal Or No Deal? Seinfeld Reality Shows
A reality show based on marriage? Is that best Jerry could come up? Here are some ideas that might work better.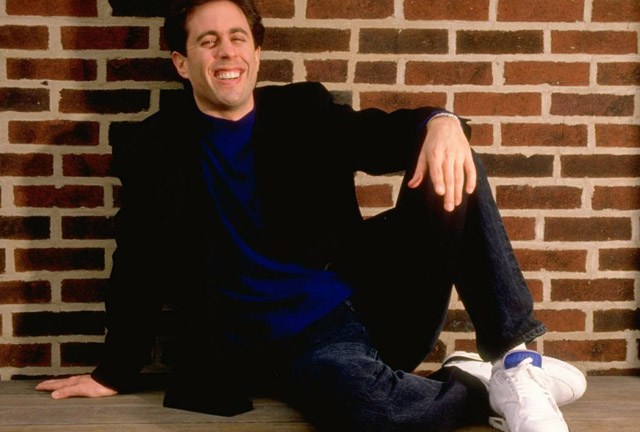 With the news yesterday that Jerry Seinfeld is to return to television with a reality show loosely based on his sitcom, it got me thinking about more reality shows that would actually be more appropriate and more connected to Seinfeld. Coming in the fall on some redundant channel, it's….
10. These Pretzels Are Making Me Thirsty!Woody Allen has a new film but needs some extras. Each week budding actors take to the stage, hopeful of impressing the New York auteur. The two finalists battle it out on the streets of Manhattan by parking cars for a whole day, ensuring none get a ticket.
9. Master of My Domain NameCelebs from around the globe have to buy up as many domain names possible featuring their own name (the more concoctions the better) within 22 minutes. The winner gets a big salad.
8. Big ShrinkageEach week, a number of couples go out to the Hamptons to fight it out in one house with many cameras monitoring their every move. The men have to go swimming and then return to the house where the women then have to find the man who has suffered the most shrinkage.
7. Kramer Vs KramerThe real life Kenny Kramer (old 'friend' of Larry David) takes on Michael Richards in various fighting contests judged by close friend Bob Sacamano. Each show ends with a horse race, giddy up!
6. The Wheels Are In MotionD~List celebs track down illegal immigrants and then try to process the paperwork in time to get them naturalised before they are deported. If you lose you run the risk of being pointed at and dubbed a "very bad man."
5. Project SpongeworthyThe tagline: "Elaine Benes only has 100 of a certain female contraceptive left. She will only have sex another 100 times. Will you make the cut? Are you 'spongeworthy'?" Male contestants undergo transformations each week in order to impress Miss Benes – just get make sure you get rid of those sideburns and Magic Eight Ball jacket. The winners gets to have intercourse (once) with the host.
4. Festivus IdolWitness celeb families battle it out each week around a dinner table in the Airing of Grievances. Gasp in awe as one takes another down during the Feats of Strength! The winner gets a copy of the album, "Serenity Now That's What I Call Music."
3. Kramerica's Got TalentYoung hopefuls tool about town at the bidding of their master and would~be boss, Cosmo Kramer. This Apprentice~style show would see a new recruit join Kramerica Industries to work on oil~filled bladders.
2. The Yada Yada FactorBased on The X Factor (UK version of American Idol), this competition would see contestants battle it out by trying to speak the longest without actually saying anything. One for the yonger generation and hosted by the Cat Deeley – the Queen of verbal frottage.
1. Not That's There Anything Wrong With That!Jerry and George take young men and women out on to the streets where contestants have to guess who is a homosexual and who is just plain heterosexual. Each winner receives a puffy shirt. Okay, sounds rubbish but it can't be any worse than Who Wants To Be A Superhero!
Other possibles:I'm A Regifter, Get me Out Of Here!Elaine The Muffin~Top HunterDancing With The Low~TalkersThe Weakest VaultVandelay's Den