Features
What's Stopping TNA? A Look at Why WWE's Competition Isn't Catching On
TNA and its flagship television show, Impact Wrestling can't seem to gain a foothold against its only competition. Is it a matter of talent, or is there something more at stake?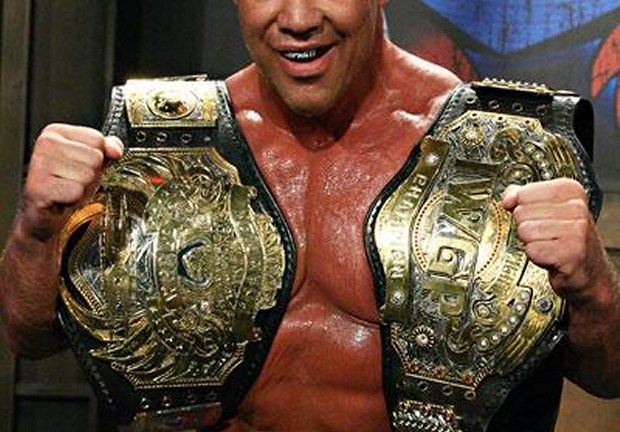 On October 20th, Total Non-Stop Action Wrestling held their annual Bound For Glory Pay Per View event in San Diego, California. Considered the end of TNA's "season" and their biggest event of the year, the show featured the company's top talent, debuted new talent and established a new World Heavyweight Champion. Sounds like an exciting show, right? Too bad you probably didn't see it. Though no hard numbers have been released, attendance estimations for the event fall between 3,000-4,000 fans. At best, 2/3 of the Viejas Arena's 6,000 seat set up. TNA does not officially release buyrates for any of its Pay Per Views, but recent estimations have placed their viewership for these events at about 15,000 fans.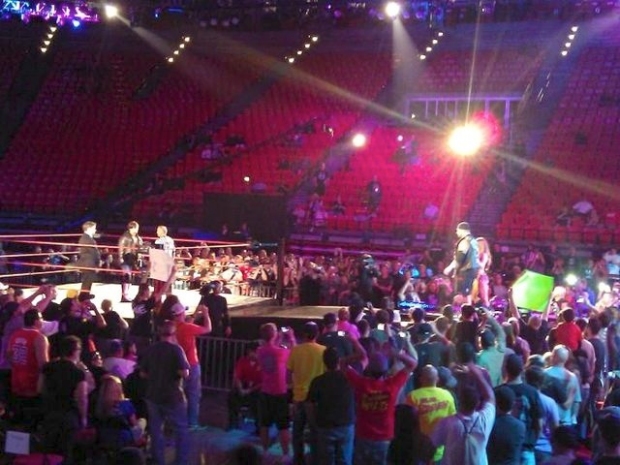 On the other hand, being a NYSE traded company, the WWE does release their buyrates in their quarterly reports. Thus far, the least successful WWE Pay Per View this year (with released numbers) was June's WWE Payback, emanating from Rosemont, IL. The Allstate Arena was sold out (14, 623) and garnered 186,000 Pay Per View buys. As the 2nd biggest Wrestling Promotion in the United States, TNA is nowhere near the level that the WWE has reached. The numbers simply don't lie. But why? They have viable talent, they are carried on most cable providers and have survived for over a decade. They have toys on the shelf and a polished internet presence. You can even buy a Jeff Jarrett laser engraved guitar! So, what is the real problem with TNA? Though it has had its ups and downs, it seems that TNA's problems are something rooted in its history. TNA is a promotion haunted by its origins.
TNA Wrestling was founded in 2002 by Jerry and Jeff Jarrett after WCW and ECW were acquired by Vince McMahon's WWF in the Early Spring of 2001. Utilizing some of the major talent not acquired by McMahon and a refreshing mix of independent wrestlers, the Jarretts aligned with that era's iteration of the NWA. They almost immediately became the premiere promotion in the organization. At the time, there was really no precedent for a United States with only one major promotion. Rumors were abundant over who might step in to fill the supposed void left by WCW and  TNA was eager to do this. By the time they reached a national audience in 2004 on Fox Sports Network, it was obvious that TNA saw itself as the true successors to the original NWA, WCW and even had a touch of ECW. This, unfortunately, was not going to work.
Though TNA may have had the right idea, the WWF did something very smart. Regardless of how anyone feels about the infamous "Invasion" storyline (Who better than Kanyon?), the WWF made sure it was clear that WCW and ECW were now part of their organization. Moving into the WWE era, the company began to acknowledge the histories of these and other organizations and marketed videos from the acquired catalogs. In short, the WWE decided that it was the culmination of all wrestling past and the fans, for the most part, acquiesced. TNA found themselves in a bad position. Though many of the staff and talent had legitimate claims to historic events in wrestling history, TNA couldn't show it. It was a new company with no real history. As badly as TNA may have wanted to be, they simply were not WCW. They couldn't act like something had been stolen from them, and in all honesty, couldn't hold their version of the NWA World Title in the same light as the WWF World Title. After awhile, they had to move on.
In 2007, TNA parted ways with the NWA and proclaimed then champion Kurt Angle as TNA World Heavyweight champion. This is a good place to pause and look again. I alluded to this earlier, but it is around this era that it becomes most important. One of the defining characteristics and tools of professional wrestling is the ability to tell stories over long periods of time and develop talent into something greater. To do this, you need a preexisting infrastructure of talent to work from. Basically, you need the history to make the present more important. Knowing that John Cena held the same belt as Shawn Michaels and Randy Savage enriches the story immediately. This principle was not in place in the early days of the sport but became an essential part of competition as time moved on. By the time it became indispensable, it was really only the (real) NWA, AWA and WWF who remained anyway. In 2007, only the WWE remained. This posed a big problem for TNA.
Without an impressive title lineage, TNA had to place WWF/E's former stars on their roster to create an infrastructure. Yes, TNA had developed some talent to a main event level, but they did not have the drawing power of the more familiar talent. This seems to be a sound logic, it worked for WCW in the late 90s and even led to their most successful angles. However, there is one major distinction that made all of the difference. When wrestlers like Hulk Hogan and "Macho Man" Randy Savage jumped from WWF to WCW, it was already long established. They weren't competing for some new title, but a title lineage that (arguably) stretched decades and maintained its relevance. Throughout their competition, there was always an argument about whether it was WCW or WWF that possessed the true world champion. When WWE talent jumped to TNA, they looked like big fish in a small pond. Worse than this, public perception was that these talents were the WWE's refuse, and who weren't fit for the big leagues anymore. After all, why would they be working towards a title that meant so much less than the one they had already had? It is this stigma that hurts TNA to this day.
Here's some more cold facts: TNA Wrestling's flagship program (and only program in the US)  iMPACT Wrestling is broadcast on the Spike network, which according to recent press releases maintains a reach of an approximate 98.7 million homes. iMPACT Wrestling (formerly TNA Impact) has been running uninterrupted on the network since October 2005. TNA Wrestling, for many years, has been the only true national promotion running against WWE. The program has featured stars the caliber of  Jeff Hardy, Sting, Kurt Angle and even Hulk Hogan. While maintaining viewership high enough to stay on the air for an impressive run, the program has never come close to the success of WWE's Monday Night Raw. Here's a good example: the Monday, September 23rd , 2013 edition of Raw received a rating of 1.4 amongst viewers 18-49. This rating is considered poor for the show, though only Monday Night Football and its post-game programming gained higher ratings amongst cable programs that evening. On Thursday of that same week, iMPACT Wrestling scored a 0.4 rating amongst the same viewers. That night, an NFL game and its post show also took the top 2 spots amongst cable programming, however, iMPACT was not as close as Raw had been on Monday. In fact, over 40 shows were between iMPACT and Thursday Night Football. Amongst the shows that bested TNA on that evening were re-runs of Family Guy, The Big Bang Theory, and Friends.
In recent months, TNA has made significant talent cuts which have produced all sorts of rumors. Many of these rumors have implied internal collapse and doom for the promotion. Most recently, rumors of Dixie Carter and her father attempting to sell the company have begun to increase. It is difficult to not get caught up in speculation when TNA seemingly has had so much against it over the years. Even with all of its missteps, TNA does stand as the second biggest promotion in the country and has lasted longer than the original ECW (it's true, look it up). It should also be mentioned that Spike TV seems to be committed to the promotion, as its ratings are not considered dismal by their standards. With the great advantage of national television firmly maintained, what TNA needs to survive and perhaps thrive is something new, something no one has attempted of yet. TNA Wrestling is a product of an unprecedented era in the business. Trying to beat the WWE at their own game (and let's face it, it's their game) might not be the path to victory.
TNA must find a way to truly innovate, until then they will be stuck playing by someone else's rules. If they want to be competition, they have to figure out what the next evolution of professional wrestling is and not rely so heavily on the last one. ECW did this to an extent, but cannot act as an example. I believe through what they've shown over the years that TNA wishes to be true competition for WWE. They've snapped up major stars and even went head to head with Raw for a time. ECW was a promotion that relied heavily on being the underdog and insulting the two major promotions it ran alongside. I went into this in a bit more detail in a previous column, but in short, ECW had its glory because it was not real competition and didn't try to be. Plus, copying ECW isn't innovation either. Innovation in this case may be breaking a rule, taking wrestling out of its comfort zone. Yes, this is a risk. Moving away from what has traditionally worked always is, but fortune favors the bold. WWE has mastered a formula to an extent where they acquired the rights to nearly everyone who was ever great at it. Changing part of the formula may be the only way to gain an upper hand. I won't claim to have a comprehensive solution (unless you want to hire me to find one, I'm sure I can come up with something), but I think I know where to start.
As I pointed out earlier, one of the most damaging problems TNA has in a traditional Wrestling environment is its lack of title lineage. They have the talent and, in turn, some of  the matches, but they don't have the belt. Perhaps the solution is taking the focus off the belt and putting it on the talent itself. Maybe, you don't need a belt. Maybe in this promotion, wrestlers are ranked by the prestige of who they have beaten and seek out the fights that they have yet to win. This allows the veterans to keep their importance while giving the newer talent cite-able accomplishments. It's a little "Street Fighter," but we're talking about starting a new era, something like that might work. By doing this, you would change the infrastructure of the promotion without losing every aspect of traditional wrestling. Matches would be pretty much the same, as would the storytelling but the ultimate goal would be something unprecedented. Or maybe build a year long tournament, where there is a champion, but the belt is contended for in a style more like the NFL or MLB, leaving you with a champion who simply cannot rest on his laurels while the other wrestlers compete for  a title shot. Or maybe you contract wrestlers for short periods, constantly rotating your roster, then build for the return of a favorite. The point is that there are real options and real ways to play with the structure of traditional professional wrestling. If TNA starts doing something drastic, even if it doesn't work it would be no worse than the slow fade they seem to be going through. The WWE knows how to play The Game (sorry) and that won't change.
Like us on Facebook and follow us on Twitter for all news updates related to the world of geek. And Google+, if that's your thing!