News
What is Going on With How WWE are Booking Roman Reigns and Daniel Bryan?
WWE was booking it to Fastlane on Raw Monday, and the booking of Reigns-Bryan continues to confuse …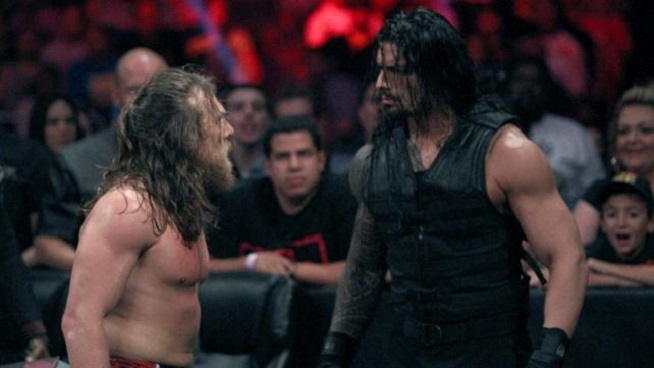 Prior to the Royal Rumble and even the Monday after, it seemed like WWE was planting the seeds for a Roman Reigns heel turn. At the very least, it appeared Reigns was moving towards tweener territory.
This past Monday, WWE was doing the same with Daniel Bryan.
Part of Bryan's charm over the past two years has his selflessness. He's a man of the people. He's confident, but not cocky. He earns his shots, he doesn't slither his way into title shots like a snake.
Make no mistake, you, the audience, is the reason why this Bryan-Reigns match at Fastlane is happening. You're also the reason that Bryan might be added to the Wrestlemania main event for a second year in a row. But on Monday Night Raw, WWE planted seeds of some heelish tendencies for Bryan, which is exactly what they were doing with Reigns for weeks, and seems puzzling to me.
First, it's a positive sign that Bryan-Big Show was the main event and not Reigns-Kane. That's telling. The quarter-hour rating numbers probably indicate that Bryan is more of a draw, and that's why he was put in that spot. Realistically, the finish could have happened with the two matches revered – Reigns punched Big Show, DQ'ing Bryan, and Bryan and Reigns brawled to send the show off the air.
On this episode of Raw, WWE treated both Bryan and Reigns as if they were heels.
During Reigns' match, with Bryan on commentary, Bryan started Yes! chants at ringside while also putting himself over on the headset. He was cockier than we've ever seen him. There was a sense that Daniel Bryan was full of himself. Later, in the main event, while Bryan was fighting Big Show, Reigns was at ringside signing autographs with fans, taking selfies and throwing t-shirts into the crowd. Bryan didn't appreciate it. After Reigns cost Bryan the match, a brawl ensued, really setting the table for Sunday's main event.
It's almost as if WWE gave Reigns fans a reason to hate Bryan, and Bryan fans a reason to hate Reigns. That's smart, but it also could make fans of either turned off watching their "guy" act like a heel. Bryan was sarcastic and cocky. Reigns was disrespectful and full of himself. It feels like a heel vs. heel match.
But the brawl to close the show was great. Really, great. It was the first time Reigns was in a real brawl since his days in the Shield. That fight, with the pull apart, makes me and probably a lot of other members of the audience want to tune in on Sunday and watch that singles match.
Quick Strikes
1) It was good use of Dusty Rhodes to have him appear on Raw trying to repair his family, as Dustin and Cody Rhodes, also known as Goldust and Stardust. After a loss to New Day, Cody turned on Dustin again, attacking him from behind. Cody – er, Stardust – then cut a scathing promo backstage ripping down his brother and father. Seems like Dustin and Cody will finally have their Wrestlemania match next month.
2) The Triple H promo with Ric Flair was very good, but also had some glaring revisionist history that I found interesting given where they were hosting the show. Also, it was telling that there was no reaction. Here's what I mean: Triple H said Sting "went down with the ship" in reference to WCW, and then "disappeared for 15 years."
But Sting was part of TNA for a decade. WWE was in Orlando on Monday, home of TNA for almost 10 years, and yet there wasn't a single "TNA" chant from the live crowd when Triple H spoke that line. I don't think WWE went out of its way to take a dig at TNA, because I just don't think they care all that much, and it had more to do with Triple H telling his story than taking a shot at TNA. But what was interesting is how little reaction there was from the live crowd at that mention. I rewound the line four times on DVR, turning up the volume trying to hear even a faint reaction, and there was none.
That doesn't speak well to TNA's brand. They still have had trouble establishing themselves, and while I've liked what TNA has done since shifting to Destination America, its last few months on Spike were a mess.
3) By my count, four times WWE returned from commercial break mid-match with the match in a chinlock. What a coincidence! Change it up, please.
Match Results
1) Dean Ambrose def. Luke Harper
2) New Day def. The Rhodes Brothers
3) Roman Reigns def. Kane via count out
4) Paige def. Summer Rae via submission
5) Dolph Ziggler def. Seth Rollins via disqualification
6) Wade Barrett def. Damien Sandow
7) Jimmy Uso & Naomi def. Tyson Kidd & Natalya
8) Big Show def. Daniel Bryan via disqualification
The Finish
The sell was on hard for Fastlane this Sunday, and WWE did a nice job with it. With a free month ongoing and a road to Wrestlemania in full gear, it's an important show. Just like Survivor Series was in November. WWE recognized that, and sold the show hard.
Mike McMahon covers pro wrestling for Den of Geek US. He's delivering a lot of "hot takes" on Twitter.