Features
What do we know about Sherlock series 3?
We tot up the facts, rumours, and spoilers circulating about Sherlock's currently filming third series…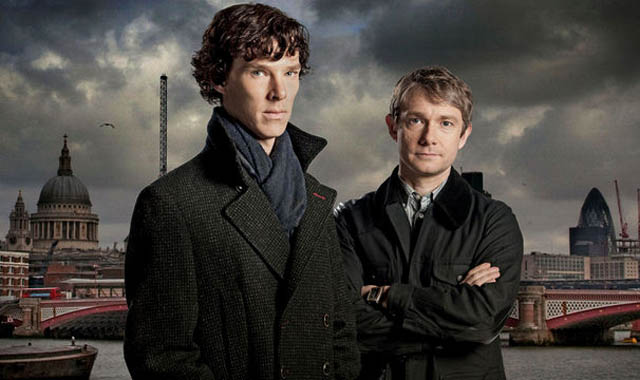 Spoiler warning: we've tried to structure this in a way that means those who want to avoid spoilers, can.
The answer to that question, like most, depends very much on whom you ask. Pose it to the average, non-TV obsessed fellow in the street and they might reply, Sherlock, that's the one with the flappy coated chap and him from The Office who's now him from The Hobbit. They're doing a third series? That's grand, that. The wife'll be pleased.
Burrow further into Sherlock fandom and ask someone familiar with the #setlock hashtag and the Purple Shirt of Sex though, and you'll likely receive not just an answer, but a shooting schedule, a Tumblr of set-visit snaps, and a PowerPoint presentation explaining by which exact methods Holmes faked that rooftop jump. It's all an Inception-like question of how deep you go.
It's for that reason we've structured this round-up in the following way. First, there are officially stamped things we absolutely know (writers, directors, cast, titles and so on…), then, there are things that we only think we know, having pieced them together from hints and tidbits here and there, and next are the things we have not the foggiest clue about. Finally, and you're urged to use the exit-ramp provided and drive off to spoiler-free happiness before getting to this one, there are the things we shouldn't know, but due to the tireless work of fans on social networks, sort of might.
What we definitely know
Episode one, titled The Empty Hearse (a pun on Conan Doyle's The Adventure of the Empty House) was written by co-creator and Mycroft Holmes actor, Mark Gatiss. Gatiss previously wrote series one finale The Great Game, and series two's The Hounds of Baskerville. Behind the camera is Spooks and In Fear director Jeremy Lovering.
Episode two, The Sign of Three (a twist on Conan Doyle's The Sign of Four) was written by Stephen Thompson, whose previous Sherlock scripts were series one's The Blind Banker and series two's impressive The Reichenbach Fall and whose Doctor Who work includes Journey to the Centre of the TARDIS and The Curse of the Black Spot. Directing is Doctor Who, Ripper Street, and Spooks' Colm McCarthy.
Episode three was written by Doctor Who showrunner and Sherlock co-creator Steven Moffat, whose previous Holmes scripts were series one's A Study In Pink, and series two's A Scandal in Belgravia. Directing is Nick Hurran, who's also behind the camera for Doctor Who's fiftieth anniversary episode.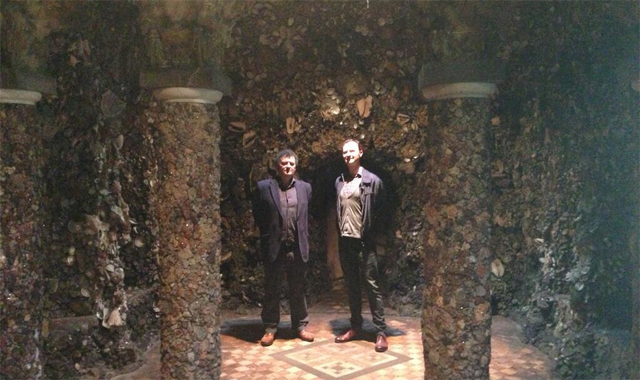 The returning cast includes (of course) Benedict Cumberbatch and Martin Freeman as Sherlock and Watson, alongside Una Stubbs (Mrs Hudson), Louise Brealey (Molly Hooper), Mark Gatiss (Mycroft Holmes), Rupert Graves (Lestrade), and Jonathan Aris (Anderson).
Mr Selfridge and Case Studies actress Amanda Abbington is joining the group as Mary, a role "that significantly impacts on the lives of John and Sherlock". Andrew Scott, the unforgettable Moriarty, along with a number of supporting cast from The Reichenbach Fall, also returned to The Empty Hearse shoot to film scenes explaining Sherlock's rooftop jump.
Composer Michael Price is back on music duty for the series, though thanks to his clashing Hollywood schedule, director Paul McGuigan (A Study in Pink, The Great Game, A Scandal in Belgravia, The Hounds of Baskerville) will not be returning.
Filming is currently at the halfway point for the second episode. 
What we think we know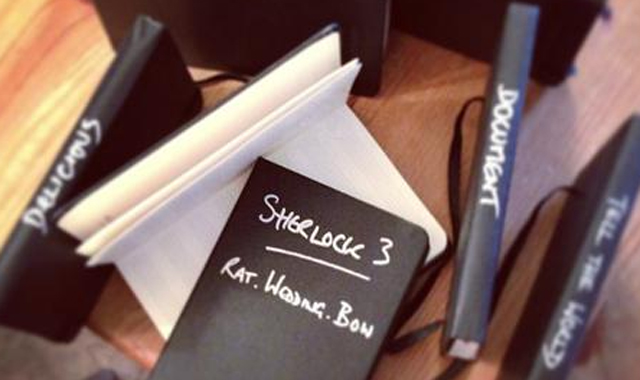 Going all the way back to 2012's Edinburgh Television Festival, co-creators and producer Steven Moffat, Mark Gatiss, and Sue Vertue announced three hints to the series three episodes: Rat, Wedding, and Bow. Like series two's Woman, Hound, Fall, these three nouns potentially hold clues as to which parts of Conan Doyle's Holmes stories will be rolled into the three new adventures.
While 'Rat' is still to reveal its meaning (we had a few thoughts, here), and 'Bow' is considered a reference to the non-Watson-narrated Conan Doyle WWI spy story His Last Bow, it's commonly thought that 'Wedding' relates to the wedding of John Watson and Mary Morstan (preumably the "Mary" played by Amanda Abbington, coincidentally Martin Freeman's real-life partner).
Also confirmed by the BBC, but not yet officially announced, is the appearance of My Mad Fat Diary actress Sharon Rooney, playing the as-yet-unspecified role of Laura in The Empty Hearse.
What we don't know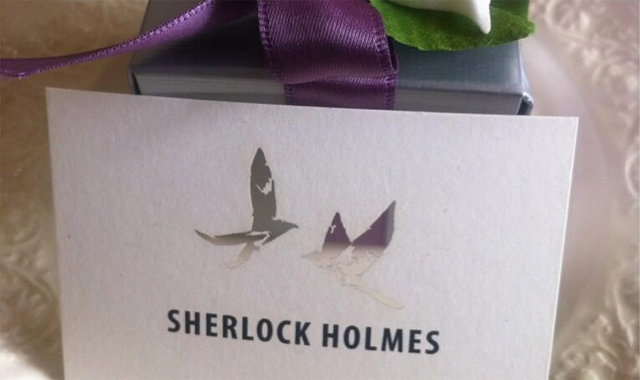 Anything about the third episode in the series, apart from its writer (Steven Moffat), director (Nick Hurran), and the fact it's due to be filmed after a summer break during which time Martin Freeman will be back on The Hobbit duties.
The broadcast date is also unknown, though winter 2013/2014 is likely to be the earliest that Sherlock returns to our screens.
Though there are theories and spoilers around for the explanation (especially so after the outside filming for The Empty Hearse), we don't know precisely how Sherlock faked his own death, or indeed, what Derren Brown was doing at the St Barts reconstruction shoot.
What we're not supposed to know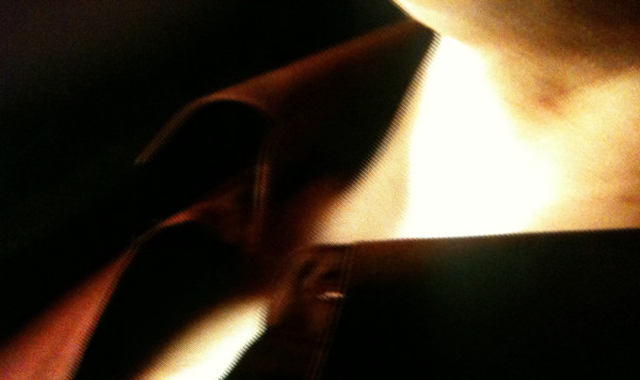 There's plenty. Seriously, an awful lot of observation, note-taking, photographs and piecing-together about series three has been and is being done online. Should you wish to go looking for it, you'll find it easily enough.
We're careful with spoilers round here, overly cautious some would say, but that's how we like to keep shop. If you choose to come here, why should you run the risk of having surprises ruined? Similarly, if writers, directors and actors ask us to keep their secrets, why wouldn't we do that?
If, however, you can't bear to wait, here are a few words to point you in the direction of the relevant online chat. Search for moustache, motorbike, Bonfire Night, head-butt, kebab shop, Molly in the window, Goldney Hall, Major Shilto, Harry, and best man in combination with #setlock and you should find a great deal of illicit bits and pieces to chew over.
Read our theories on how Sherlock survived his fall, here.
Follow our Twitter feed for faster news and bad jokes right here. And be our Facebook chum here.