News
Westworld to Be the First TV Series Released in 4K Ultra HD
Westworld Season 1 will not only arrive on Blu-ray/DVD, but will also be the first TV show to get a 4K Ultra HD release.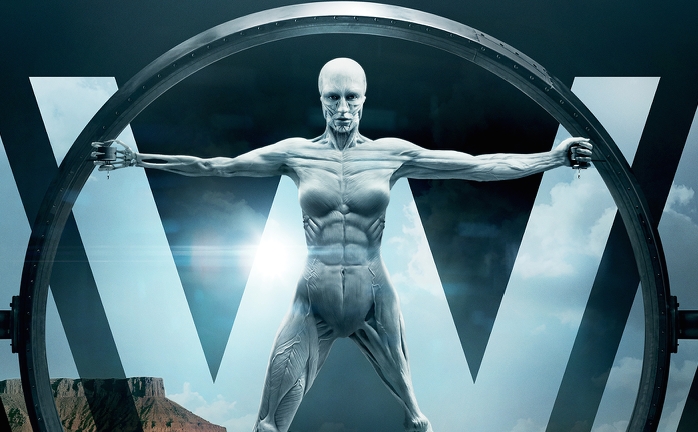 The Westworld HBO series is described as "a dark odyssey about the dawn of artificial consciousness and the future of sin." In true HBO fashion, expect that "sin" part to come up a lot. Based on a classic Michael Crichton sci-fi film (which we wrote about in detail right here), this is more than just a Westworld remake, it's a reimagining of the entire concept. Westworld comes from writer/director/executive producer Jonathan Nolan, as well as JJ Abrams' Bad Robot Productions. Mr. Abrams shares executive producer credit with Jerry Weintraub, Bryan Burk, Kathy Lingg, and Athena Wickham. 
Westworld Season 1 4K Ultra HD Release
It's been quite some time since this post needed an update, with fan attention now firmly affixed toward Westworld Season 2. However, a reason has presented itself, regarding the upcoming physical format release of the smash HBO series inaugural season, with Westworld Season 1 booking a date to hit store shelves on November 7, 2017. However, there's more to this story than that.
While Westworld Season 1 will arrive in standard formats of Blu-ray and DVD, HBO plans to make a bit of history with this release, manifesting as the very first television series to offer a proverbial Cadillac plan with a 4K Ultra HD release.
Fittingly, the Westworld Season 1 4K Ultra HD release (at $64.99 MSRP,) will be packaged in a collectible SteelBook case, with three discs devoted to the 4K episodes, two discs for the standard Blu-ray episodes and a final disc for bonus content. Both the 4K and the standard Blu-ray releases will contain a premium collectible booklet.
Here are the disc release bonus content details (via TheHD Room):
Inside Look with Jonah Nolan and Lisa Joy – Season One (New Featurette)
Imagining the Main Title (New Featurette)
The Key to The Chords (New Featurette)
2017 Comic Con Panel (New)
Gag reel (New)
Welcome to Westworld
Crafting the Narrative
An Invitation to The Set
Welcome to Westworld: About the Series
Reality of A.I.: Westworld
"The Big Moment" Featurettes
Westworld Season 1 Details
Below is the trailer for Westworld episode 10, the season finale, "The Bicameral Mind!" You can also see new images from the 90-minute showstopper above!
Here's everything else we know about the series so far…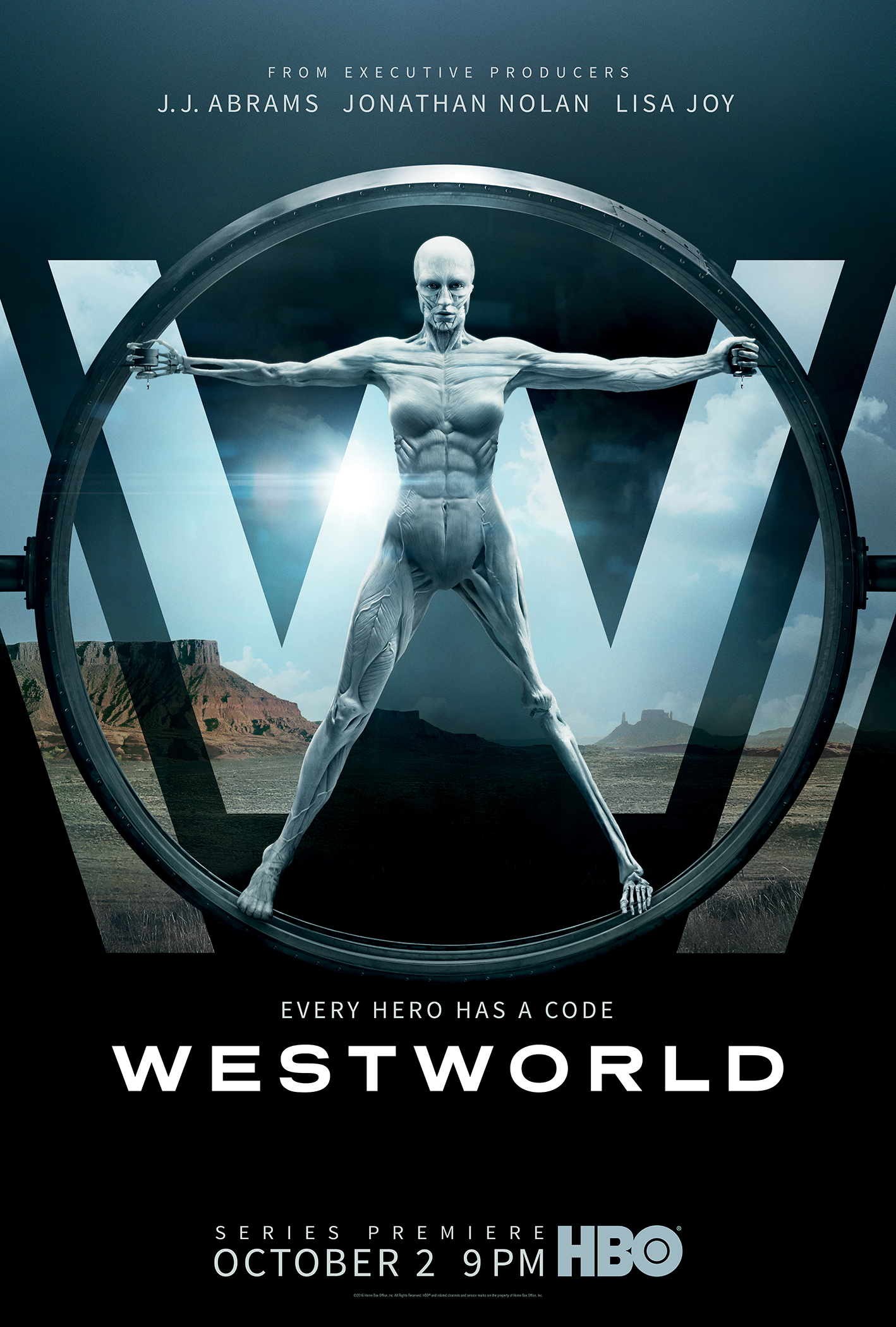 Westworld Season 1 Episode Guide:
Westworld Season 1 Episode 1: "The Original"
An excerpt from our full review:
Like that long awaited locomotive pulling into Tucson for the first time, Westworld is finally here. Many at HBO have anticipated this day with just as much reverence and optimism as the 1880 denizens of that famous railroad town from the Old West, watching anxiously as the smoke clouds plumed beneath the fading Arizona light. Of course, in spite of the dust, horses, gunplay, and even coal-powered engine from that oft-romanticized era, Westworld is not a Western; nay, for all we know it's not even located in North America.

Rather, this is the culmination of several years worth of work, reshoots, ballooning budgets, and the high expectations that come implicit for the prestige network, particularly when it plays into genres as revered as oaters and science fiction. And when all of that is coupled with the fact that Jonathan Nolan, screenwriter of The Dark Knight and Interstellar, co-created and adapted this series with Lisa Joy from the Michael Crichton cult classic, the series premiere's hype is as formidable as any automated killing machine.

Luckily, it's happy tidings that this iron horse brings to town tonight in the first Westworld episode, "The Original." Whatever problems the series might have had behind the scenes, the finished product is (at least in its first hour) as seamless and impressive as one of Dr. Robert Ford's sexiest animatronic creations.
You can read the full version here.
Westworld Season 1 Episode 2: "Chestnut"
An excerpt from the full review.
Like a bath of milk congealing around a mechanical exoskeleton, the plot of Westworld thickened in all the right places tonight, giving definition to what very well could be HBO's best new show in years. However, for all the gunfire and other sensual distractions, there were two scenes in particular that stood out about what makesWestwold as a TV series work so much better than, say,Westworld the movie.
Westworld Season 1 Episode 3: "The Stray"
And like that the potential for Westworld exponentially expands again while the park itself edges ever closer to its inevitable "If the Pirates of the Caribbean breaks down, the pirates eat the tourists" phase. But in this transcendent moment for Dolores tonight, we may have final confirmation that Westworld is the best new show of 2016.
Westworld Season 1 Episode 4: "Dissonance Theory"
So if Wyatt is instrumental to Harris' quest, the park's origins, and Ford's intended new narrative, the question is raised how many of these things are linked?
Westworld Season 1 Episode 5: "Contrapasso"
Tonight's trip into Ford and Arnold's gunslinging paradise (or perhaps Hell, as the title "Contrapasso" implies) was the most astonishing episode of Westworld to date. Intricately plotted and densely challenging, we had shootouts, betrayals, moments of robotic transcendence whereupon a host broke her "modest little loop," and even confirmation of true artificial sentiency in Maeve. However, the layers have become so thick in the show's multiplying mysteries that the aspect we likely all feel compelled to talk about first is "what the Hell is going on?!"
Westworld Season 1 Episode 6: "The Adversary"
But before even that final chill, the real tremendous moment of the night came when Maeve pressured Felix to let her walk around upstairs and see the inside mechanics of her world. This is where Newton really shined and likely earned herself a frontrunner status at the Emmys next year. Without words, Newton is able to express her dismay and heartbreak—even if her character has no literal heart—at the realization that her world is a lie and all she holds dear is a cruel illusion. She, quite intentionally, appears to be a slave in chains witnessing the degradation of her people at the market. This cultural reading is intentional, just as much the dress she has forced Felix to place on her while still being treated as his subservient pet by all passerbys.
Again, you can read the full review here.
Westworld Season 1 Episode 7: "
Trompe L'Oeil"
Here is our review of episode 7.
"The longer I work here, the more I think I understand the hosts. It's human beings who confuse me." These are the words of Bernard Lowe moments before a shocking revelation. Perhaps the shocking revelation of the whole first season. And to be honest, I was nodding in agreement when he uttered these words, because the robots are much more human and sympathetic than their flesh-and-blood counterparts. I'd even go so far as to say the only truly likable human amongst the whole downstairs cast was Bernard… so we really should have seen this coming, right?

In fact, if I may gloat a moment, I did. Ah, that feels good.
Again, you can read the full review here.
Westworld Season 1 Episode 8: "Trace Decay"
Here is our review of the eighth episode.
Yes, as much as I am loathed to admit it, tonight gave some heavy ammunition for those convinced that William and the Man in Black are one in the same. And that evidence came in the always welcome form of Ms. Tallulah Riley who is back in the park, but in a very different role.

For those of you who might not recall, Tallulah Riley played the host who welcomed William into the park during the second episode. We have not seen her since then, save for on the screen of Westworld infomercials, but here she is in the park, having apparently gone through some intense modifications since the second episode. Now, I have not been keeping intense track of how many days have passed since the second episode where William and Logan's vacation started, but I'd humbly speculate that's it's been about eight days (I assume they got a two-week package deal?). The Riley robot looks like she's been out in the wilderness a lot longer than that.

And quite tellingly, the Man in Black was surprised to see her, saying he assumed she was "retired years ago." He then shrugged that she is just one more pretty face that Ford has gotten wrapped up in the new storyline he is developing. Thus in theory, it could mean that he is recalling her from his very first trip to Westworld, as she was the first host he ever met as a young(ish) man named William, who was reluctantly dragged to the park 30 years ago. 
Again, you can read the full review here.
Westworld Season 1 Episode 9: "The Well-Tempered Clavier"
Westworld Season 1 Episode 10: "The Bicameral Mind"
Westworld Trailers
The latest Westworld promo features a look at Maeve and Dolores.
And here are the rest of the Westworld trailers:
and a cool little behind-the-scenes video…
Check out all of the different Westworld trailers right here!
Here's an earlier teaser…
And enjoy these off-kilter Vines HBO sent us last year…
Westworld HBO Cast
Here's the main cast: Anthony Hopkins, Ed Harris, Evan Rachel Wood, James Marsden, Thandie Newton, Jeffrey Wright, Rodrigo Santoro, Shannon Woodward, Ingrid Bolsø Berdal, Angela Sarafyan, Simon Quarterman, and Lili Simmons.
Westworld Premise
But one thing that remains constant is the question of where technology and reality intersect, and how that will influence humanity going forward. "We were fascinated by the tectonic plates that seem to be shifting into place right now – the argument over the creation of AI and what form it will take; VR finally coming online and our consciousness going "broadband," allowing us to lose ourselves in an acid bath of experience that will be indistinguishable from reality," Jonathan Nolan told Entertainment Weekly, "and that, despite all of that, we remain, as a species, frustratingly broken, seemingly barreling towards disaster. So, yeah – that's what we wanted the show to be about."
While the androids gone wild scenario of the original movie only explored the consequences and not the causes, that won't be the case with the TV series. "When it comes to the question of consciousness, we always start with ourselves as the answer," Mr. Nolan said. "But we wanted to challenge that assumption. The 'hosts' are discovering that they've been created in our image, but beginning to question if "humanness" is really what they want to aspire to. And given their circumstances, it's easy to understand why they start to question whether they want to be like us at all."
Westworld Images
HBO released a series of images for the sci-fi drama…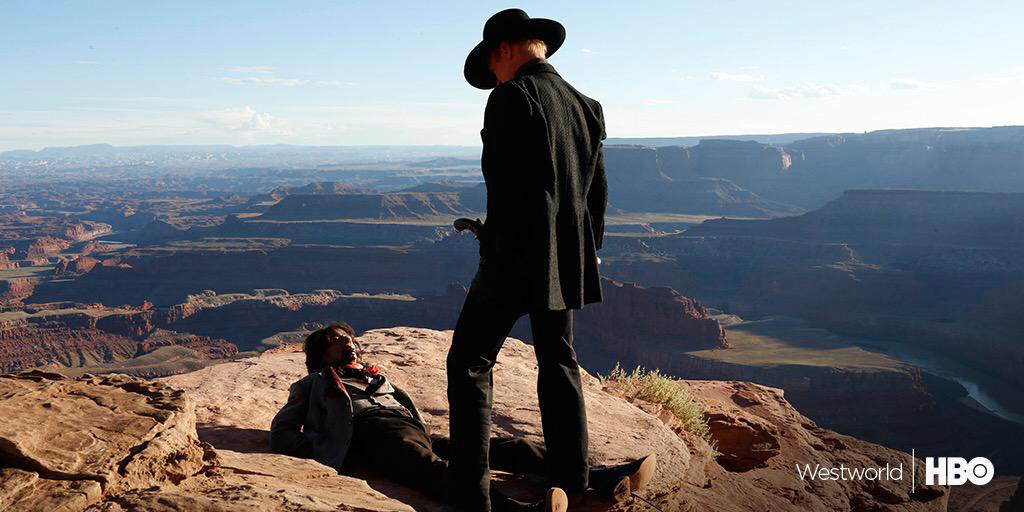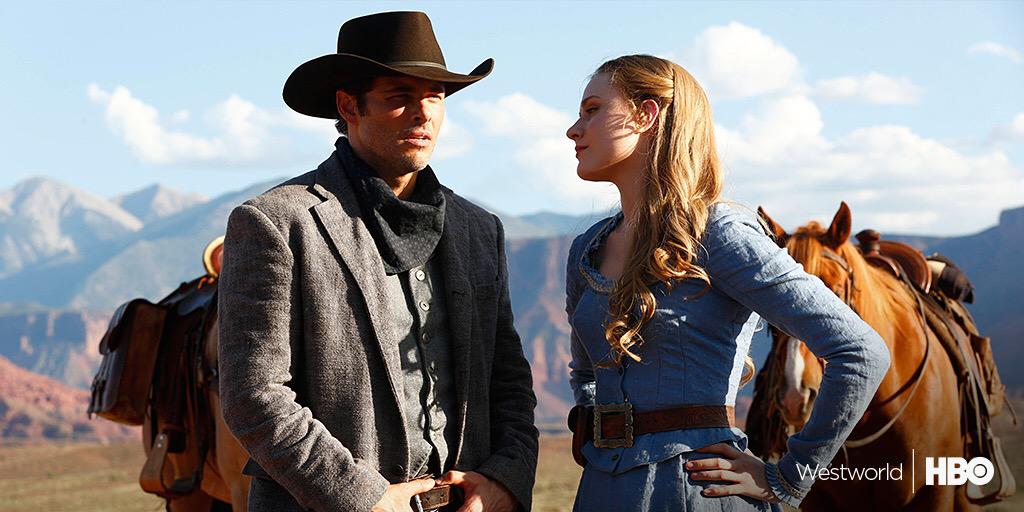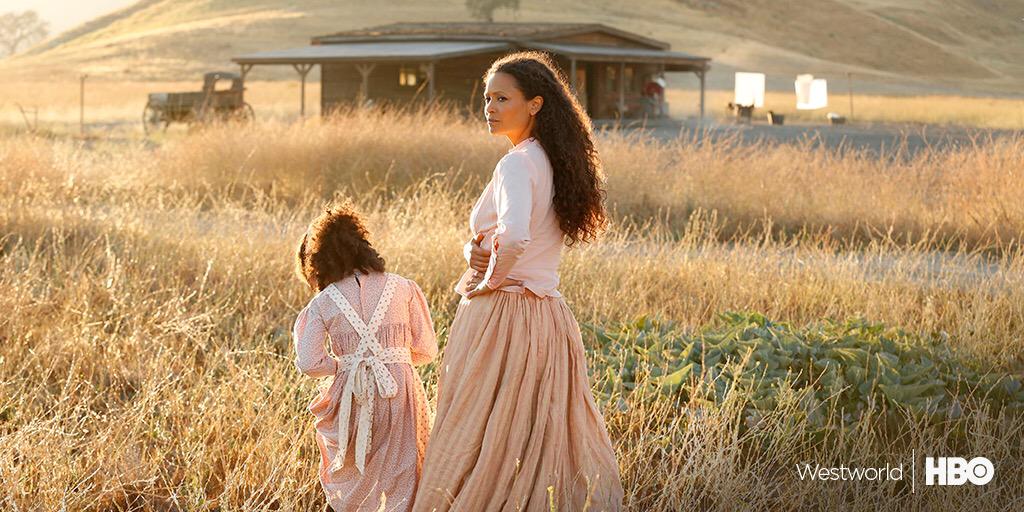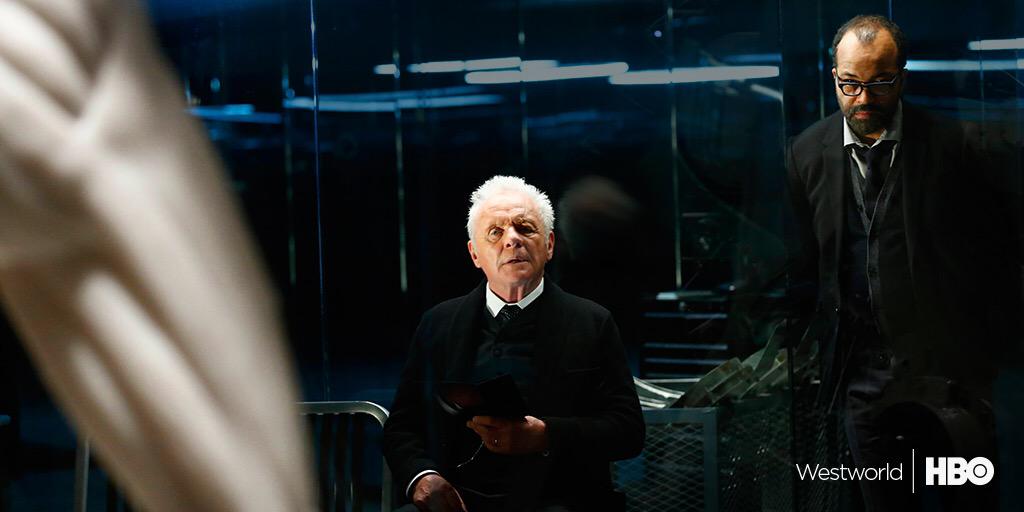 Entertainment Weekly shared exclusive promotional photos for Westworld that highlighted its distinctive setting and colorful characters. First, there's the ringmaster himself, Dr. Robert Ford, played by Anthony Hopkins, looking both troubled and a little bit troubling as well.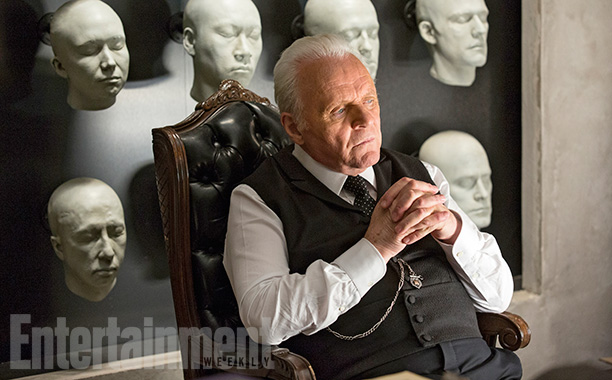 Next, take a look at Evan Rachel Wood, who plays one of the android "hosts" named Delores, a character who will undergo an awakening to her true nature during the course of the series.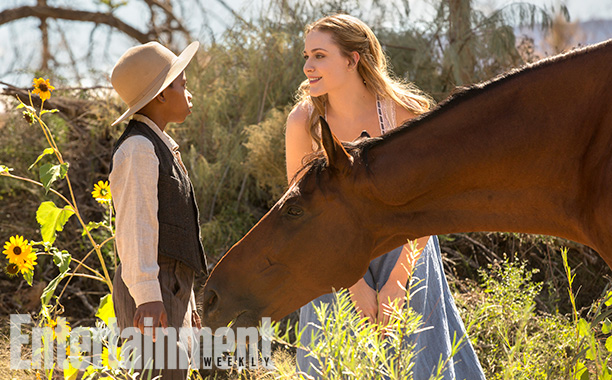 Here's a look at Delores with the enigmatic "Man in Black," inspired by the 1973 movie's Gunslinger character. Unlike Yul Brynner, however, Ed Harris is not an out-of-control android but a sadistic guest at the Westworld resort.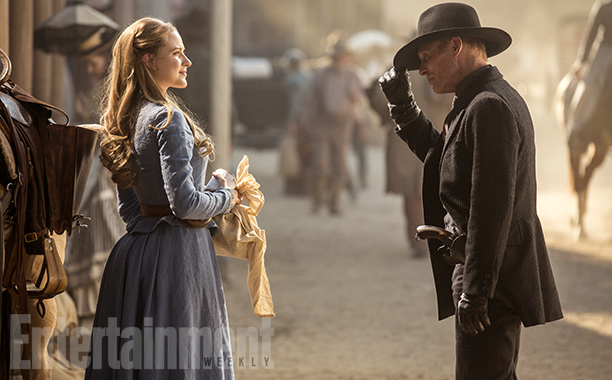 Finally, there's James Marsden, who plays Teddy Flood, a protagonist about whom not much is known as the producers are keeping details about his character under wraps.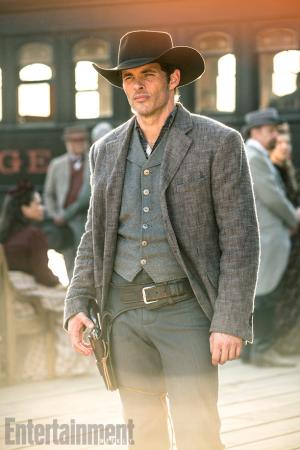 Westworld Release Date
Westworld Season 1 premiered on Sunday, Oct. 2, 2016 at 9 p.m. Click the photo gallery above for the first images from Episode 1.