News
Westworld: Evan Rachel Wood Talks Rarity of Roles Like Dolores for Women
During the San Diego Comic-Con panel for Westworld, Evan Rachel Wood reflects what a rare opportunity the show and Dolores are.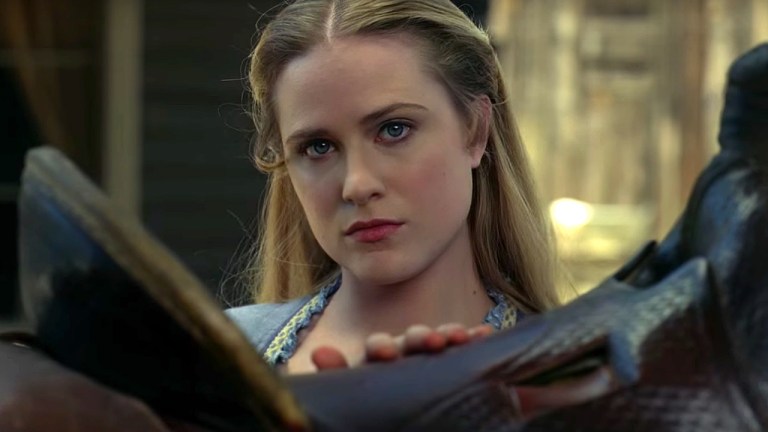 The very first time we see Evan Rachel Wood's Dolores in the eponymous park of Westworld, she is presented as sweetness itself. An idealized and naïve depiction of feminine innocence. But viewers should have already known that this was implicitly a construct since we'd just seen Dolores in the earlier scene, naked and alone inside of Dr. Robert Ford's workshop. In such a context, she might appear unmolded, like clay for a god to play with, but as the first season went on, she proved to be anything but that—she is a layered, complex, and constantly growing individual whose true potential is only expanding by the end of season 1 when she ignited a robo-revolution by splattering Ford's blood all over his nice tuxedo.
It's a great role, one that Wood considers a rarity that needs to be occurring more often in Hollywood. While participating in the lively and often lighthearted Westworld panel at San Diego Comic-Con, Wood took a moment to seriously analyze the strength of her character and the show she is in, which was created by Jonah Nolan and Lisa Joy.
Describing the sudden sense responsibility, and even panic, that came over her during the fourth episode when she realized how large Dolores' journey really was, Wood said, "We're all kind of building a tone together and kind of inventing a style that was really unique. Finding those diagnostic scenes with Jeffrey [Wright] and working through every beat and every moment, and everything she's thinking, all the different modes she's in, and finding different variations on that, and trying different things."
She then added that this is a rarity for a lead actress to have so much freedom and responsibility, as opposed to being just the construct.
"It's so fulfilling, especially for women, and I don't know if this is true for men too, but a lot of times you feel like your wings have been clipped and you're not being represented in the way you want to. And this is just like someone had given me fucking condor wings, and I got to take off and fly. And I'm tearing up just talking about it, because it's so important and it's so important right now, and to be a part of that and to go on that journey with her, and to put myself into the experiences of what she was going through, and using that as a vehicle to walk through my own false reality or repressed memories or trauma, and working through and coming out on the other side. It was just transformative and fun."
She then pauses and offers while suppressing a laugh, "I would drive home covered in bruises and blood, and be happy, because it was for something amazing and meant something."
And hopefully the happiness (and the bruises?) will return in 2018 when Westworld season 2 finally arrives.