News
We're Giving Away a Doctor Who Loot Box and More!
We're teaming up with Nerd Block to give away a Doctor Who Official Block boxset and two tickets for a Season 10 screening!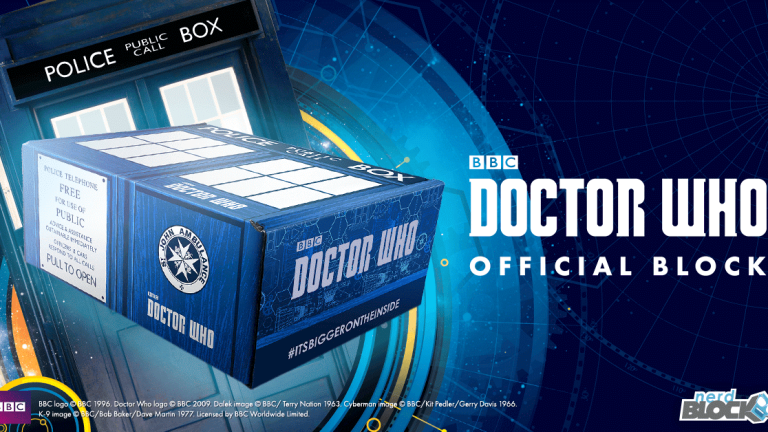 3. Follow @DenofGeek on Instagram
Doctor Who Season 10 Premiere in Theaters:
Wednesday, April 19, 2017 at 7:00 p.m. local time
Come together with fellow fans to celebrate the return of Doctor Who to the airwaves when the Doctor Who Season 10 Premiere comes to the big screen! Season 10 will see Peter Capaldi embark on his thrilling final chapter as the Twelfth Doctor as well as the introduction of brand new companion Pearl Mackie as Bill Potts and the return of Matt Lucas as Nardole. Fantastic adventures and terrifying monsters await the team of heroes as they journey through space and time in this latest installment of the globally-renowned drama.
This special event also features two exciting bonus programs including episode one of the spinoff series "Class," featuring a guest appearance by the Doctor himself, and the never-before-seen bonus feature, "Becoming The Companion." Fans will travel with new companion Pearl Mackie from the London stage through the doors of the TARDIS to a once-in-a-lifetime role, or as Pearl says, "the most insane thing that's ever happened to me." The all-new feature includes exclusive interviews with Pearl, Peter Capaldi, and Steven Moffat and is narrated by Ingrid Oliver.
Doctor Who Official Block: 
The Doctor Who Official Block is Nerd Block's newest subscription service. The bi-monthly subscription box, available to ship to the United States, Canada and the United Kingdom, will allow fans of the longest-running sci-fi television series to obtain exclusive custom-curated and officially licensed collectibles featuring their favorite Doctors, companions and characters. Subscribers of the Doctor Who Official Block will receive a range of unique items every other month that will fuel their love of the iconic series, and add to their anticipation of upcoming episodes. 
About Nerd Block 
Nerd Block is the world's first premium subscription box dedicated specifically to nerds. Sending subscribers an exclusive T-shirt, plus 4-6 exclusive toys, apparel and collectibles every month, Nerd Block has amassed an incredible customer base worldwide. Nerd Block has eight different genre-focused blocks from which to subscribe, including Nerd Block Classic, Nerd Block Junior Boys, Nerd Block Junior Girls, Horror Block, Gamer E for Everyone Block, Gamer M for Mature Block, Comic Block, and Sci-Fan Block. Nerd Block has quickly emerged as a prominent player in the global toy industry. For more information, visit http://www.nerdblock.com/.