News
Weeds Sequel Featuring Mary-Louise Parker In Development
Starz is working on a revival for Weeds, which originally ran on Showtime from 2005-2012.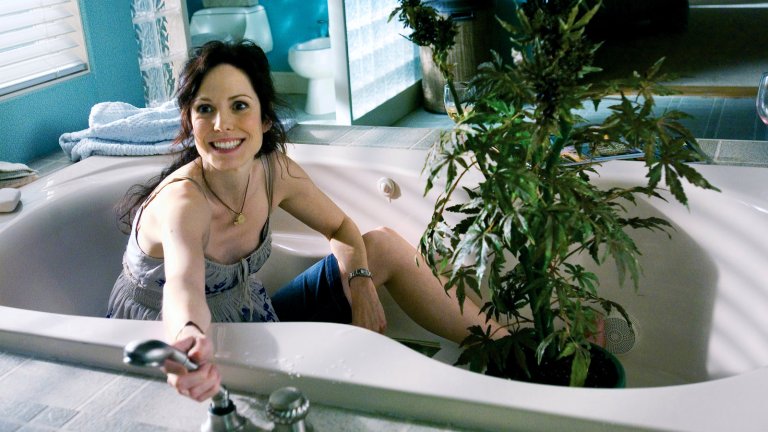 Weeds, the hit pot dramedy that ran on Showtime from 2005-2012, may enter the legalization era. Starz is readying a sequel series set to follow the Botwin family 10 years after the events of the show's initial run. Mary-Louise Parker, who starred as family matratich and weed kingpin Nancy Botwin, is set to reprise her role and executive produce the new series. Lionsgate, the studio behind the original show, is producing the project according to an exclusive from Variety. 
Victoria Morrow, a writer and executive producer on Weeds, conceived the revival. Her other notable credits include Rectify and Hulu's Chance. Weeds creator Jenji Kohan, who just capped off her critical darling Orange is the New Black with its seventh and final season, is not currently involved in the project.
According to the Variety report, Lionsgate CEO Jon Feltheimer talked up the project, internally (and appropriately) dubbed Weeds 4.20 on a recent earnings call:
"As excited as we are about our new series, I want to remind everyone that 'the old is also new,' and we're pleased to be bringing two of the most acclaimed shows in television history, 'Mad Men' and 'Weeds,' to the global syndication marketplace next year," Feltheimer said. "We will be launching the marketing campaign for 'Mad Men,' winner of 16 Emmys and five Golden Globes during its eight-year run, later this month. And we're thrilled to be back in business with series star and producer Mary Louise Parker on what we're calling 'Weeds 4.20,' already in active development at Starz, as we prepare a comprehensive and integrated rollout for one of television's most beloved properties."
further reading: The Best Comedy TV Shows on Amazon Prime
Weeds was a programming cornerstone for Showtime, running for 102 episodes across eight seasons. Upon its debut in 2005, Weeds became Showtime's most-watched series. Critical acclaimed followed: the series earned 20 Emmy nominations, including a Best Comedy Series nomination in 2009.  
Alongside Parker, series regulars included Justin Kirk as Andy Botwin, Hunter Parish as Silas Botwin, Alexander Gould as Shane Botwin, Kevin Nealon as Doug Wilson, and Elizabeth Perkins as Celia Hodes. At the moment, only Parker is confirmed to be involved with Weeds 4.20, as they're calling it. 
If the cast grows any larger, we'll puff, puff pass the news along to you.
Chris Longo is the deputy editor and print edition editor of Den of Geek. Read more of his work here. You can tell him all about your favorite strain on Twitter @east_coastbias.