News
We Bare Bears Exclusive Clip: Charles Barkley and Baby Bears
Just in time for the NBA All-Star game, Charles Barkley gives the Baby Bears some advice on how to work as a team.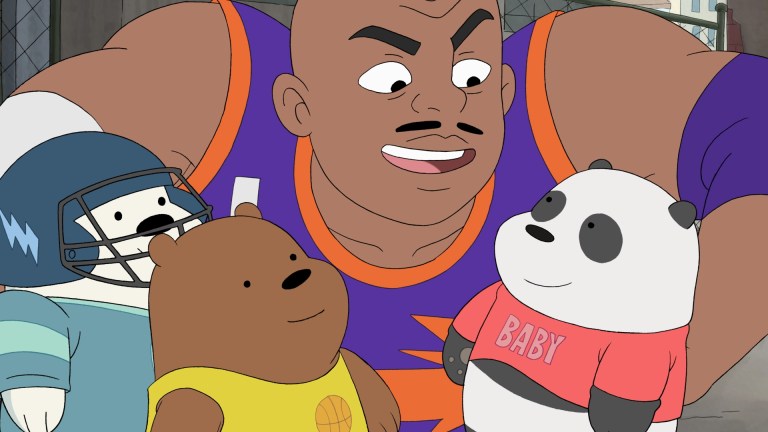 He was in Space Jam. He fought Godzilla. Now NBA Hall of Famer Charles Barkley will be appearing in the beloved Cartoon Network animated series We Bare Bears. As part of the series' ongoing Baby Bears arc of episodes, which feature the titular Bears as little kids, the Baby Bears will meet up with the famous baksetball player in a way only We Bare Bears can do.
He will magically come to life from a trading card as the Baby Bears practice for a big basketball game. Genius. 
Airing on Friday, February 16th at 6PM (ET/PT) on Cartoon Network, Barkely will help the Baby Bears improve their teamwork. You can watch the clip here.
Since the Baby Bears plots take place roughly in the 90's, having Barkley appear as a huge deal to the little Bears is perfect. We Bare Bears commitment to paying tribute to 90's hallmarks has reached a new level with this clip. Even the music in this clip is PERFECTLY 90's.
Everyone keeps talking about 90's nostalgia but We Bare Bears is perfectly capturing it even in 2018. Brilliance.
A summary of the episode is below.
We Bare Bears "Baby Bears Can't Jump" – In order to win a pizza, the Baby Bears play basketball against a ragtag gang of kids.
"Baby Bears Can't Jump"? Oh my god. This show just got MORE 90's.
Shamus Kelley is a pop culture/television writer and official Power Rangers expert. This clip was anything but "turrible". Follow him on Twitter!