News
Watchmen HBO Series: Plot Details Revealed
Showrunner Damon Lindelof discussed what to expect from HBO's Watchmen during its 2019 summer TCA press tour appearance.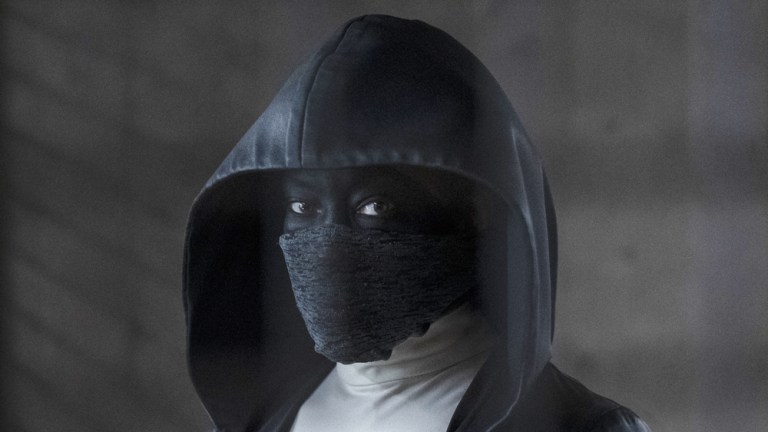 The first question posed to Watchmen producer and showrunner Damon Lindelof at the TCA summer press tour  wasn't about the original comic, the status of Doctor Manhattan, or any of the other queries put forth by the Internet since the project's announcement.
Instead the question, from NPR TV critic Eric Deggans, was far more complicated. It was about Watchmen's complex racial politics and provocative view of a future in which a largely black police force is terrorized by Rorschach mask-wearing white supremacists known as the Seventh Cavalry. Deggans rightfully pointed out that that characterization is largely at odds with our own current reality in which many white supremacists are on the "right" side of the law.
"Thank you for starting us off with a softball," Lindelof quipped before saying the question as it was something he wanted to address right off the bat.
Lost in the speculation of Lindelof's Watchmen sequel/reboot/continuation/reimagining and what it means for the canon of Alan Moore and Dave Gibbons' original beloved work, is what Lindelof's Watchmen will actually be about. The show's appearance at the 2019 TCA summer press tour finally revealed at least a little of what Lindelof and his collaborators are trying to say with their bold new project, and it also revealed some other useful tidbits as well.
In response to the central question about the show's complicated relationship with race, Lindelof said that was by design. Lindelof said that in crafting the series he asked himself: "in 2019 what is the equivalent of the nuclear stand off between the Russians and the U.S.?" The answer that he settled on was the tension between race and policing. Lindelof urged critics and eventual watchers of the show alike to try not to draw any conclusions about the show's message until the entirety of the first season is over, saying "It is definitely not supposed to be a world you recognize."
Lindelof said that much of his inspiration for this next round of Watchmen came from reading the works of Ta-Nehisi Coates and learning about Black Wall Street and the Tulsa race riots of 1921. In fact, Watchmen takes place in Tulsa, Oklahoma in the Watchmen alternate universe's version of 2019.
further reading: How Doomsday Clock Explains the History of the DC Universe
In addition to all of the heady social topics, Lindelof and producer Nicole Kassell provided a rough framework for the time period that their Watchmen fits into in relation to the original work. This Watchmen exists firmly within the Watchmen universe of old. Lindelof stressed that Moore's original 12 issues were canon and that this 2019 world progressed from what came before it. That is to say that characters like Ozymandias, Doctor Manhattan, Nite Owl, and Silk Spectre all exist in this world in which the United States won the Vietnam War and annexed Vietnam into a new state.
Also relevant in this new world is that Richard Nixon died in office in the late '80s and was replaced by his vice president, Gerald Forld. Then in 1992, actor Robert Redford ran against Ford, won the office of the presidency and has been president ever since. One of the biggest snowball effects of Redford's reign is the smothering of all Internet technology. There is no World Wide Web or smartphones in this Watchmen universe. Thank goodness.
Given the mindbending nature of Watchmen's plot and mere existence, most of the questions were reserved for its shepherd, Lindelof. Thankfully, however, its star, Regina King, was able to field a question about acting in such a physically demanding superhero show. After celebrating the fact that her stunt double is 26 years old, King added "This is the first time I've ever been in a sex scene. Guys will like that… some girls too."
further reading: Is the Watchmen Movie Ending Better Than the Book's?
Just as the ghost of you clings in the Watchmen comic, a ghost of a different sort hovered around Watchmen's panel. Watchmen creator Alan Moore is infamously opposed to any and all adaptations or continuations of his work. During HBO President Casey Bloy's executive session at TCA, he said that very much remained the case with Moore and this newest Watchmen iteration. Lindelof was asked for his thoughts on this. He said that Moore is one of the most talented writers of all time and one of his heroes. He is terrified of "fucking this up" but ultimately decided he had to give it a shot anyway.
"The spirit of Alan Moore is a punk-rock spirit, a rebellious spirit," Lindelof said. "If you told him he couldn't do something he'd say, "Fuck you, I'm doing it anyway.' So I'm channeling Alan Moore and saying, 'Fuck you, I'm doing it anyway.'"
Read and download the Den of Geek SDCC 2019 Special Edition Magazine right here!
Alec Bojalad is TV Editor at Den of Geek and TCA member. Read more of his stuff here. Follow him at his creatively-named Twitter handle @alecbojalad