News
Walking Dead Star Wants to Play Moon Knight for Marvel
Is there room for another Fist in your life? Pacific Rim Uprising director Steven S. DeKnight is fighting the "yes" corner...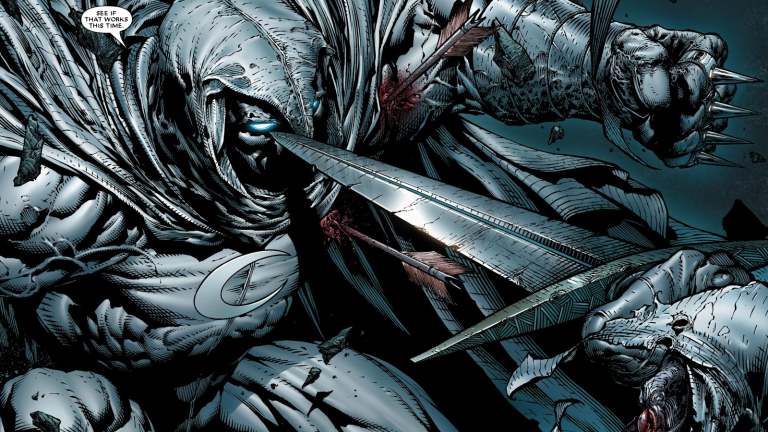 Quite some time ago, Guardians Of The Galaxy director James Gunn insisted that although he'd love to make room for a Moon Knight movie in his schedule. It didn't look like it was going to happen, but while the MCU's golden boy sleeps on the idea, could Marvel's arguably most mentally fragile cult superhero make the move to TV instead?
Well, having recently made a shock appearance in Infinity War this year (no spoilers!) Ross Marquand from The Walking Dead is letting everyone know he's ready to take on another Marvel role; none other than Marc Spector, a.k.a. Moon Knight.
Via AIPT! at ComiCONN 2018, the actor made no secret of his desire to pull on the Moon boots:
Oh yes – Moon Knight! It's tough because a lot of my friends have said Moon Knight is essentially just Marvel's answer to Batman, but I don't agree with that. I agree that there are similarities, but Moon Knight was a mercenary–kind of a gun for hire who didn't really have much regard for people before he had his moment of awakening, I guess. And Bruce was always a good guy–even as a kid, he was torn by revenge, but he wasn't this bloodthirsty killer like Moon Knight was.

So I think that, coupled with what they've been doing the last 15 years with the character–going into the dissociative identity disorder, really calling in to question if everything happening is all in his head, is he actually a vigilante killer or did he die in Egypt? It brings up a slew of questions, and that to me has never really been delved into in any comic book character before–the idea of, is any of this actually happening? Is he crazy? Is he killing good people? Is he actually dead in Egypt? Those are such amazing questions and I don't feel like any comic book series before or since has really tapped into that. So for me, playing a crazy superhero would be awesome. So Moon Knight, Moon Knight for sure.
Pacific Rim Uprising helmer and Daredevil season 1 showrunner Steven S. DeKnight was putting the feelers out for a Moon Knight series back in March, after he inked an exclusive deal with Netflix to produce loads of new content for the streaming service. Via Flickering Myth, DeKnight outlined his dream project, a TV series starring none other than the The Fist Of Khonshu himself:
"I wouldn't mind taking a crack at Moon Knight at some point. There are so many characters that I love in the Marvel universe. Really, for me, it would be about schedule. My schedule these days, as you imagine, is a little tight. God, you know, when I signed onto Daredevil, I expressed an interest in Iron Fist and The Punisher, which I both loved. I'd love to see Moon Knight get a little bit of love. Great, great character."
If you're unfamiliar with Moon Knight, he's been described in the past as "Batman with multiple personality disorder" and while that's taking a very broad sweep at the background of erstwhile mercenary slash millionaire entrepreneur slash cab driver Marc Spector, it's not a world away from the truth.
Born the son of a rabbi, Spector gets his powers after being left for dead on a mercenary mission near an archaeological dig in Egypt. Visited in a near-death vision by the Egyptian moon god Khonshu, Spector agrees to become his avatar on Earth in exchange for a second chance at life. Awakening to discover he now possesses strength, endurance, and reflexes far beyond that of a simple human, he later realises that these powers are enhanced depending upon the phases of the moon.
Later, Spector develops a small fortune and takes on the identity of Steven Grant to move and shake with the higher-ups, while also becoming a part-time cabbie called Jake Lockley so he can keep his eye on the shady activities happening at street level.
Should a TV series lurch to life in the near future, we will of course let you know.