News
Walking Dead Shows Pay Tribute to Late Stuntman at SDCC
The panels for Fear the Walking Dead and The Walking Dead both honored John Bernecker.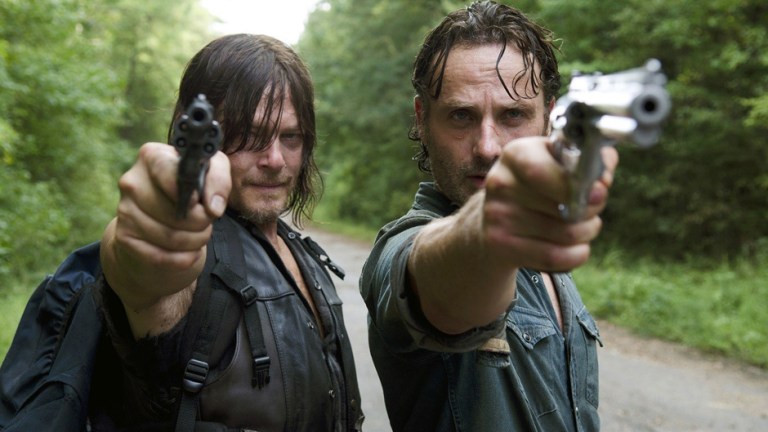 At Hall H in the San Diego Convention Center on Friday morning, a long day of TV presentations at Comic-Con opened on a somber note before the double feature of panels on Fear the Walking Dead and The Walking Dead.
Moderator Chris Hardwick came out before the first panel, for FTWD, and addressed the audience about the death of Walking Dead stuntman John Bernecker, who passed away after a fall on the set of the show in Atlanta nearly two weeks ago.
Hardwick asked for a moment of silence and told the hushed room that the casts and showrunners had debated even coming to Comic-Con for their annual panels, but decided in the end not to disappoint fans.
At the outset of The Walking Dead panel itself, showrunner Scott Gimple stated the following: "John passed away this week after he was injured doing something he loved…He helped make movies and shows for people like everybody in this room. John was someone who was beloved in the stunt community, who helped train people and helped them break  into the business. He was living his dream, and he helped other people do the same."
The panels themselves were perhaps more subdued affairs as a result. Fear the Walking Dead debuted a teaser for the rest of its third season (which is airing now), while Season 8 of The Walking Dead was previewed with an explosive trailer that showed the group led by Rick (Andrew Lincoln), along with members of the Kingdom and the Hilltop, gearing up for all-out war with Negan (Jeffrey Dean Morgan) and the Saviors.
Walking Dead creator Robert Kirkman noted that the season premiere will also be the 100th episode of The Walking Dead, and in light of that and perhaps the recent tragedy on set, the cast members — which included Lincoln, Morgan, Norman Reedus, Danai Gurira, Melissa McBride, Chandler Riggs and many of the other principals — were in a wistful mood, discussing the friendships they forged on the show, the years they've worked together and what the experience has meant to them.
Season 8 of The Walking Dead will premiere on October 22 on AMC.
Read and download the full Den of Geek SDCC Special Edition magazine here!