News
Waiting With Roman Reigns Was WWE's Best Bet
Not going with Roman Reigns as WWE Champion last spring was the best thing WWE did to him ...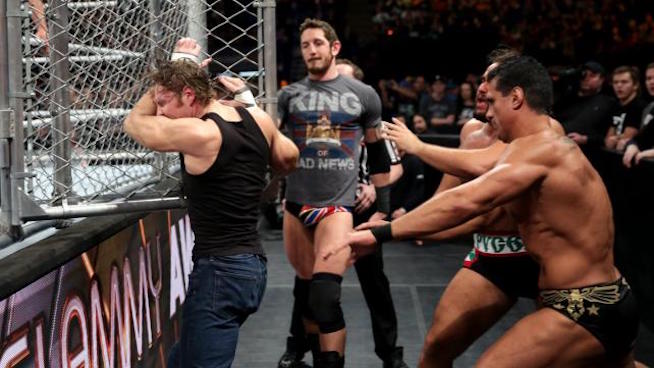 Monday's Raw, overall, was a bit of a dud. But that's no fault of WWE Champion Roman Reigns, who took some big strides on this episode, his first full show as champion.
First, WWE booked Reigns in a promo segment to start the show opposite Stephanie McMahon, who is as good a heel as WWE has to offer. She was excellent here, calling out Reigns and at the same time, Reigns was just as good in disobeying his screeching boss.
For whatever reason, Reigns looked more comfortable here than in almost every WWE promo to date. He was cool on his lines and they weren't forced or cheesey. He was himself, it seemed, and part of himself is being a laid-back guy who just takes care of business.
It was a good spot for Reigns and he was actually cheered. Granted Minneapolis isn't Philadelphia, but WWE has made huge strides with Reigns the last several weeks, dating back to his attack on Triple H at TLC almost two weeks ago.
Reigns is the perfect example of why heavily-scripted promos just don't work in pro wrestling. His promos in the past have been forced, and it's noticeable. It's not him. I'm not even sure he's a great babyface when he's being himself, he might be better suited as a full-of-himself heel, but there's neither here nor there right now. The point is that WWE either loosened the leash a little bit with Reigns on that promo Monday, or something finally clicked.
Give WWE credit. They've stuck with the course Reigns and it's starting to work. The audience resented him when it appeared like he was being handed things. It wasn't just the Royal Rumble last January. Remember, he won Superstar of the Year at the 2014 Slammy Awards. At that point, what did he accomplish?
The audience is more accepting this time around and in large part, I think that has to do with WWE giving him so much, and then pulling it away at WrestleMania when they went with Seth Rollins. Clearly that was the right move — if they were intent on taking the belt off of Brock Lesnar — and Reigns has benefitted in the long run.
Match Results
1. Kane beat Bray Wyatt via disqualification
2. The Wyatt Family beat Kane, Tommy Dreamer & The Dudley Boyz
3. Kevin Owens beat Dolph Ziggler
4. Alberto Del Rio beat Jack Swagger
5. The Usos beat The New Day in a handicap match
6. Rusev beat Neville
7. Becky Lynch beat Brie Bella
8. Dean Ambrose beat Sheamus in a cage match
Slammy Award Winners
1. Neville wins Breakout Star of the Year
2. R-Truth won the LOL Moment of the Year
3. Kalisto won the OMG Shocking Moment of the Year
4. Seth Rollins won Superstar of the Year
5. John Cena won the Hero In All Of Us Award
6. Sting won Surprise Return of the Year
7. Nikki Bella won Divas of the Year
8. The Rock and Ronda Rousey won the This Is Awesome Moment of the Year
9. Undertaker vs. Brock Lesnar won Match of the Year
The Good
1. Dolph Ziggler and Kevin Owens put on an excellent match, and even more importantly, Owens did a great job with is promo to setup the match. It was effective one-night storytelling, where the conflict and resolution all came within one show.
2. Good on WWE for actually advertising something ahead of time. We learned on this episode that John Cena makes his WWE return next week in a match against Alberto Del Rio for the United States Championship.
3. The booking of Roman Reigns took a step forward on this show. WWE gave him a good promo segment to open the show, where he looked very comfortable, and also had him come out to save Dean Ambrose in the cage match later in the night, showing some selflessness in the process. It's helping evolving the Reigns character.
The Bad
1. WWE couldn't resist the urge to spoof the now famous Steve Harvey blooper from the Ms. Universe pageant the night before Raw. R-Truth presented Nikki Bella with the Diva of the Year award, only after announcing Paige at the initial winner and then claiming she was runner-up. It wasn't funny. But that's the 70-year-old chairman's sense of humor. There was nothing original about the parody, it was just ripping off what happened the night before with no added comedic effect.
2. Neville was the Breakout Star of the Year? OK, I can buy that. But Tyler Breeze was one of the finalists? Really? The guy that WWE has buried on television with the exception of two matches since calling him up to the main roster? And in a year where there was a "Divas Revolution," there wasn't a single female nominated for this award? I shouldn't care about the Slammy Awards, because honestly, who cares? But things like that just make it seem more ridiculous.
3. Speaking of ridiculous, why does WWE always feel the need to poke fun at itself? They mockingly called the Slammy Awards "the most prestigious awards show on television." WWE likes to constantly remind its audience that they don't take themselves too seriously, which is exactly why a big chunk of their audience doesn't take them seriously either. Look at some of the ratings.
4. The Award Show format was bad enough, but with so many winners not present, it was downright embarrassing.