News
Voltron Season 3 Confirms Lotor, Reveals Voice Actor
Revealed at SDCC, we know who's voicing Lotor and more about the Voltron Legendary Defender version of the character.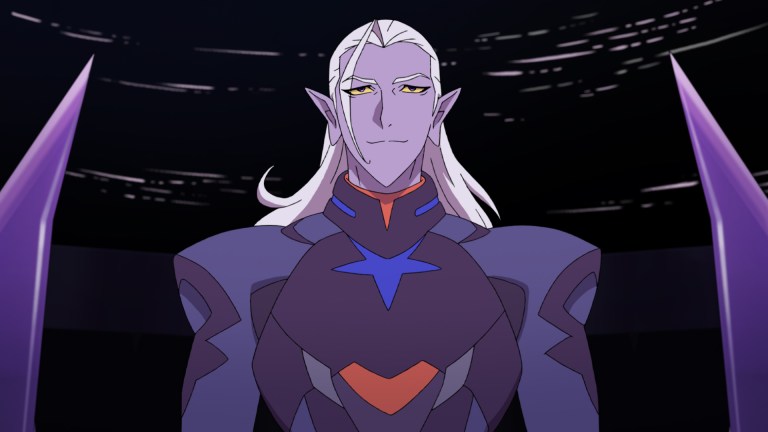 At the end of Voltron Legendary Defender season two, Haggar called for "Prince Lotor". Fans of classic Voltron instantly lost their minds. In the Voltron Defender of The Universe series Lotor was a major villain and fans had been waiting for him to show up in the rebooted series.
After months of teasing (going all the way back to Wondercon in March), we finally got our first official look at Lotor at the San Diego Comic-Con Voltron panel. 
Executive Producer Joaquim Dos Santos announced that AJ Locasio (Back to the Future: The Game) is playing, as the press release says, "the devious new villain, Prince Lotor." 
In the premiere episode sceened at SDCC, Lotor runs his segment of the Galra Empire very differently from his father. He prefers a method more akin to ancient Rome where as long as a race assimilates he's willing to accept them.
Lotor is also accompanied by four women generals (described as half breeds) who are able to cloak themselves.
Hunk actor Tyler Labine says that, "Lotor is in my opinion one of the most complex characters in the show."
Co-executive producer Lauren Montgomery said that while Zarkon is a more standard villain.bad guy, Lotor is much different. They wanted to play with what a villain could be. He's not one hundred percent bad. He's still bad but he exists in a moral gray area.
In the panel anytime Lotor appeared on screen the fans erupted into screams and cheering. It's safe to say he'll soon become a fan favorite character for the Voltron fans.
Shamus Kelley just hopes Lotor won't fall in love with Allura because she looks like his mom. Follow him on Twitter!  
Read and download the full Den of Geek SDCC Special Edition magazine here!