News
Vince Gilligan Says X-Files Season 11 Reunion Doubtful
If his busy schedule allows, Vince Gilligan wouldn't rule out an X-Files reunion, but don't hold your breath.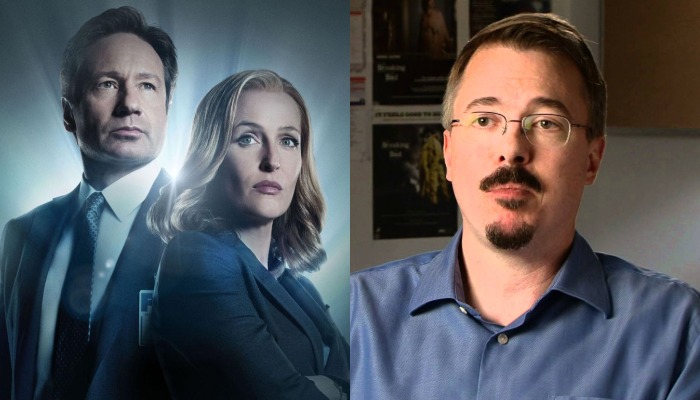 In an exclusive interview with Den of Geek on his current series, Better Call Saul, the timing just so happened to work out that we were the first people to ring up Vince Gilligan after The X-Files season 11 was announced. Gilligan holds a deep admiration for the series that kicked off his career, but as one of the busiest creators in Hollywood, he doesn't want to get fans' hopes up for a potential reunion.
"You know, it's heartbreaking to say, but it's a bit of a moot point since I'm just too busy over here," Gilligan told Den of Geek. "And I want to stress and be precise that I haven't been asked to be a part of it."
So X-Files creator and boss Chris Carter may have lost Gilligan's number (maybe we can make the connection?), but if the Breaking Bad creator were asked and available?
"Hell yeah! I'd love to work on The X-Files again," he said. "It was a wonderful job and I had some of the best years of my life writing for that show, learning to produce TV for that show, and learning to direct for that show."
Gilligan learned his trade working alongside Carter, starting as a writer and creative consultant in season 3. He rose from writer to executive producer, sticking with the series through season 9, the final season of the original run, and co-created and executive produced the short-lived spinoff series, The Lone Gunmen.
The connective tissue from Breaking Bad to The X-Files runs deep. Most notably, Gilligan wrote an X-Files episode called "Drive" and cast Bryan Cranston as the villain.
"It's no stretch at all to say that we wouldn't be talking right now if not for The X-Files because you never would have heard of me," Gilligan said. "I never would have been allowed to create Breaking Bad and to know how to run it. I can't say enough good things about those guys and you can rest assured that I'll be watching as a fan when those next ten episodes hit."
The X-Files alums Glen and Darin Morgan and James Wong all returned to write and direct episodes for the 2016 revival. Fans are still holding out hope that some of the bigger names on the X-Files creative tree – Gilligan, Frank Spotnitz (The Man in the High Castle), and Howard Gordon (24, Homeland) – will pen episodes for the new season.
The X-Files season 11 will premiere during the 2017-2018 television season.