Features
Vince Gilligan: Breaking Bad masterclass report
The most anticipated session at this year's Edinburgh International Television Festival was Vince Gilligan's Breaking Bad masterclass...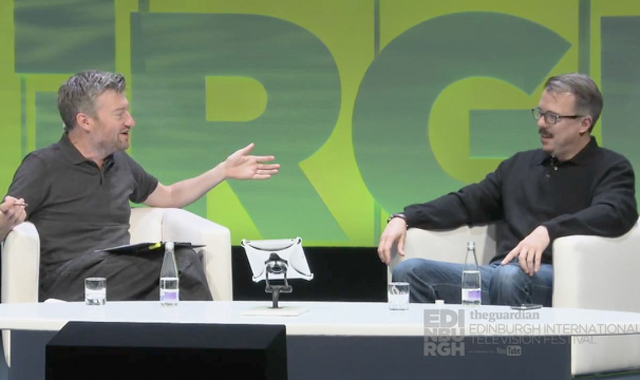 This feature contains Breaking Bad spoilers.
Vince Gilligan – interviewed by Charlie Brooker at the Edinburgh TV Festival on Thursday – counts himself as someone who 'got very lucky, very quickly.' 
After graduating from New York University, Gilligan told his agent that he was a huge fan of The X-Files, and his agent told him 'as luck would have it, I'm related by marriage to the man who makes it.' Meeting with Chris Carter, Gilligan went in as a fan without any expectations. When Carter asked him if he had any ideas, he winged it – 'spun something, Kramered it' – and the idea became Spot Light in the show's second season. By his own admission, prior to joining the writing team of The X-Files, Gilligan had been 'a lazy writer', improved by the imposed deadlines and the 'gun to the head' terror-inducing approach. After The X-Files finished, there was a fallow period where Gilligan only chalked up four TV writing credits. 
Ultimately, this fed into the creation of Breaking Bad. It is one man's reaction to a life of failure, or as its creator puts it 'the worst possible reaction to a midlife crisis'. Years in the wilderness, issues and frustrations all poured into lead character Walter White. Host Charlie Brooker pointed out that White's age is 41 in Aaron Paul's audition video (it was later changed to match that of Bryan Cranston), with Gilligan confirming that there is a lot of Walter White (if not Heisenberg) in him. 
For those of you who haven't succumbed to friends' increasingly irate demands to watch it, Breaking Bad tells the cheery, fun-drenched story of a high school Chemistry teacher who is diagnosed with inoperable lung cancer. BUT WAIT! It gets jollier. In order to provide for his family after he is gone, he uses his skills and knowledge to make high quality crystal meth. This came about after fellow writer Tom Schnauz joked to Gilligan over the phone that they'd both been unemployed so long that they may as well start making meth in the desert in an RV. 
With an open door at Sony due to a previous project falling through, he had some backing for his idea. Gilligan's agent came to the rescue again when one network passed on the pilot, having sent the now finished script to AMC (then fresh from commissioning Mad Men).
Gilligan noted that the pilot episode (before he brought a regular production team on board) perhaps goes too far to make White's character put-upon. In it, he's a good-natured schlub, holding down two jobs while his son seems closer to his 'asshole jock' brother-in-law. Both characters evolve over time, with Brooker commenting that your initial sympathy for Walter is really gruellingly challenged as the series goes on. Gilligan reiterated his well-known high concept pitch for Breaking Bad, 'We're gonna take Mr Chips and turn him into Scarface'. Drug dealing was chosen because Gilligan wanted to show a good man doing the worst possible thing that would be profitable.
Brooker asked if Gilligan was concerned that viewers would switch off when previously dramatic character moments ensued, and the answer was a very honest 'Yes, but it was an experiment and I wanted to see it run to its natural conclusion'.
After The X-Files' somewhat overlong televisual conclusion, Gilligan wanted to avoid jumping the shark, or having viewers read TV listings and think 'Oh, is that still on?' He also mentioned that M.A.S.H. lasted longer that the war it featured, and Hawkeye Pierce remained much the same character as he was in the first episode. Agent Mulder might shoot someone one week and not seen to be affected the next, and Gilligan wanted to try to make a show that didn't promote and reward stasis as the norm. A question from the audience mentioned a 'golden age' of television drama, and certainly it feels very easy at the moment to think of many shows that don't stay static in the way described above. In his answer to this question Gilligan thanked David Chase (creator of The Sopranos) for paving the way for this status quo. 
Despite all these things coming from the show runner, Gilligan is magnanimous when it comes to sharing praise. Michelle McLaren (also of Game of Thrones) is credited as the show's unofficial lead director, and writer Peter Gould is working on with Gilligan on a potential spin-off series. The studio and channel were praised for letting the writing team get on with things (with a hefty pre-production time allowing three weeks collective breaking in an episode, prior to two weeks actual scripting by an individual), apart from one occasion where the six other writers also thought Gilligan was going too far (one character chokes on their own vomit, whereas Gilligan's initial idea was to have Walter inject them with a further shot of heroin to kill them deliberately and protect his family). As it is, Brooker stated that scene made him seriously consider stopping watching the show. 
He stated that he wrote Walter White with Bryan Cranston in mind, but it turned out the casting directors (Dawn Steinberg and Sharon Bialy) were thinking along similar lines. Their selection of Aaron Paul as Jesse Pinkman changed the show dramatically, as Gilligan was impressed enough by his performance to cancel Jesse's planned death at the end of series one (in order to spark Walter into action by avenging him). Telling the actor this at a later date did not have the light-hearted effect intended. The character of Mike Ehrmantraut only came about when Bob Odenkirk (lawyer and potential spin-off star Saul Goodman) was unavailable, and ended up featuring in twenty-nine episodes.
Nearing the end of the experiment, it's clear to see it's been a resounding success. A morality play, a crime-thriller, and a test of how far you can push an anti-hero, Breaking Bad is a show that will have its boxsets pushed into unwilling hands for as long as people have both hands and a burning desire to talk about the show with someone who won't put their fingers in their ears and shout 'SPOILERS'.
Follow our Twitter feed for faster news and bad jokes right here. And be our Facebook chum here.