News
Vikings Star Travis Fimmel to Play Wyatt Earp in History Channel Anthology Series
The History Channel's upcoming anthology series will be developed by Vikings' Travis Fimmel, who also stars as Wyatt Earp.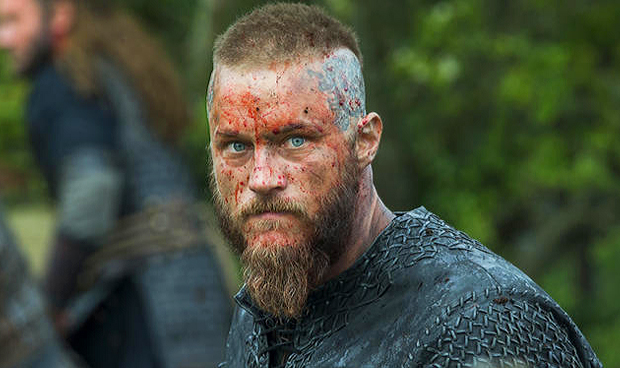 Warning: Spoiler reference to Vikings Season 4, Episode 15 "All His Angels."
With the medium of television arguably being the strongest it's ever been on the scripted side, announcements of high-quality ambitious anthology series' showcasing impressive casts are common. However, the latest example from The History Channel will have the cable outlet quickly back in business with the now-former star of its signature scripted series Vikings for a role that's quite far-removed from that of ancient Norse ravagers.
Deadline reports that Travis Fimmel, whose Vikings protagonist character Ragnar Lothbrok has apparently drawn his last breath on the hit series, will make a quick rebound with The History Channel, having successfully pitched an idea for a yet-to-be-named anthology series that will focus, appropriately enough, on the different sides of "infamous characters." Fimmel wrote the first episode, serves as an executive producer and will star in the inaugural iteration of the series. His role takes him away from the shores of medieval Scandinavia to a fateful 1881 date in Dodge City at the O.K. Corral when he plays none other than U.S. Old West icon Wyatt Earp. Explaining his intent with the series, Fimmel states:
"I've always been fascinated with what motivates people's transgressions and the scandalous journey into infamy. I wanted to re-examine stories people think they know without the rose-colored glasses of Hollywood and let the audience decide for themselves if people like Wyatt Earp were sinners or victims of life circumstances."
While the story of Deputy U.S. Marshall Wyatt Earp and his role in the gunfight at the O.K. Corral alongside brothers Virgil and James and Doc Holliday against the infamous Clanton Gang has been told countless times in every form of media imaginable, it seems Fimmel plans to break through the façade of historical reverence and focus on the purported seedier aspects of Earp's life. While history has lionized Earp as a paradigmatic figure of austere justice in the Old West, there was alleged aspects of his life that were less than savory; notably with accusations of corruption coming to light later in his life after his controversial stint as a referee in the 1896 Fitzsimmons vs. Sharkey boxing match created upheaval in the gambling community.
For Fimmel, the small screen prestige project marks an interesting turn, especially after his big-screen-starring would-be blockbuster Warcraft became quite the industry conundrum, crashing and burning hard in North America at an anemic $47 million, but performing quite well oversees with over $433 million. His recent surprising exit from Vikings has left him in an interesting place with upcoming film appearances in drama Lean on Pete, crime thriller Finding Steve McQueen and in a 2018 big-budget sci-fi epic depicting the Earth losing its gravity called Inversion.
Currently, Fimmel's anthology series has not settled on a title and is still in early pre-production. The History Channel series will be a co-production of (parent company) A&E Studios. Along with Fimmel himself, Atlas Entertainment's Charles Roven and Alex Gartner serve as executive producers.