News
Vikings Season 5 Promises "Extraordinary Twists and Turns" Next
Vikings creator Michael Hirst has been chatting about what's to come in the second half of the fifth season. Spoilers...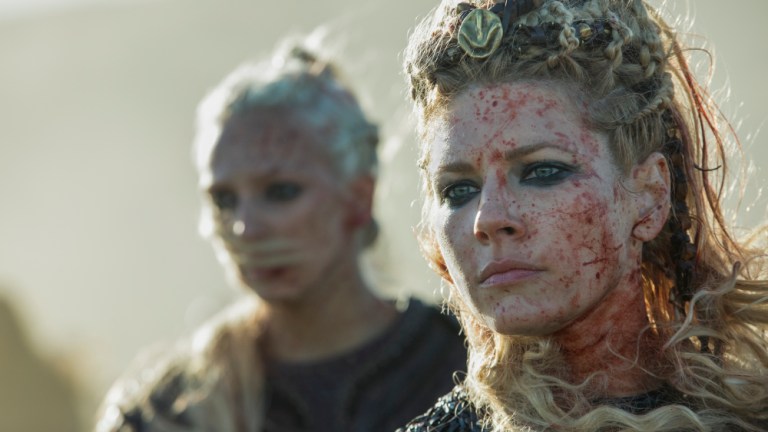 After the explosive midseason finale, creator Michael Hirst has been teasing the rest of the season with ET Online. There'll be some spoilers ahead, especially if you haven't yet had chance to catch episode 10…
Firstly, regarding Rollo's return, Hirst was doing as much of a shrill squee as the rest of us when he came sailing back into town, it seems. 
"Like any other fan, I was thrilled to see Rollo sailing into the show, but he's come back to deal with things which were never dealt with in the past. And we're going back to season one here, where there were huge questions about his relationship, and Ragnar's relationship with Lagertha, and what had actually happened between them all — and frankly, whose son Bjorn (Alexander Ludwig) was. So Rollo is sailing back to deal with things that have been on his mind for a long time, and it's pretty powerful stuff, I must say."
The budding romance between Bishop Heahmund and Lagertha has also been planned for while, Hirst revealed:
"Bishop Heahmund is a real character. He was a real guy. He was a man of God, but he was a warrior. So he came into the show [because] I needed a strong Saxon. But he's also a deeply sensual man, for which he punishes himself. So I thought, 'Who is a deeply sensual man going to be attracted to when he's introduced to Pagan society, to Viking society?' Well, Lagertha. Obviously the first time he met this famous shield maiden, he would be attracted to her, because he's a sensual man. So that was organic; I hadn't pre-planned that. It just occurred to me as I was writing the episodes, as I was embedding him into the show, that moment he set eyes on Lagertha, the moment he understood who she was, he would be attracted to her, with huge collateral damage on both sides, I must say. But their coming together was inevitable." 
And interestingly, while Floki's current storyline looks like it's coming to a close with self-sacrifice, it's all merely the first step to something much bigger:
"The story of the Icelandic settlement may look on the surface like a slightly separate storyline, but in fact, it's a very important storyline for me, because I'm obsessed by the Viking gods and the Pagan gods, and you know, Floki is like the Pilgrim fathers, he's trying to set up a city on the hill, a place that's safe. And that storyline is only just developing. I can assure everyone that the payoff of that storyline is quite extraordinary, but it's a way down the line."
And while we're still reeling from all the death and destruction of the midseason finale, it sounds like we'll need to strap in for some serious drama in the second half of season 5, too, as the children of Ragnar are put through the wringer even further.
"Each season has gotten stronger, has grown, just in scale, apart from everything else, but also in every other way. Season 5B is full of the most extraordinary twists and turns, and deep, deep emotional storylines, and we'll just ask you to wait until you see episode 15, which will just tear your heart apart and blow your socks off."
We don't think our hearts can take it, Michael.
Here's the trailer for the next episode…
And here's the synopsis…
A sense of doom looms over Kattegat as bloodshed ensues. As the defeated army flees in the face of the victors, a legendary warrior makes his way home.