News
Veronica Mars Season 4 Released a Week Early
All eight episodes of Veronica Mars Season 4 are now available on Hulu, Kristen Bell announced at SDCC 2019.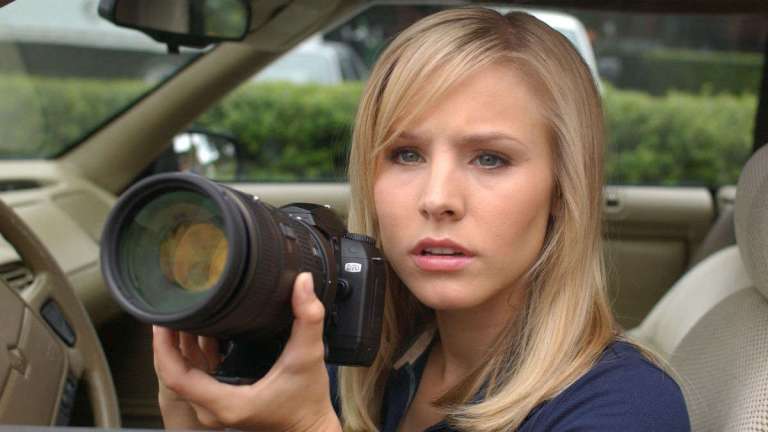 A second revival for Veronica Mars is now officially a reality. Hulu secured a deal to become the streaming home for the series, and has reunited series creator Rob Thomas and star Kristen Bell for a short run of new episodes. 
Veronica Mars previously ran for three seasons and 64 episodes. Seasons one and two ran on UPN and the third season aired on the rebranded CW, ending its run in 2007. Bell starred as Veronica Mars, a high school student who becomes a private investigator with the help of her detective father.
read more: How Veronica Mars Transcended Its Many Genres
The series earned a cult following and fan support lead to a Kickstarter funding of a movie revival in 2014, raising $5.7 million for the production. The film, set nine years after the events of the third season, had a limited release, earning just $3.5 million at the box office. Most of the original cast returned for the feature film. You can read our review of the film here.
Veronica Mars Season 4 Release Date
All eight episodes of Veronica Mars season 4 were set to premiere on July 26, 2019. Now those episodes will premiere…now. Like right now! Kristen Bell announced at the end of the show's SDCC 2019 panel that the entirety  of Veronica Mars season 4 is now available on Hulu. Head on over and watch it. 
Veronica Mars Season 4 Review
We've seen all eight episodes of Veronica Mars Season 4 and have a spoiler-free review for you to check out from contributor Delia Harrington right here.
Veronica Mars Season 4 Cast
Kristen Bell, Enrico Colantoni, Jason Dohring, and Max Greenfield are returning to the cast. J.K. Simmons is set to have a recurring role in the limited series. 
That Hashtag Show published a casting list for characters recurring as guest stars in the new season. The characters include an ex-con, a cop, a cartel hitman, and a nightclub owner. See the full descriptions here. Creator Rob Thomas also announced the writing staff on Twitter: 
Veronica Mars Season 4 Trailer
Here is the full length trailer for Veronica Mars Season 4. Neptune is, indeed, in trouble.
We have our first proper look at the Veronica Mars Season 4 trailer and, tonally, it is perfect. From the looks of the trailer, someone is planting bombs in Neptune. Veronica's theory? To ruin Neptune's rep as a spring break destination. Sounds like there might be more to this story. Luckily, Veronica is on the case…
And here's a previous, charming little update from Veronica, herself. 
Veronica Mars Season 4 Plot
Hulu released the logline for the new season: 
Spring breakers are getting murdered in Neptune, thereby decimating the seaside town's lifeblood tourist industry. After Mars Investigations is hired by the parents of one of the victims to find their son's killer, Veronica is drawn into an epic eight-episode mystery that pits the enclave's wealthy elites, who would rather put an end to the month-long bacchanalia, against a working class that relies on the cash influx that comes with being the West Coast's answer to Daytona Beach.