News
Valor Trailer Puts a CW Spin on Military Life
The CW drama Valor releases its first trailer, showing a CW-like approach to the pressures of the military life.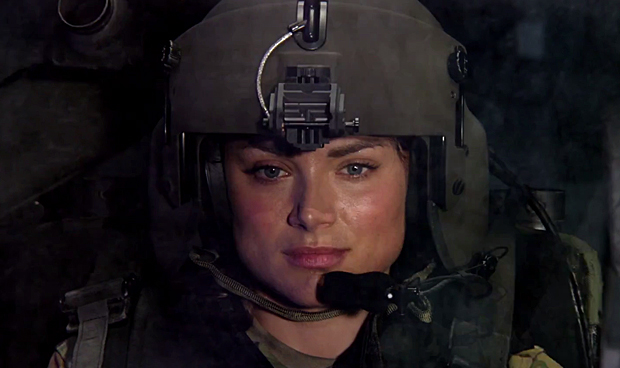 The CW enlisted itself fully in the military drama wave that's set to take over television this fall. While the network, which spent the past few years searching for a military drama, had been ruminating on its picked-up pilot Valor, it will embark on a full season tour with a confirmed series order. Now, the network has unveiled the Valor trailer, showing how the typically disciplined military lifestyle translates as a younger-aimed CW show.
Valor Trailer
The Valor trailer centers on characters Nora (Christina Ochoa) and Gallo (Matt Barr) who, between their duties with infiltrative black ops helicopter missions, are hooking up, while attempting to deal with the obvious pressures of their profession with drugs. Moreover, the trailer drives home the point that, thrust into the fog of war, morally difficult choices need to be made with split-second speed.
The CW also released a 10-second teaser clip to accompany the trailer, this time centering its action in the air.
Valor Story
Valor stands as the second proper 2017-2018 television season addition with its announced pickup of the Dynasty reboot. Valor will manifest as a character-centric, pathos-heavy drama starring Matt Barr (Sleepy Hollow, Hatfields & McCoys), which centers on the lives of an elite unit of helicopter pilots training to participate in various black ops missions both international and domestic. With a crucial backstory involving flashbacks of a failed mission involving one of the unit's first female pilots, the series will slowly peel away conspiratorial layers of secrets across the inaugural season, which will primarily center on a grand mission to rescue a group of MIA soldiers. The series will carry themes that, as the logline puts it, "tests the boundaries between military discipline and human desire."
Joining Barr on Valor will be cast members such as Christina Ochoa (Animal Kingdom), Charlie Barnett (Secrets and Lies), Melissa Roxburgh (Star Trek Beyond), Marc Brandt (Gangster Squad), Corbin Reid (How to Get Away with Murder), Heighlen Boyd (The Big Short), Jaiden Kaine (Hidden Figures), Will Gonzalez (24: Legacy) and Nigel Thatch (Selma).
Valor Crew
Valor is written by Kyle Jarrow, who was behind the Go90 streaming series Lost Generation earlier this year and also has a music-centric television project in the works called The Drop. Jarrow will also serve as an executive producer along with designated showrunner Anna Fricke, previously crucial personnel on shows such as Wayward Pines, (Syfy's) Being Human, Men in Trees and Everwood. The series is a co-production of CBS TV Studios and Warner Bros. Television.
As mentioned, Valor will not be lacking in genre-similar company when it arrives on the season schedule, with offerings such as CBS's untitled David Boreanaz-starring Navy SEALs pilot, Fox's Behind Enemy Lines movie-to-TV adaptation, NBC's For God and Country and, on the cable front, History Channel's Walton Goggins-starring Six returning for a second season. Thus, it will be interesting to see how Valor approaches the military genre when put through The CW lens.
Valor Release Date
Valor will premiere on The CW this fall, slated for Mondays at 9 p.m. ET/PT (after Supergirl).