News
'V' – the lizards are returning (finally)
Lock up your hamsters - the omniphagous 'visitors' are heading to ABC after a 20-year absence...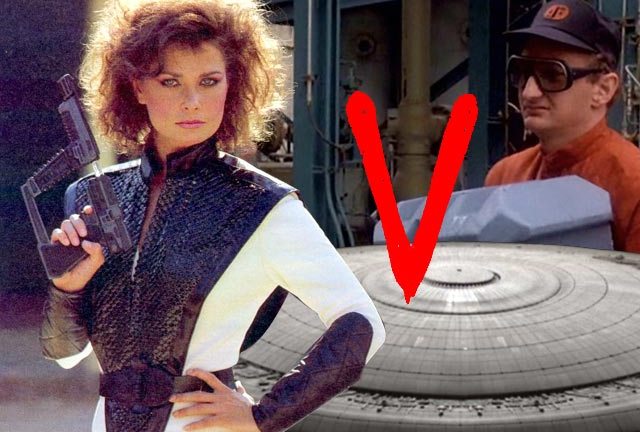 Variety reports today that the long battle to get alien-lizard saga 'V' back on the air (which outlasted the original 'final battle' by over twenty years) has finally borne some development, as ABC seems committed to re-mounting/booting the series with 'The 4400' co-creator Scott Peters helming.
As Kenneth Johnson told us in an interview this summer. goodwill towards the series never went away in its absence, though Johnson's own efforts to bring 'V' back – both as a series and then a film – seem to have arrived at an impasse. However his very cinematic novel 'V: The Second Generation' proved popular with fans of the original series.
Warner Bros. return to the new 'V' project after a hiatus, which was developed, Variety reports, from a spec script.
The project will be developed with Peters and with head of HDFilms Jace Hall, formerly the head of Warner Bros. videogame division, who has plans to extend the 'V' universe into video-gaming as well.
The original 'V' arc – which began with Kenneth Johnson's 'V' miniseries and continued away from its creator with the sequel 'The Final Battle' and then a diminishingly watchable TV series – told the story of aliens who approach Earth apparently in peace, but turn out to be lizards in disguise who are intent on turning the Earth's population into a shackled buffet.
Though there were laser guns and special effects, the big selling point of the original series was its paradigm of Nazi indoctrination. Variety reports that the new 'V' will focus around a homeland security agent played by Erica Evans, whose son becomes beguiled by the 'visitors'. The storyline, as in the original shows, will be one of many. The original 'V' had rather soap-esque multi-threaded story arcs that concentrated not only on the efforts of the growing human resistance movement but the internecine wranglings of the aliens themselves, who, in addition to adopting human guise also adopted generic human names such as 'Diana' and 'Charles' (it was the eighties, folks).
New 'V'-man Scott Peters started out in the TV reboot of The Outer Limits, and has helmed episodes of Terminator: The Sarah Connor Chronicles and Burn Notice.
UPDATE:Kenneth Johnson has just updated his own site to respond to Variety's post, and says:
"You may hear reports that Warner Bros TV is attempting to"reimagine" V as a television series. This is relatively old news. Last fall their new concept, which Kenny in not involved with, was passed on by all four networks. Though ABC is again considering the possibility of developing a TV pilot project, this does not in any way affect Kenny's ongoing efforts to remake his original classic as a major motion picture. Kenny's prime desire is to bring big-screen production values to the new movie while protecting the quality, integrity and substance that made his original V such a critically acclaimed, international landmark.