News
Utopia: Amazon US Remake Cast, News and Everything to Know
The long-in-gestation remake of Channel 4's dark drama series, Utopia, is finally heading to Amazon Prime Video.
Amazon is conjuring a U.S. remake of the popular U.K. TV series, Utopia, adapting a story centered around a group of young-ish people who are hunted by a shadowy organization after they manage to get hold of a once-thought-mythical graphic novel which details all manner of conspiracies that turn out to be disturbingly true.
After a previously-mooted HBO version from David Fincher fell apart in 2015, Amazon would make the April 2018 announcement of a pickup for a 9-episode first season for Utopia, with Gillian Flynn (author/screenwriter of Gone Girl, Sharp Objects and Widows,) pulling the strings as writer and executive producer, and it looks like we might finally get some resolution to the story, which was left hanging on the original 2013-2014 U.K. Channel 4 series after two short seasons of Dennis Kelly's creation.
The series if putting together a sizable ensemble, with names like Rainn Wilson, John Cusack and Sasha Lane.
Utopia Remake Cast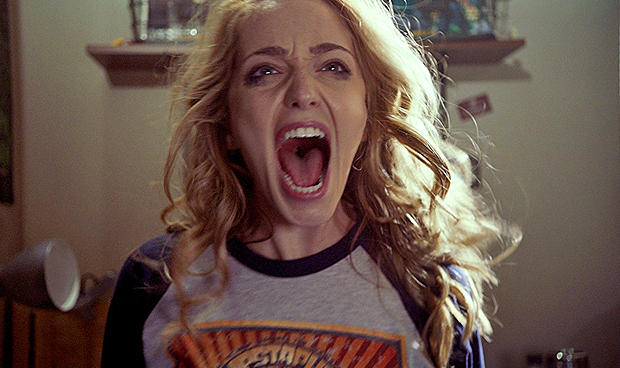 Jessica Rothe is the latest Utopia cast acquisition, according to Deadline. She will recur on the series as Samantha, described as "Extremely idealistic, sharp-witted and a natural-born leader, Samantha earnestly believes in changing the world through action and scoffs at cheap rhetoric about progress. She could school any comic book nerd about the graphic novel Utopia and is embarking on a mission to uncover its secrets."
Rothe is best known from her starring role in the 2017 horror-comedy hit, Happy Death Day, and this past February's sequel, Happy Death Day 2U, as the time-loop-murder-afflicted coed, Tree Gelbman. She also fielded a minor role in La La Land, and will co-star in Valley Girl, a musical remake of the 1983 Nicolas Cage comedy classic, as Julie Richman, the character played by Deborah Foreman in the original film.
Jeanine Serralles will play Colleen reports Deadline. The character is described as "A cheerful, self-possessed mortgage broker, Colleen encourages her scientist husband, Michael Stearns (Wilson), to step forward and assert himself in the midst of a national health crisis. Having found each other later in life, Colleen is her husband's biggest cheerleader and confidence booster." The actress recently appeared in the films like Cubby and Hot Summer Nights, as well as TV guest spots on Bull and The Path.
John Cusack will appear on the series as Dr. Kevin Christie, announced Amazon. The character is described as "Charismatic and media-savvy, with a brilliant biotech mind and a philanthropic outlook. Christie altruistically wants to change the world through science." A veteran actor who's appeared in an array of comedies that undoubtedly defined the 1980s and 1990s, Cusack recently appeared in films such as Never Grow Old, River Runs Red and Distorted.
Javon "Wanna" Walton will play Grant, reports Deadline. The character is described as "streetwise beyond his years, independent, fearless, crafty and charming. Raised in the Kansas City projects by an alcoholic single mother, he's now roaming the streets alone. Grant embarks on a dangerous mission to uncover the secrets from Utopia." Oliver Woollford played the role in the original series. – The child actor will make his debut in the June-scheduled HBO series, Euphoria.
The series added the following quartet of cast members, as reported by Deadline back in February:
Ashleigh LaThrop (The Kominsky Method, The Handmaid's Tale) will play Becky, described as "Bright and big-hearted, she uses her kindness and empathy as a way to get closer to the graphic novel she desperately needs to save her life."
Desmin Borges (You're the Worst, Preacher) will play Wilson, described as "a brilliant, paranoid and eccentric conspiracy theorist who is obsessed with Utopia and convinced that it hides more dark secrets about the very future of our world."
Farrah Mackenzie (Ascension, Logan Lucky) will play Alice, described as "an adopted foster child who is bright and curious, with a steely resolve when challenged and thrown into the dangerous world of our Nerds."
Christopher Denham (One Dollar, Billions) will play Arby, described as "a shark-like menace who's emotionally stunted and socially disconnected but whose cold facade starts crumbling as he learns some dangerous truths about his childhood."
They join the following headlining duo:
Rainn Wilson (pictured in the title image,) will co-star in Amazon's Utopia, as reported by trades such as Variety. He will play Michael Stearns, a once-promising virologist, described in the release as "a forgotten scientist who's lost his edge—under-appreciated and underfunded in his laboratory work. When a nationwide outbreak of a deadly flu arises, Michael offers his expertise, and soon finds he has landed smack in the middle of something much bigger."
Wilson, who will be forever associated with his role as the irritatingly fastidious Dwight Schrute on (another Americanized version of a British series,) The Office, recently made waves with his role as the classic sci-fi franchise scoundrel, Harry Mudd, in CBS All Access's Star Trek: Discovery (also starring in a "Short Treks" minisode) and, amongst other things, recently appeared in last year's giant shark summer offering, The Meg.
Sasha Lane will co-star as Jessica Hyde, described as "tough and feral after a life on the run from a mysterious and dangerous group, Jessica believes all the answers about her perplexing life story may be hidden in the graphic novel 'Utopia'." Lane, a Houston-born up-and-comer, burst onto the scene with a starring role in director Andrea Arnold's 2016 drama, American Honey, with subsequent appearances in The Miseducation of Cameron Post, Hearts Beat Loud and After Everything. However, she's fielding blockbuster prospects with an appearance in the April-scheduled Hellboy remake, in which she appears opposite David Harbour's title character.
The series also added the following duo, as reported by Deadline:
Dan Byrd is in the primary cast as Ian, described as someone who "went to an online college, works in a soul-robbing job and lives in a small apartment with his grandma in Canton, Ohio. Craving a more exciting life outside his online/virtual world, he embarks on a mission to uncover the secrets of the graphic novel 'Utopia,' which also is driven by his crush on fellow graphic novel fan Becky." Byrd has been seen in recent TV appearances on Unbreakable Kimmy Schmidt and The Good Doctor, with TV runs banked on Scandal, Cougar Town, Mad Men and Heroes, as well as movie appearances in Sisters, Easy A and 2006's The Hills Have Eyes remake.
Cory Michael Smith is playing Thomas Christie, described as "Bright and ambitious, Thomas works under his biotech scientist father at Christie Laboratories. He becomes tasked with tracking down the only copy of the much sought after graphic novel, 'Utopia,' for less than benevolent reasons." Smith is known from his five-season run on Gotham as Edward Nygma/Riddler, a role that's wrapping as Fox rounds the end of its abbreviated final season. He's also known from film appearances in First Man, 1985, Wonderstruck and Carol, having made his big screen debut in the Kristen Stewart-headlined 2014 military drama, Camp X-Ray.
Utopia Remake Details
Amazon's Utopia is a co-production of Endemol Shine North America and Kudos, an Endemol Shine Group UK production studio, and Amazon Studios. Sharon Levy, president of unscripted and scripted television for Endemol Shine North America, will oversee production on the studio's behalf. However, the show is under the creative purview of Gillian Flynn, who's serving as executive producer/showrunner, joined by original series creator Dennis Kelly, who serves as executive producer.
Utopia's showrunner Flynn had this to say upon her appointment in 2018:
"Utopia is pure creative catnip to me. Dennis Kelly's show blew my mind, and he has been so incredibly generous in letting me crack open his world and play around in it and make it my own weird, wild place. Utopia is all about exploring resonant issues within dark, twisted storytelling—it's a series that's urgent and current and a little holy-crap!, but a hell of a lot of a fun."
As Nick Hall, Head of Alternative Series for Amazon Studios, said in the same statement:
"We are huge fans of Gillian Flynn's electrifying work. She crafts stories that hold her audience in a constant state of suspense and subverts the expectations behind her characters. She will deliver Prime Video members a series they won't forget, and Utopia's relevance is sure to connect with viewers around the globe."
Amazon's pickup is the culmination of years of starts and stops. Back in 2014, HBO ordered a full series of Utopia. They were keen, with David Fincher (Mindhunter, House of Cards, Fight Club) involved, to get a US remake of Channel 4's cancelled-before-its-prime drama series up and running stateside. In another universe, the American version of Utopia might currently be airing alongside other big HBO players like Game of Thrones at the cable giant, but…it wasn't to be – things fell apart, Fincher abandoned the idea, and the project seemed to die a death.
An air date for the remake has not yet been set, but Amazon now seems keen to press forward with the Utopia remake as soon as possible.
Joseph Baxter is a contributor for Den of Geek and Syfy Wire. You can find his work here. Follow him on Twitter @josbaxter.