News
USA Network Greenlights True Crime Series on Tupac and Biggie
The deaths of rappers Tupac Shakur and Biggie Smalls remain Unsolved but USA will look at the investigations.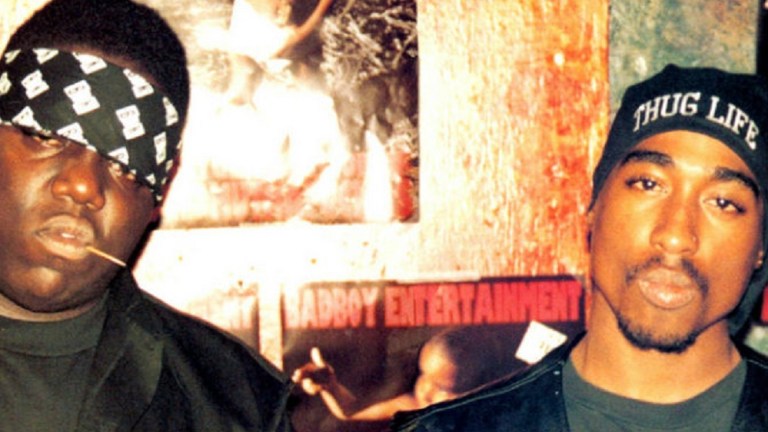 The deaths of Tupac Shakur and Biggie Smalls were one of the first tragedies of rap. It spawned dozens of conspiracy theories and has never been solved. USA Network greenlit a scripted true crime series that will follow two major police investigations into the deaths of Tupac Shakur and Biggie Smalls. Unsolved is expected to premiere in early 2018.
Unsolved will be based on the experiences of former LAPD Detective Greg Kading, who led task forces investigating the murders and is the author of the book Murder Rap: The Untold Story of Biggie Smalls & Tupac Shakur Murder Investigations. Kading will consult on the pilot and executive produce along with Hemingway and Mark Taylor under their Hemingway Taylor banner. Universal Cable Productions is the studio.
The series comes from the people who brought us FX's The People v. O.J. Simpson: American Crime Story. Unsolved will be written by Kyle Long (Suits). The pilot will be directed by Anthony Hemingway, who directed episodes of The People v. O.J. Simpson.
Unsolved will star Josh Duhamel as LAPD Detective Greg Kading, who was the lead investigator on the rappers' murders. Tupac Shakur will be played by newcomer Marcc Rose. Wavyy Jonez is set to portray The Notorious B.I.G. The show will also feature Luke James as Sean Puffy Combs, as. Letoya Luckett will play Suge Knight's estranged wife Sharitha Golden.
Jimmi Simpson (Westworld) will play Detective Russell Poole, who was convinced the LAPD was involved in a coverup while he was probing the murder of Biggie Smalls. His suspicions prompted Biggie's mother Voletta Wallace, who will be played by Aisha Hind, to sue the department. The series will also star Bokeem Woodbine (Fargo) as Officer Daryn Dupree. 
Tupac Shakur was gunned down while he was riding, unarmed, in the passenger seat of Suge Knight's Black BMW shortly after 11 p.m. on September 7, 1996, after the Mike Tyson and Bruce Seldon fight at the MGM Grand Hotel in Las Vegas. He was 25.
Biggie Smalls was killed on March 9, 1997, after leaving a Vibe magazine and party in Los Angeles. While  Small's GMC Suburbans SUV was a red light at the corner of Wilshire Boulevard and South Fairfax Avenue, a man in a dark Chevrolet Impala SS rolled down his window and shot the rapper four times with a 9 mm blue-steel pistol. He was pronounced dead Cedars-Sinai Medical Center. He was 24 years old.
Tupac and Biggie's unsolved murders were chronicled in the 2002 documentary Biggie & Tupac, directed by Nick Broomfield . National Geographic dedicated a segment of its The '90s: The Last Great Decade? documentary series on Tupac's death.
The Tupac movie All Eyez on Me, starring Jamal Woolard, is expected to open in 2017. Biggie was the subject of the 2009 film Notorious.
SOURCE: VARIETY