News
Unpopular Opinion: Why Fear the Walking Dead Is More Than a Spinoff
Fear the Walking Dead is a show far and beyond the escapism of its predecessor. It's much more than just a spinoff.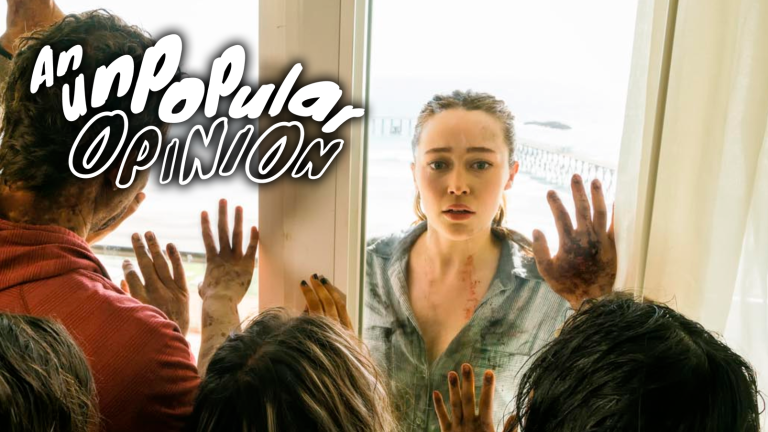 Unpopular Opinions is our new original video series releasing every Wednesday afternoon on the Den of Geek Facebook page. Each week, our writers go against the grain with their pop culture hot takes. 
Want to see us try to defend an unpopular opinion you have? Shoot us an email at tips@denofgeek.us with the subject line: "UnPop."
Unpopular Opinion: Fear The Walking Dead Is More Than A Spinoff
When Fear the Walking Dead premiered back in 2015, it arrived as a companion series to AMC's uber popular zombie drama flagship. Certainly, a second series set in Robert Kirkman's Walking Dead series was warranted. Rick Grimes and friends had covered such little territory in their story, starting out in Georgia and making their way up to the Washington D.C. area, that the rest of the map seemed ripe for a new group of survivors. Thus, Fear the Walking Dead, which takes place in Los Angeles in season 1 and Mexico in season 2, was born. 
Despite a slow start in its first season, which chronicled the first weeks of the outbreak in the eerie LA sun, the second season really brought big changes for the characters and introduced an unexpected setting. So far, the Mexico setting has allowed the show to explore themes of race, religion, death, and inequality. Gangs hog all of the drinking water while a cult-like group of survivors believe that the infection can be cured with prayer. There's even a deep dive into madness, as we watch a teenager become a ruthless killer.
One of the show's most surprising stories came at the very tail end of season 2 – and we suspect it'll continue into season 3 – as one of the main characters led a fractured group of survivors across the U.S. border before being ambushed by a vigilante border patrol force. It was a shocking twist at a very timely moment during the 2016 Presidential election, in which immigration and what to do about our borders were very big issues.
As far as this storyline, we spoke to showrunner Dave Erickson about the twist and what this border militia means for the show, which has suddenly taken a very political bent. Erickson said:
But we will find out, as far as the militia goes, we will get more information as to why they were there. We will get more information as to what their philosophy and what their intentions are. But there are definitely elements that are importantl socially right now that involve the border, in both sides, that we will see played out over the course of season three. Whether it is about the appropriation of land, whether it is about immigration, whether it is about refugees—which is something we began to explore to a certain degree in season two—all of those elements will play themselves into the narrative. It can't not.
This is just one example of how Fear the Walking Dead is challenging its viewership with its storylines. Don't worry, though: there's still all of the great zombie carnage, blood and guts, violence, sweat, and tears that you've come to expect from the Walking Dead universe. 
Read more on the new season of Fear the Walking Dead right here!