News
Unpopular Opinion: Wesley Crusher Is A Great Character
A Star Trek: The Next Generation wunderkind is subject to this week's Unpopular Opinion!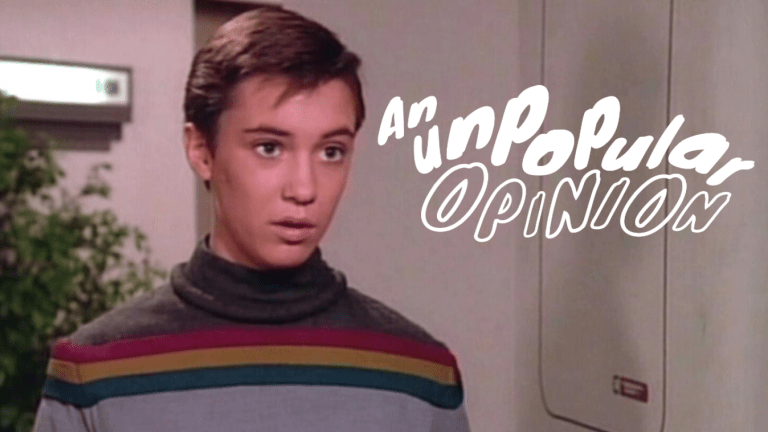 Unpopular Opinions is our new original video series releasing every Wednesday afternoon on the Den of Geek Facebook page. Each week, one of our writers goes against the grain with their pop culture hot takes. 
Want to see us try to defend an unpopular opinion you have? Shoot us an email at tips@denofgeek.us with the subject line: "UnPop."
Unpopular Opinion: Wesley Crusher Is A Great Character
Everyone likes to hate on Wesley Crusher. Even Captain Picard, the symbol for all things moral in this cold, dark universe. The Star Trek: The Next Generation character even has his own catchphrase: "Shut up, Wesley!" 
But where some people see a whiny wunderkind who vacillates between solving problems for some reason the intelligent, mostly mature adults in the situation cannot and causing interplanetary incidents by falling onto the wrong patch of grass, I see a kid who lost his dad and who is trying to make his way in a world full of adults who are mostly too busy for him.
Wesley Crusher was obviously introduced to TNG as an audience surrogate character for any kids who might want to see themselves in the Star Trek universe. And here's the thing: it worked. As a kid, I thought Wesley was the coolest (followed closely by the kids who made Captain Picard sing "Frère Jacques" in that one episode). He wasn't my favorite character, but I loved him. I liked when he and Ashley Judd helped save the day in "The Game" and I loved him when he made the wrong decision in "The First Duty."
Wesley wasn't always perfect. He was often arrogant, had controversial taste in sweaters, and was kind of annoying, but that always felt real to me as a kid. As an adult, it still feels real. Besides, when it came down to it: Wesley Crusher was smart, kind, and infinitely curious about the universe. What more could you ask for from a Star Trek character?