News
Universal Cable Scares Up TV Deal With Horror Legend John Carpenter
Master horror director John Carpenter will bring Tales for a Halloween Night series to Syfy.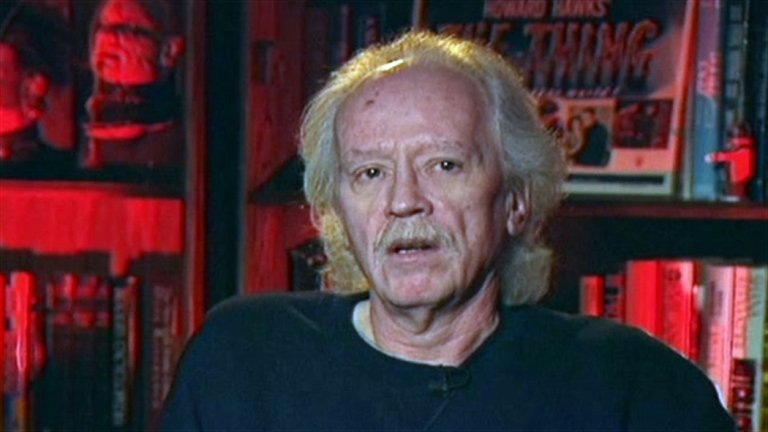 John Carpenter, the legendary director of The Thing, Halloween and Escape from New York, signed an overall development deal with Universal Cable Productions.  The guy who put the Captain Kirk mask on Michael Meyers will slash out scripted programming for NBCUniversal Cable Entertainment and their external networks and streaming services. Carpenter will executive produce along with his producing partner, Sandy King, under their Storm King Productions banner. 
"I'm excited to partner with Universal Cable Productions on this venture into television," Carpenter said in a statement. "On one hand it's a return home to Universal where I have fond memories, and on the other it's a step into the future with great new creative partners in programming," said Carpenter.
And in his third hand, Carpenter holds a butcher knife, which he will use to cut his award-winning graphic novel anthology Tales for a Halloween Night into a series for Syfy. Tales for a Halloween Night will bring "together storytellers from the worlds of movies, novels, and comics for a collection of horror stories featuring graveyards, sunken ships, creepy crawlers and ghosts that will haunt your dreams long after you've finished reading," according to the press statement.  The network is looking for a writer as you read this.
Carpenter will also collaborate with UCP on Nightside, which will be based on bestselling New York Times writer Simon R. Green's literary series. Jill Blotevogel (Scream: The TV Series), who co-wrote the series, will write the script.
"Nightside is the secret heart of London beating to its own rhythm, pumping lifeblood through the veins of its streets and alleys, hidden in eternal darkness where creatures of the night congregate and where the sun is afraid to shine," according to the official synopsis.
"It's the place to go if you're looking to indulge the darker side of your nature—and to hell with the consequences.
Carpenter stared shooting his first movie, Dark Star, while he was at the USC School of Cinema. He also directed the conspiracy thriller classic They Live, and Big Trouble in Little China. For TV, Carpenter directed the mini-series Elvis, and Showtime's horror trilogy John Carpenter's Body Bags. He directed two episodes of Masters of Horror for Starz.
"John Carpenter is an incredible creator whose dark imagination has left an indelible mark in film and in our dreams," Dawn Olmstead, Executive Vice President, Development at UCP, said in a statement. "We are thrilled to have a master of the horror genre join UCP.
Carpenter has also been doing non-film music since Halloween 2014. 
King produced the films They Live and John Carpenter's Vampires, as well as John Carpenter Presents Body Bags for TV. She created and writes the award-winning Asylum comic book series.