News
Undertaker Returns at SmackDown 900
WWE's phenom said "he's back" in a promo he cut on Team SmackDown ahead of Survivor Series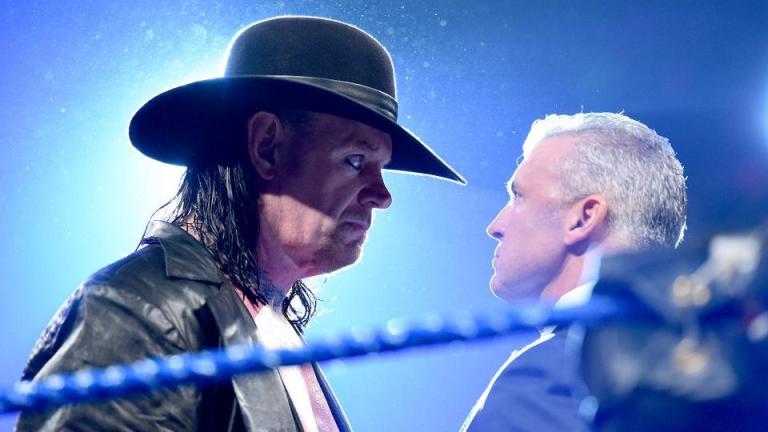 He's back, "collecting souls and digging holes."
Cha-ching! That's a t-shirt slogan if I ever heard one!
The Undertaker returned to WWE on Tuesday night as part of SmackDown's 900th episode. He returned in the final segment, giving a pep talk of sorts to Team SmackDown ahead of their tag team match against Team Raw at the Survivor Seriesthis Sunday.
There were some interesting lines in this promo. First, Undertaker said the words, "I'm back." That took social media by storm after the show. Is he back full-time? Probably not. He's 51 years old and his body has been through more than 30 years of punishment in the ring. Could he be "back" on a part-time basis? Maybe. He could even return to television full-time in some sort of non-wrestling role.
Or, it could be a line that everyone is over-reacting to, and he merely meant that he was back for the special episode of SmackDown. 
But the "I'm back" line wasn't even the most interesting in the promo.
Undertaker praised his WrestleMania 32opponent, Shane McMahon, telling the audience and the roster that there was no better person to be the commissioner of SmackDownthan the man without fear. But he followed that up telling Team SmackDown that if they lost to Team Raw at Survivor Series, they would have to fear the Dead Man.
That seems like a challenge, to me.
I could envision a scenario where SmackDown loses the match, and now Undertaker is out to take control of the show from Shane in an authority role? It could happen. I'm not sure how I feel about a character like Undertaker being used in a commissioner role, but you could certainly envision a storyline where SmackDown loses, and Undertaker blames Shane for his shoddy leadership and inserting himself into the match.
No matter what the idea is going forward, Undertaker's appearance did not feel like a one-off. He clearly eluded to future consequences if Team SmackDown didn't win the match at Survivor Series. 
SmackDown's roster is thinner than Raw's given that the show is one hour less each week. However, both brands seem to be tasked with filling a three-hour special on WWE Network every month. Undertaker, even if he just wrestles on those specials, could fill an important role on the roster. He won't draw on SmackDown house shows, which is another problem WWE faces, but he's a draw on those specials and most importantly, he's wrestler.
A loss by Team SmackDown could give you five Undertaker matches on pay-per-view, as he goes through the team, one-by-one. Maybe Undertaker goes on a run through the SmackDown team and gets to a match at WrestleMania. Does this put Undertaker on a path for match with AJ Styles in Orlando? Perhaps.
1. Miz beat Dolph Ziggler to win the Intercontinental Championship
It was a smart booking move to put the belt back on Miz heading into the match with Sami Zayn on Sunday. WWE has fallen victim to a few too many babyface matches that have no heat and no reaction. This also gives them some different avenues they can take with the IC Title match on Sunday.
2. Kalisto beat Oney Lorcan
Simply a squash match, where Kalisto gets an easy win ahead of his Cruiserweight Title match on Sunday. This should have been a good showcase match, but there was a botch there that stood out, especially considering the match only lasted a bit more than a minute. 
3. Nikki Bella & Carmella fought to a no-contest
Carmella showed really good heel characteristics, focusing on Nikki's injured neck throughout the match. They also made the SmackDown team look strong here with the run-ins after the match (or rather, what drew to the no-contest conclusion). 
4. American Alpha, The Usos, Hype Bros. & Breezeango beat The Ascension, Spirit Squad, Vaudevillains & The Headbangers
Wow, there was a lot of people in the ring during this match. Things will look the same on Sunday with some many tag teams in that match. Hopefully they get through the early eliminations quickly. That way, they can clear out some of the bodies and make the visual on the screen a little less confusing.