News
Unbreakable Kimmy Schmidt Season 4 Release Date, Trailer, Cast, News, and More
Unbreakable Kimmy Schmidt Season 4 will be back for its final episodes in 2019. Here's a new trailer!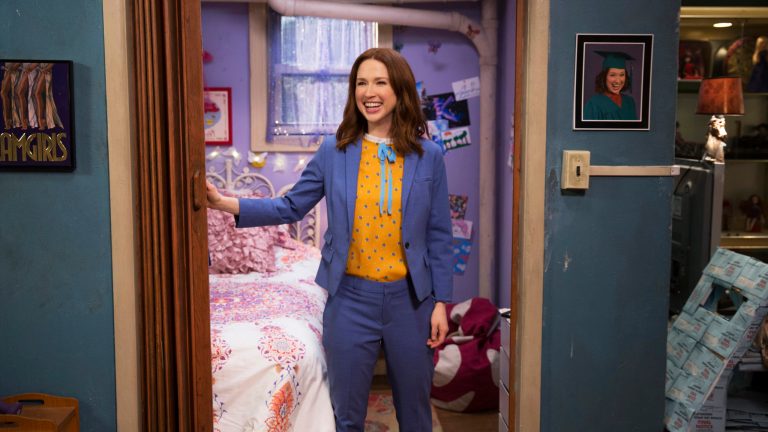 It's a miracle! Kimmy, Titus, Jacqueline, and Lillian are returning for Unbreakable Kimmy Schmidt season 4. This season will be broken up into two parts. Netflix announced that the first six episodes of Unbreakable Kimmy Schmidt season 4 will drop on the service on May 30. The second half of the season will be released later in 2018.
The Emmy-nominated series is critically acclaimed and a popular binge amongst fans. It was one of the "most savored" series, like a nice glass of pinot noir, when Netflix gave the press a brief glimpse into what original shows performed best for the service. 
Unbreakable Kimmy Schmidt stars Ellie Kemper, Tituss Burgess, Jane Krakowski and Carol Kane. Guests during season three included Maya Rudolph, Daveed Diggs, Laura Dern, and the return of Jon Hamm as The Reverend.
You can read our review of Unbreakable Kimmy Schmidt season 3 here. 
Unbreakable Kimmy Schmidt Season 4 Trailer
A new trailer showcases the final episodes of Unbreakable Kimmy Schmidt. It's pretty epic!
Here are the other trailers that have been released so far:
Unbreakable Kimmy Scmidt Season 4 Cast
Netflix has announced the complete list of guest stars for the first six episodes of Unbreakable Kimmy Schmidt Season 4. That's welcome news as the Tina Fey and Robert Carlock comedies tend to attract a murderer's row of guest talent. Now we can fully prepare ourselves.
– BUSY PHILIPPS (Season 4, Episode 6) plays Sheba Goodman, a hard-living heiress who has seemingly turned over a new leaf. She is the daughter of Artie Goodman (Peter Riegert), and her inheritance hinges on convincing her family that she's stable enough to control her own finances.
– GREG KINNEAR (Season 4, Episode 1) plays himself (sort of). The affable star drops his son off at school one morning and finds himself caught up in one of Titus's elaborate schemes to win back his ex-boyfriend, Mikey. 
– BOBBY MOYNIHAN (Season 4, Episodes 3 and 5) plays Fran Dodd, a men's rights activist. As founder and "C.F.Bro" of The Innocence Broject, Fran leads the resistance in the "war on men," which includes trying to clear the Reverend's name.
– AIDY BRYANT (Season 4, Episode 3) plays Tabby Bobatti, the Reverend's willfully ignorant ex-girlfriend. She lived with the Reverend the whole time he was keeping the Mole Women in his underground bunker, and Kimmy doesn't take that revelation lying down.
– JON HAMM (Season 4, Episode 3) returns as Reverend Richard Wayne Gary Wayne, Kimmy's former kidnapper, who is now serving a life sentence in an Indiana prison. When a fan from his old DJ days visits him in prison, the Reverend seizes the opportunity to reopen his case.
– AMY SEDARIS (Season 4, Episode 6) returns as Mimi Kanassis, Jacqueline's unhinged divorcée friend. When Jacqueline needs an assistant for her burgeoning but under-funded talent agency, Mimi leaps at the opportunity. 
– MIKE CARLSEN (Season 4, Episode 1) returns as Titus's ex-boyfriend, the recently out construction worker Mikey Politano. Titus set Mikey free to stretch his wings as a gay man last season, but he is done waiting patiently for Mikey to come to his senses and come back to him.
ZOSIA MAMET (Season 4, Episode 5) returns as Sue Thompsteen, the hipster harbinger of gentrification in East Dogmouth. Her enthusiasm for the latest, trendiest new thing leads her directly into an elaborate scam run by Jacqueline and Lillian.
DEREK KLENA (Season 4, Episode 3) returns as Douglas, aka DJ Fingablast. When he seeks out the Reverend (aka DJ Slizzard) to spin at his wedding, it quickly turns into a "Making a Murderer"-style documentary.
Unbreakable Kimmy Schmidt Season 4 Release Date
Unbreakable Kimmy Schmidt Season 4 debuted on May 30. Now Netflix has concerned when we can see the rest of the season. Season "4B" will launch on January 25, 2019. Like season "4A' it willl contain six episodes that will all be released at once.
Unbreakable Kimmy Schmidt Season 4 Photos