News
Tyrant Cancelled by FX After Three Seasons
FX's deadly dynastic drama Tyrant has apparently ended its run on the cable outlet with its cancellation.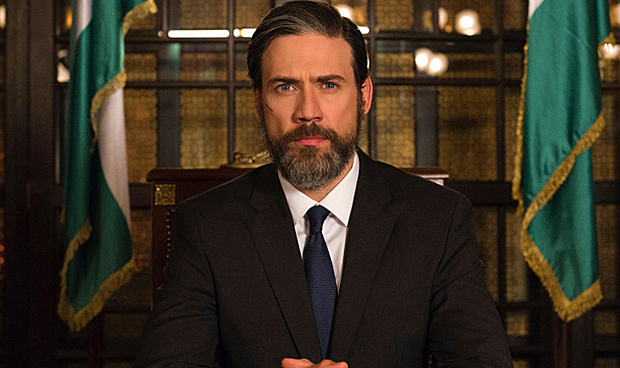 It seems that FX's Tyrant has been deposed of its spot on the cable network. While the show's epic Season 3 finale will air tonight as planned, it seems that the episode could ultimately serve as the conclusion to the entire series, since FX has cancelled the show. However, there is a glimmer of hope with rumblings that the show could be shopped elsewhere.
The cancellation of Tryant comes in the wake of Season 3 ratings that regularly dipped well below the million viewers mark, a serious decline from its first and second seasons when it still reliably attained numbers over that mark. At its height, Tyrant drew 2.1 million viewers with its June 2014 pilot episode. The series has been a slow-burn, character-arc-driven drama showcasing the initially reluctant rise to power of Barry (Bassam) Al-Fayeed (Adam Rayner), the America-raised heir to the presidential dynasty of fictionalized Middle East country Abuddin. Coming to power through a series of tragedies, Barry has evolved from a celebrated egalitarian man of the people to becoming the show's cold, vengeance-seeking titular tyrant.
FX Networks CEO John Landgraf lauded Tyrant executive producers Howard Gordon and Chris Keyser for their efforts, stating in the released announcement:
"It's very difficult to find common ground with other people whose stories we do not know or understand. The creators of Tyrant have done their utmost over three seasons to tell American audiences a tiny fraction of the many gripping, human stories coursing through the Middle East today. We want to thank Howard Gordon, Chris Keyser and their talented team of collaborators, including all the writers, directors, cast and crew, as well as our studio partners at Fox 21 Television Studios, for taking on Tyrant's tremendously ambitious story with such profound dedication and respect."
The news of Tyrant's cancellation will certainly disappoint fans who have been following the series since the beginning, especially considering that the arc of its protagonist Barry is still in a transitional state of flux. Serving what was supposed to be a temporary presidency, Barry has controversially cancelled elections and began waging – seemingly out of pure personal vengeance – a wantonly destructive, innocent-casualty-causing conflict against caliphate terrorists led by the man who murdered his daughter. While it remains to be seen whether tonight's Season 3 finale will see him swerve from that dark path, there will still likely be an incomplete, rushed feeling, regardless of how things play out.
Take the Den of Geek 2016 Reader Survey for a Chance to Win a $100 Amazon Voucher Right Here!
Consequently, Bert Salke, president of the show's producing company Fox 21 Television Studios, implied in a statement that Tyrant might still see a proper conclusion elsewhere. However, that tinge of hope still comes with a crucial caveat:
"We feel the show is a gem and we'd love to find a way to keep it in production. That said, we want to be realistic about its prospects. So for its loyal audience, tonight's episode will be a satisfying end should the series not find another home, but also provides interesting possibilities should we be able to continue on some other platform."
Regardless, Tyrant will unveil the concluding episode of Season 3 and possibly the entire show on FX on September 7 (tonight!) at 10 pm/9c.